Search for "Directors of Toughness" Comes to Canada
Two full­-time positions offer candidates a nine­ month global adventure
Portland, Oregon-­based Columbia Sportswear Company has opened the search for its Directors of Toughness to Canadian applicants. Believe it or not, this is a real job offering the two hirees a nine month, round-the-world adventure, in order to test Columbia's range of performance apparel in extreme conditions around the globe.
Columbia has just announced that the Canadian interviews will take place on October 17, on the Niagara Escarpment just outside of Toronto. While this is an actual job interview, getting to the interview will be a little tougher than simply finding the right address in an office tower. Candidates will be required to hike, scramble and sweat to ensure that they are tough enough for the job. To get an idea of what's in store, potential applicants might want to check out the video of the West Coast interviews (below), which were held on Oregon's Mount Hood.
The Directors of Toughness serve as full­time beta testers and brand ambassadors and social media posters, helping Columbia ensure its apparel does what it's supposed to in any weather or altitude. The hirees will also be tasked with sharing videos and pictures through platforms like YouTube and Instagram.
"The Directors of Toughness have become integral employees, not only testing our products but also sharing compelling stories," said Columbia senior vice-president Richelle Luther.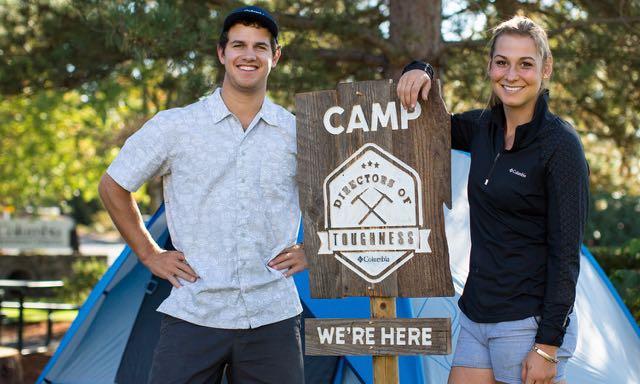 Columbia's inaugural Directors of Toughness, Zach Doleac and Lauren Steele (above), were selected last year from thousands of applicants and spent six months traveling the globe. From the summit of Ecuador's Cayambe volcano to the Arctic coast of Manitoba (below), putting their gear through some seriously harsh conditions. Columbia has now expanded the program for this year's recruits. In addition to job perks that include a full-­time salary of US$39,000 and benefits, the job will last for nine months, allowing an even greater range of extreme adventures.
Candidates eligible for employment in the U.S., Canada and the U.K. can register online at www.Columbia.com/ToughJob starting October 3rd. Only a limited number of interview slots will be available. Just remember to dress in layers, and wear sturdy footwear.