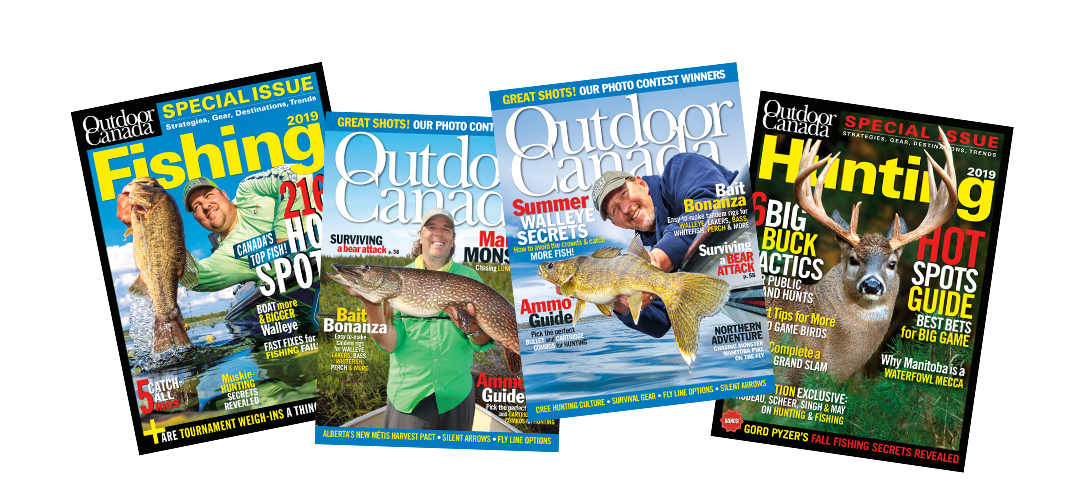 Every issue of Outdoor Canada and Outdoor Canada West is jam-packed with outdoor know-how, expert tips, hot spots and tales of exciting fishing and hunting adventures, both close to home, and across this great land.
Your annual subscription includes six issues: Fishing Special, May/June, July/August, Hunting Special, November/December, January/February, plus a free bonus gift. Digital is also included with your subscription if you choose.
Click here to subscribe now! If you have a promo code, you will be able to enter it in the Offer Code box.
Or, you can call our subscription hotline at 1-800-663-7611.
Subscribe now for just:
• $24.95 (plus tax)  for one year
• $34.95 (plus tax)  for two years
• $49.95 (plus tax)  for three years
The standard prices for US subscribers are:
• $34.95 for one year
• $54.95 for two years
• $79.95 for three years
The standard price for subscribers outside the U.S. and Canada are:
• $44.95 for one year
• $74.95 for two years
• $109.95 for three years
For Digital Only subscriptions, the prices are:
• $24.95 for one year
• $34.95 for two years
• $49.95 for three years