Try a Fly with a Weed Guard to Avoid Snags and Hook Hidden Fish
Many times I've heeded a little voice in the back of my head saying Don't cast there, or you'll snag up and lose your fly. But fishing fortune favours the bold, and one day several years ago I found a way to muzzle that annoying inner-voice: a four-inch-long foam slider fly with a weed guard. I chucked it 30 feet into a broad mat of weeds, eased it across a few lily pads, let it slide into a small gap and—sploosh!—it was immediately engulfed by the gaping maw of a bass. A few minutes later, I had my prize at the side of the boat: four pounds of largemouth… plus another two of weeds.
If you want to catch bass, northern pike and other warm-water ambush predators on the fly—and it's hard to imagine someone who wouldn't—you often have to fearlessly cast your fly in and around weeds, sunken timber and other debris. And for that job, the right tool is a weedless fly. There are several ways to make a fly weedless—it all depends on the type of fly and conditions you'll be fishing.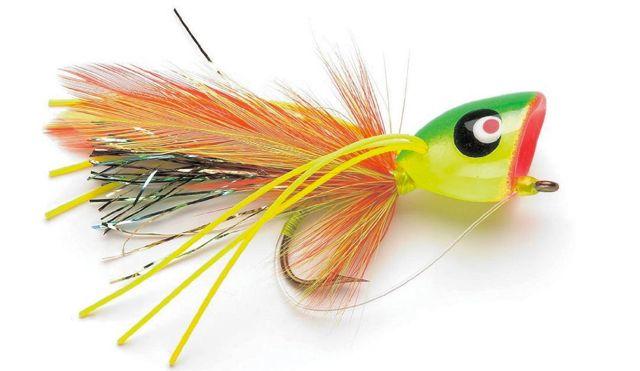 The Loop Guard
The most common style of weed guard is a piece of heavy monofilament or light wire tied to the hook bend, extending from below the hook point up to the eye of the hook (above). The loop should be stiff enough to support the fly's weight and deflect the fly off obstacles as it's retrieved, but light enough to collapse and expose the hook when a fish bites. Loop guards work well with both surface flies and streamers, and they're a good choice in heavy weeds and around wood.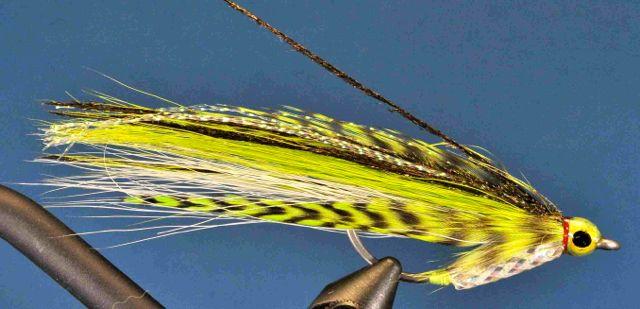 The Bend Back
When fishing in weeds that are sparse yet still snaggy, I often use a bend back pattern (above). These are streamer flies craftily designed so they swim with the hook pointing up, where it's buried in the wing. Although mostly used in saltwater, many freshwater bucktail-style streamers can be tied as bend back flies. To ensure they work, the hook shank should be bent about 15 degrees—just enough so the wing extends back at the correct angle to cover the hook point. Bend back flies come in all sizes, but they're the best option for smaller flies.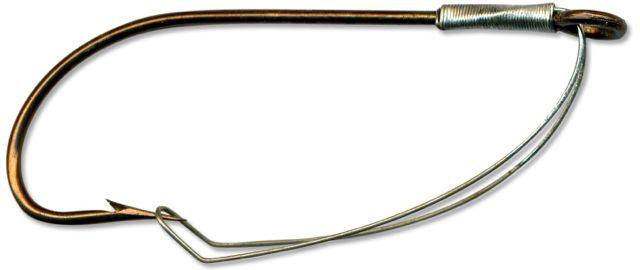 Factory Hooks
One option few anglers consider when tying their own weedless flies is to use factory-made weedless hooks intended for fishing bait and soft-plastics (above). These sport a light-gauge wire guard fastened to the hook eye and looped around the point, where it's held in place by the springiness of the wire itself. To tie a fly on these hooks, just pop the weed guard off the point and it will spring out of the way. Once you've finished tying your fly the usual way, simply hook the wire back in place. These durable guards are great at keeping the hook free of weeds, but they don't expose the hook as well as the loop guard when a fish bites. I use them on big streamers for pike and other fish that chomp rather than slurp.
No matter how well your weed guard is constructed or how well it matches the conditions, it's likely you'll miss a few numbskull fish that hit from the wrong angle or somehow don't bite hard enough to strike steel. But these misses are more than offset by the number of fish you'll catch by having the confidence to chuck your fly into the gnarliest—and fishiest—spots on the water.
Fishing Tips for Weedless Flies
When using weedless flies, be gentle when you're in the danger zone. Remember, the purpose of a weed guard is to move the fly, not the obstacle. If the fly is next to an obstruction and you jerk it, the weed guard will do its job: compress and expose the hook. Instead, gently coax the fly over and through obstructions. This is also a time to use knotless leaders, since every knot on your leader is something else for weeds to get snagged on. I almost always forgo the tippet and use a single length of eight-, 10- or 17-pound mono or fluorocarbon, depending on the size of my quarry.