There's little doubt that artificial baits have become the standard in ice fishing, but sometimes the only thing that will convince a fish to bite is a minnow. How you rig the minnow depends on the way fish are biting, and how you want to fish it, says Jeff Chisholm, a guide with Ontario's Bay of Quinte Ice Fishing Team and co-host of the fishing radio show Hooked for Life. Here are his tactics.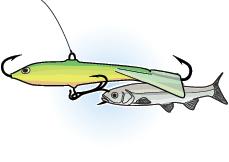 Lure-rigged
This is best used when the fish are aggressive and you need to rip a lure quickly. The key is to hook the minnow onto your lure without compromising the lure's inherent action, Chisholm says. "I'll drop the lure down the hole and watch its natural action without a minnow, then try to rig it so that it enhances the lure's action, not take it away." With his go-to ice lure, the Jigging Rap, it's important to hook the minnow on the bottom treblehook through the head and out under the jaw. That way, when you pop your rod tip and the lure shoots forward, the minnow floats up beneath the plastic fins, making the lure glide naturally. Of course, the head-hooked minnow won't stay alive for long, but it's only there to seal the deal anyway. Even a minnow head can do the trick.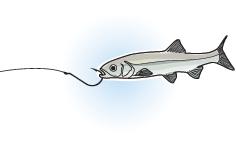 Lip-hooked
When you need a finesse approach, such as drop-shotting, and you want the minnow to stay alive and struggle, this is the way to go. Use short lifts, pauses and soft pops. Vibrating your rod tip can also enhance the action of the struggling minnow as it pivots on your hook. Note: Only hook the minnow through one lip so that water can still get through its gills.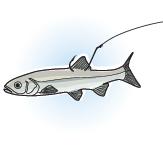 Back-hooked
This rig keeps the minnow alive even longer—and livelier—making it perfect for a set-line. Chisholm says the enticement of a struggling minnow can turn a looking fish into a biting fish. Since fish usually take the minnow head first, rig the hook with the point up and toward the head for the best hookset. Be sure to insert the hook under the skin on just one side of the dorsal fin, without going too deep and hitting the spine.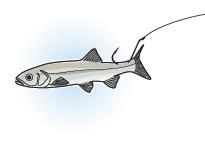 Tail-hooked
This works best on a set-line when fish are taking the minnow too deep. Rigged this way, the hook sits closer to the front of the fish's mouth when it takes the minnow head first. As well, tail-hooking works when jigging and dealing with finicky fish that don't want to commit. You may get short strikes, however, with fish grabbing the minnow by the head and pulling it off the hook. If that happens, add a small stinger hook near the head of the minnow.