Slab Secrets: Part 2
Secret Summer Tips and Techniques from Champion Crappie Anglers
After the spawn, crappies head to their summer haunts, and most anglers find the action slows down. But follow this awesome advice and you'll get those summer slabs.
#1 Watch the Weather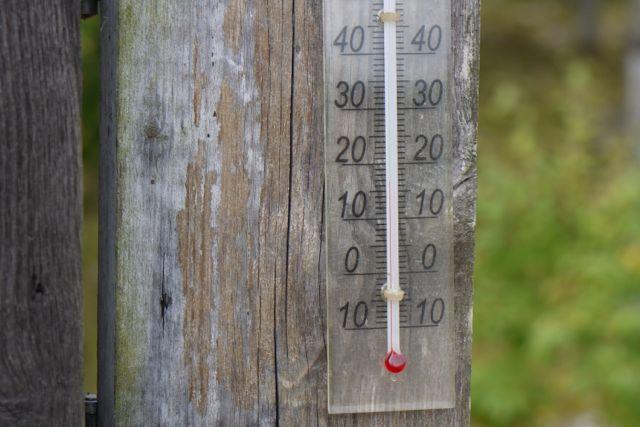 While spring crappie fishing is frequently frenzied, timing your trips to coincide with ideal weather conditions can pay huge dividends. Simply put, you'll find the best fishing following several days of warm, stable weather.
Conversely, a cold front accompanied by overcast conditions, rain, sleet or even freakish snow flurries can quickly put a damper on the fishing. Crappies detest the cold after they've moved shallow and started to warm up, so they typically respond by dropping deeper in the water column, moving out toward the main channel or basin and locking their lips. The good news is that they quickly get back to normal as soon as the sun pops out and the water warms up again.
<!-nextpage-->
#2 Cast from Shore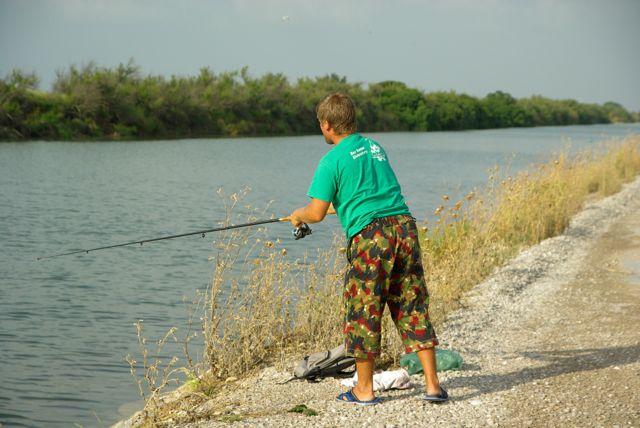 We Canadian anglers seem to fish far less from shore than our American counterparts, and that can be a mistake in the spring when the fish are moving up shallow to spawn around man-made structures. In cottage country, especially in lagoon cities and marinas with plenty of boat docks, you can stalk the fish much more stealthily on foot than you can in a boat, what with the electric motor churning up mud and spooking the fish.
Crappies typically stage in the deeper water in the centre of boat channels, which are at their best when routinely dredged out. I treat these man-made channels the same way I do natural creeks and rivers, looking for any deep bends that wend their way close to shore, within casting distance of a dock. Before flooding the shallows and spawning against the wooden posts and rock-filled cribs, massive schools of crappies will stage in the deeper channel pools and race one another to eat your bobber-suspended jig.
<!-nextpage-->
#3 Swim a Jig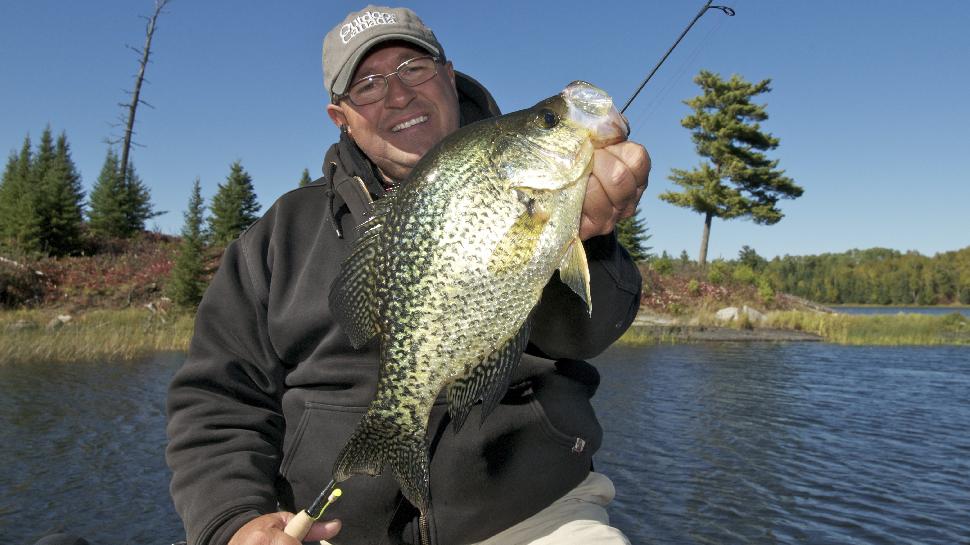 Why is skipping and shooting jigs under man-made cover so effective? Part of the reason is that you're presenting bait to fish that feel at peace, in quiet places where they're not accustomed to seeing lures. The other part is that the retrieve is on a horizontal plane.
Strangely, most crappie anglers are locked into vertical presentations that involve either fishing bait under a bobber or over the side of the boat. Do yourself a favour this spring and instead cast the same jig you'd normally fix beneath a float, then swim it back to the boat. My buddy Matt Straw is a virtuoso when it comes to catching crappies this way. "They're just so aggressive after the initial swoon from all that procreation activity," says the Minnesota outdoor writer. "Crappies are chasing now like no other time of year. Even if they won't bite, they'll tap and follow, so at least finding them becomes easy."
On most days, Straw says, crappies will inhale the little 1/32-ounce jig he tips with a two-inch Yamamoto grub (below) or Berkley Ribbontail. For line, he uses four-pound braid, which actually has the breaking strength of eight pounds. The line is so light and wispy that long casts become effortless, allowing him to quickly cover a lot of water. And because he catches a lot of incidental bass when fishing for crappie, Straw also ties on about four feet of 4½- to 5½-pound fluorocarbon as a shock absorber and abrasion guard. Completing the set-up, he uses the new seven- and eight-foot Panfish Series rods from St. Croix. "They're perfect launch devices," he says.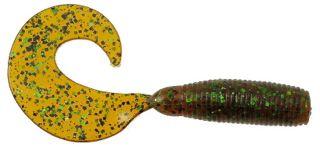 "Since these aggressive crappies tend to suspend within five to 10 feet of the surface, I don't let the jig fall very far," Straw explains. "I generally count to five before starting a slow, steady retrieve with the rod tip pointing down. After covering a likely spot with several casts, I start probing deeper, down to about 10 feet, before moving on."
In the lakes and river backwaters that Straw targets, the crappies tend to hang just outside the branches of fallen trees, along the path leading away from spawning habitat to a larger arena in the main lake. That's where he starts fishing, as well as along the deep weed edges in big bays. "But you never know," says Straw. "The fish sometimes wander off in groups, suspending a cast length away from cover. That's why long casts are so helpful."
As for the retrieve, he says the key is to keep it horizontal. If the jig is rising, bites seem to come less frequently. If the jig is falling, on the other hand, bites seem to come a little faster. The best overall approach is to maintain a horizontal retrieve, because crappies will follow. "Stalling or pausing the retrieve occasionally often creates the best trigger when crappies just want to tag along and watch," Straw says.
<!-nextpage-->
#4 Troll with Planers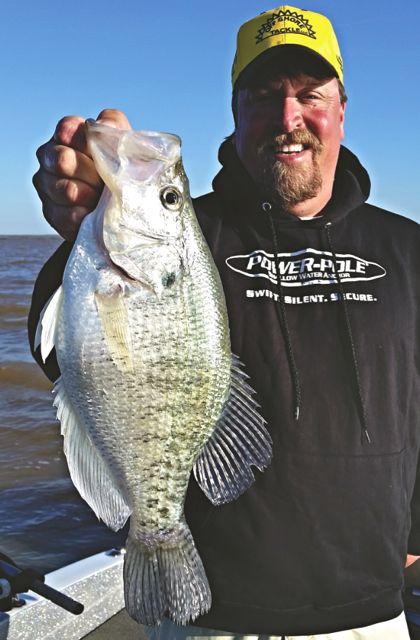 Tommy Skarlis is one of the most successful anglers in the history of professional walleye tournament fishing. In 2013, he shocked the crappie fishing world by winning the coveted Bass Pro Shops Crappie Masters National Championship using trolling tactics and planer board techniques honed on the walleye trail.
"I start using boards immediately after the spawn, especially when the crappies are spread out and travelling from their spawning areas to summering habitat," says Skarlis, named one of the planet's top 20 anglers by Outdoor Life magazine. "Most anglers stop fishing for crappies after the spawn because the fish leave the shallows and suspend in calmer, warmer water that isn't susceptible to cooling from cold fronts."
Skarlis says the key to locating crappies once they leave their spawning habitat is to cover water quickly, trolling at between 0.8 and 1.4 mph with in-line planer boards. All the while, he watches his sonar unit, which is set on side imaging, looking for baitfish, brush piles, deeper structure and schools of suspended crappies. "If the bait is deep, I use Off Shore Tackle Tadpoles and go down to get them," he says. "I have found crappies as deep as 60 feet immediately after the spawn."
<!-nextpage-->
#5 Target the Breaks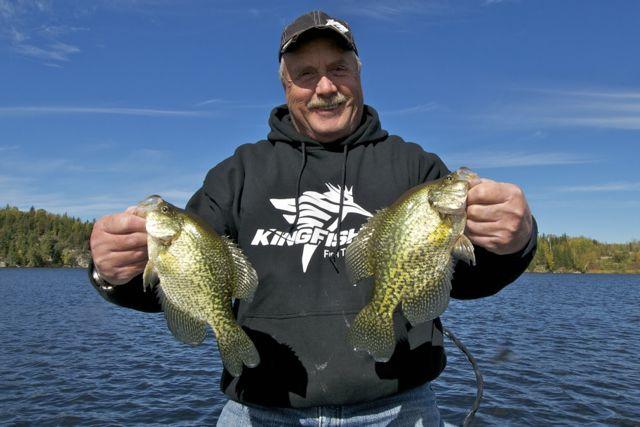 Southeastern Ontario fishing guide Rob Jackson loves putting his guests on to huge post-spawn crappies. To do this, he focuses his attention on main-lake basins, where the fish roam throughout the day before moving to the edge, or the first real break from the flat, at dusk.
Jackson says the dusk bite can be as good as the best springtime fishing, and for that, his go-to bait is a two-inch tube jig. A 1/16-ounce jig tipped with a Lunker City Fin-S Fish is another favourite. Shunning a float, he simply drifts and deadsticks these lighter presentations, all the while watching for his line to twitch—the telltale sign of a crappie on the take.