Antelope aid
Alberta conservation groups complete planned pronghorn-safe fencing projects
Despite having to reduce the size of their volunteer crew from 16 to 10, as well as implement restrictive COVID-19 protocols, the Alberta Fish and Game Association and Alberta Conservation Association have completed all four of their planned pronghorn fencing projects this year.
The two associations began their joint fencing program 12 years ago as a way to keep migrating antelope in the southeast of the province from getting injured by barbed wire. Working primarily on private land, volunteers remove the bottom strand of barbed wire from existing fences and replace it with smooth wire. They also reattach the remaining original wires so they're spaced apart better.
"The reason for the smooth wire on the bottom is because pronghorn won't jump fences," explains T.J. Schwanky, the AFGA's wildlife projects facilitator (and an Outdoor Canada contributor). "Instead, they crawl under. They require about 16 inches to get under, and we're actually setting the wire at 18 inches. The smooth wire prevents the scarring or hair loss on their backs that's associated with barbed wire."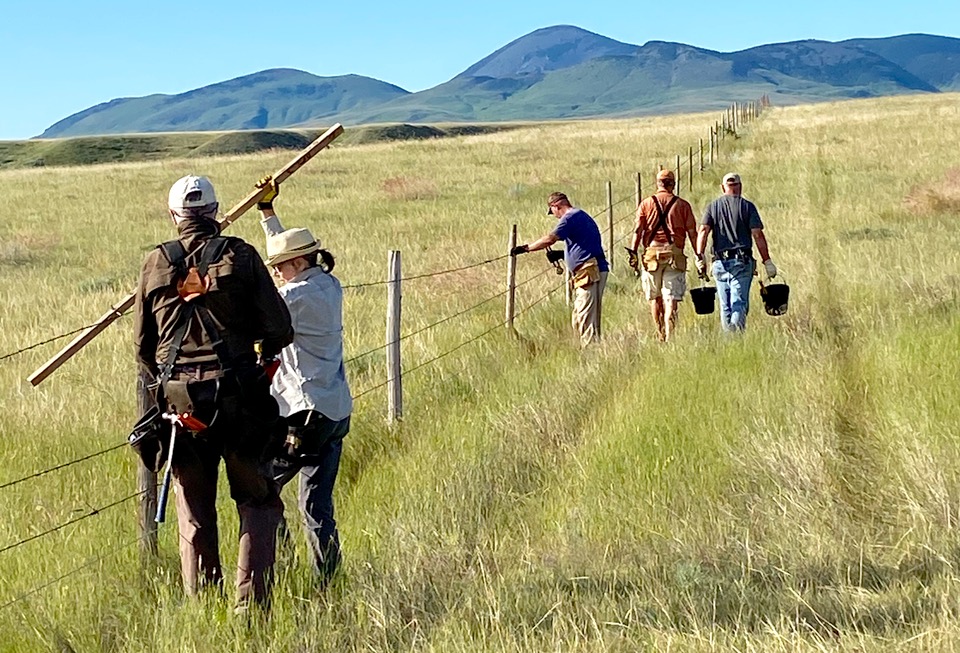 Since the program's inception, volunteers have installed 513 kilometres of smooth wire and removed 40 kilometres of page wire fencing, the impassable woven wire mesh often used to enclose sheep, cows and goats. While labour intensive, the work got a little easier several years ago when B.C.'s FenceFast, a fencing supplies company, donated three power staplers to help fasten the wire. "What we used to do in six hours now takes us three hours to do with less hands," Schwanky says. "That's been a game changer."
Along with preventing injuries, he adds, the new smooth-wire fencing also helps pronghorns better avoid predators. Previously on many fenced fields, the antelope could only cross at established points every few hundred yards or more. "Now," says Schwanky, "they can duck under the fence anywhere."
Learn more about the AFGA's programs and positions at www.afga.org.