MILD SHOOTER
Winchester's .350 Legend is a great deer round for tight quarters
The introduction of Winchester's .350 Legend in 2019 raised this question in my mind: What exactly was the cartridge's niche in the grand scheme of things, particularly in an era when new chamberings barely seem to raise an eyebrow, and hunters aren't clamouring for something new? Indeed, I was initially a bit skeptical there was a void the .350 could actually fill for Canadian hunters.
As time went on, however, I kept hearing rumblings about the .350's success on deer, and how pleasant it was to shoot. So, my initial skepticism began to fade as I envisioned the round's potential in a wood's deer rifle, particularly for recoil-sensitive shooters such as young hunters. It would also make a suitable round, I thought, for hunters in areas where high-velocity, long-range calibres could pose a threat to safety.
To find out for myself how the round performs, I turned to Winchester's XPR line, to which the .350 Legend chambering was recently added. It's worth noting that the XPRs were the only rifles in .350 Legend available to me in Canada. In particular, I tested the cartridge in the XPR Hunter, decked out in Kryptek Highlander.
While I already reviewed the XPR in 2016, my test model was slightly different owing to the new camo pattern and the fact the barrel, receiver and bolt handle were finished in colour-matched Perma-Cote for corrosion protection. Otherwise, the rifle included the same features as the original XPR, which are well worth mentioning again, starting with the MOA trigger. It offers zero take-up, zero creep and zero over-travel that, when checked on my test rifle, was remarkably consistent between three pounds eight ounces and three pounds 10.4 ounces.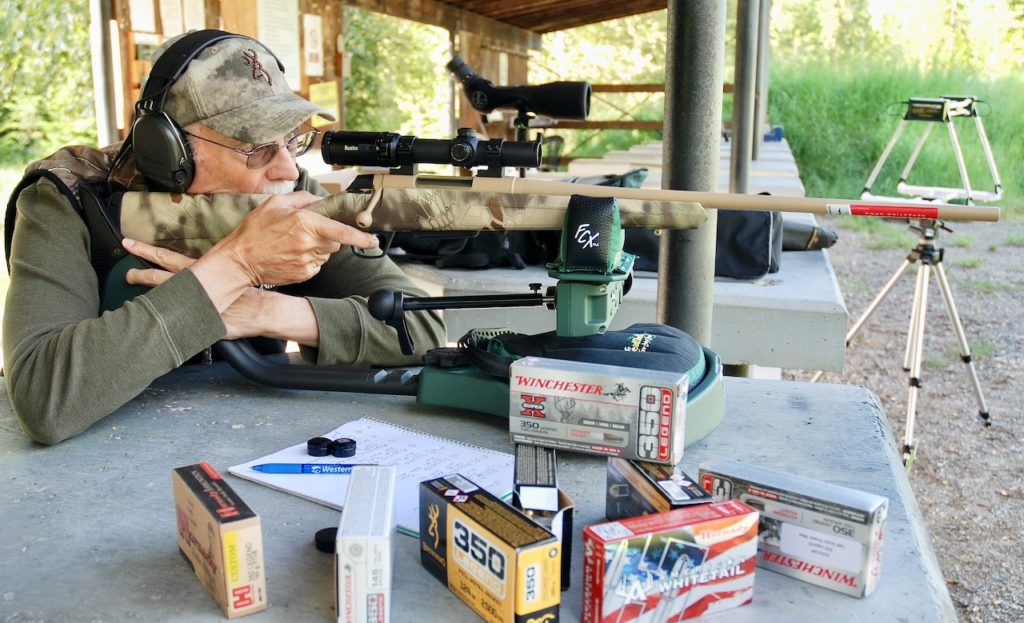 Made of chromoly steel and sporting a recessed target-style crown, the barrel is precisely button-rifled, thermally stress-relieved to ensure optimum accuracy, and free-floated to eliminate potential pressure points. The chromoly receiver has a large ejection port for reliable ejection, while the smooth-cycling, Nickel Teflon-coated bolt features a short, 60-degree lift.
As for the stock, it's composed of an advanced polymer, with textured panels on the fore-end and pistol grip for improved handling in cold, wet weather. The stock also incorporates an inflex-technology recoil pad that reduces felt recoil by moving the comb down and away from the face.
Rounding out the package, the XPR offers a two-position thumb safety, a highly visible cocking indicator, a bolt unlock button that allows the chamber to be unloaded with the thumb safety in the on-safe position and a detachable polymer single-stack box magazine.
TEST RESULTS
For my test, I paired the rifle with Bushnell's AR Optics 1-8x24mm riflescope. Thanks to Winchester's integral mounts, attaching the scope was an extremely simple and quick task. Combined, the rifle and scope weighed in at seven pounds 10 ounces.
On the range, the recoil was notably light—less than that of the .243 Winchester—making for a mild shooter indeed. The cartridge cycled well out of the magazine, but because of its design and size, I had a bit of difficulty loading single rounds by hand.
While I would not refer to the XPR in .350 Legend as a tack driver, it certainly provided some respectable accuracy for a shorter-range deer rifle—groups for the six hunting loads I tested averaged 1.283 inches. With Browning's BXR 155-grain ammo, the first two shots touched, the third I pulled and the fourth dropped right back into a 0.650-inch group. Hornady's Custom 165 FTX ammo also shot very well, making for a 0.885-inch group. Either of those two .350 Legend loads would be ideal for deer.
All and all, with its very mild recoil, the .350 Legend chambering would make a great choice for recoil-sensitive, woods-oriented deer hunters. And Winchester's compact version of the XPR Hunter in .350 Legend would be perfect for youth and or other hunters of smaller stature.

XPR HUNTER SPECS
Calibre: .350 Legend
Barrel length: 22″
Total length: 42″
Length of pull: 13¾"
Drop at comb: ½"
Drop at heel: ¾"
Weight: 6¾ lb
Magazine capacity: 3
Rate of twist: 1 in 16″