Amos Garrett's Fishing Hot Spots
Alberta Axeman Pursues Trophy Fish All Across Canada. Here's Where He Goes.
For our 2016 Fishing Special issue, Outdoor Canada recruited a supergroup of acclaimed Canadian recording artists, who also happen to be hard-core anglers. And these fishin' musicians agreed to sing about their favourite Canadian fishing holes—74 in all. For the full list, see The Fishin' Musicians.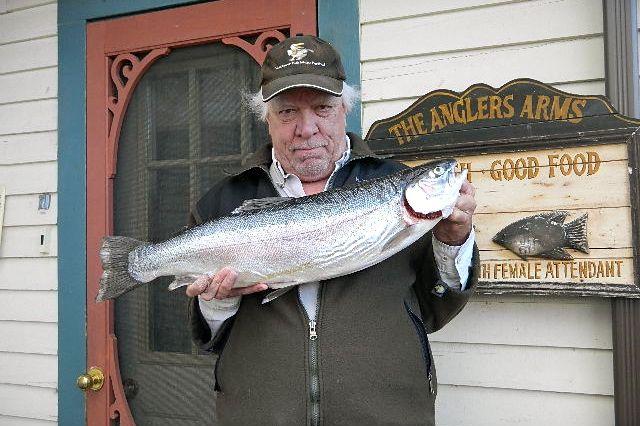 Celebrated guitarist Amos Garrett may be best known for his solo on Maria Muldaur's "Midnight at the Oasis," but he's also recorded a dozen albums of his own. Garrett's playing spans every genre of roots music, from blues to country and, most recently, jazz on his 2013 album Jazzblues. Garrett has also recorded with more than 150 artists, including Stevie Wonder, Paul Butterfield, Bonnie Raitt and Emmylou Harris. An angler for 70 years—since he was four—Garrett has a particular passion for salmon and trout. Perhaps not surprisingly, he makes his home in the fly-fishing hot spot of High River, Alberta. Learn more: www.stonyplainrecords.com/amosgarrett
Favourite Fish: Atlantic salmon
Favourite Type of Fishing: Dry-fly fishing
Favourite Fishing Song: "Wrong Lake to Catch a Fish" by Chuck Willis
Adlatok River, Newfoundland & Labrador
GPS: 55.021, -60.788
Fish: Atlantic salmon
Why: Chance to fish a six-pool river with only five other anglers on it
Best Time: Mid-July to mid-August
Best Fly: Green Machine
Bow River, Alberta
GPS: 50.854, -113.970
Fish: Brown and rainbow trout
Why: Lots of elbow room if you have a boat
Best Time: After July 15 (once the Stampede is over)
Best Fly: The Gander
Flowers River, Newfoundland & Labrador
GPS: 55.653, -61.485
Fish: Arctic char, Atlantic salmon
Why: The char (photo at end) are incredible, and a sure thing
Best Time: Mid-July, August
Best Flies: Blue Charm (salmon), Copper John (char)
Kootenay Lake, B.C.
GPS: 49.730, -116.880
Fish: Bull and rainbow trout
Why: Open-water winter fishing for 20- to 40-pound Gerrard-strain rainbows and huge bulls
Best Time: Winter
Best Lure: Your guide will know