Longtail Tally
For an Exciting Late-season Winter Hunt, Try Gunning for Lake Ontario's Unique Population of Fast-flying Sea Ducks
In mere minutes, our shore blind will be ready, with each wave freezing it more securely to the icy rocks. Underfoot, zebra mussels provide much-needed traction as we set out the decoys. Just as we finish, a handsome pair of long-tailed drakes screams over the spread at Mach 3, the sound of their wings slicing through the frosty morning air like knives. A glance at my watch reveals the magic time has arrived. "We're legal, boys!"
Last January, I again found myself on what has become an annual pilgrimage to Ontario's Prince Edward County, gunning for longtails along the frozen shores of Lake Ontario. Hunting with buddies Chris Benson of Ducks Unlimited Canada and Country Outfitters' Frank Dunlop, a local waterfowling authority, I've come to gain a true appreciation of these unique birds. They might be the most handsome, challenging and rewarding ducks to pursue, and the late season on Lake Ontario sees blizzards of them.
Prince Edward County, in particular, is a longtail hunting hot spot, with prime time starting shortly before Christmas and running until the season closes around mid-January (see "The Ontario connection" below). For southern Ontario waterfowlers, the opportunity to hunt these Arctic-nesting sea ducks is not to be missed—just make sure you're equipped with the proper gear and tactics.
Gear
Frigid late-season weather, big-water tactics and the tenacious nature of the long-tailed ducks themselves make for some specific requirements in terms of equipment.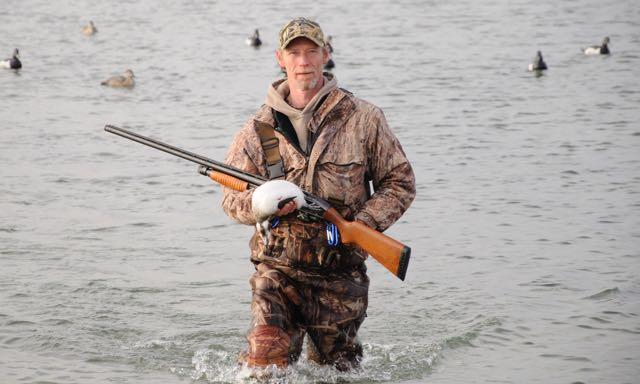 Clothing
You'll be facing extreme winter weather, so it's important to stay warm and dry in order to remain effective and safe. Dress in a series of layers, starting with a polypropylene base, top to bottom, followed by various mid-layers of polar fleece. Top it off with camouflage waders and a wind- and waterproof waterfowling jacket. You'll also want some warm socks, gloves and toque.
Shotgun
Leave the 20-gauge at home and bring your trustiest 12-gauge autoloader. Reliability and follow-up shots are the name of the game here. Pumps are dependable, but semis tend to keep most hunters on target longer. Expect some longer passing shots, so a 28-inch or longer barrel is a good choice.
Ammunition
Bring lots and lots and lots of shotshells. Longtails are tough, fast-flying, quick-swimming, hard-diving ducks, so expect to make multiple shots to down and retrieve each bird. With the volume of shooting typical on these hunts, in fact, I would not recommend recoil-heavy 3½-inch loads or expensive non-toxic steel substitutes. Longtails are not overly large-bodied ducks, but you should still up your shot size. I've had good results with 2¾- and three-inch shells with #2, #1 and BB steel shot, with the larger shot size slightly extending the effective range. Prince Edward County's waterfowl gurus seem to favour 2¾-inch shells with #1 steel shot, which makes for a good all-round choice. Also keep a few boxes of #4 shot handy as slapper rounds for wounded birds.
Boats and Blinds
Most longtail hunts take place from shore blinds, but if the weather is calm and safe, layout boats can make for unforgettable wingshooting action. If you run a layout boat, you'll also need a tender boat to deploy the layout, set decoys and retrieve both birds and hunters. A seaworthy 16-foot semi-V with a 25-horse will do just fine. As for shore blinds, my hunting buddies and I usually construct a custom wooden frame on location, draping it in burlap that's similar in colour to the rocky point or beach we've set up on. Folding chairs and some brushed-in local vegetation complete the set-up (also see "Tactics").
Decoys
You don't need as many decoys as might you think, and they don't even need to be species-specific or of high quality—a few dozen gang-rigged, contrasting black-and-white diver decoys will get you hunting effectively. Just make sure they're visible and in the right place. Ideally, a dozen or so longtail decoys in the main landing zone will help ensure effective shooting at cupping birds with their landing gear down.
Accessories
A few other items have also found their way into my longtail blind bag, including a long, lightweight fishing net to help recover dead or crippled birds in the cold turbulent surf. I also bring hand pruners for quickly brushing in blinds with local vegetation, and ear protection thanks to the large volume of shots fired on a typical hunt.
Tactics
When it comes to waterfowling techniques, longtail hunts are not much different from most late-season diver hunts on big water, but expect to double the wow factor.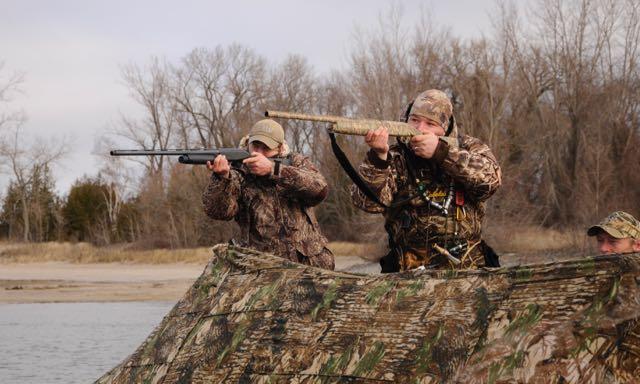 Layout Boats
Hunting from a layout boat might be the most exciting way to gun for these fast-flying sea ducks. During the extreme late season, Lake Ontario's conditions are rarely pleasant and safe enough for this tactic, but when they are, capitalize on it. This is especially the case when the ducks are working mollusc beds more than 100 metres from shore, or ice extends into the lake and you need a layout boat to get into gunning range.
Shore Blinds
This might be the most common, hassle-free method of hunting longtails. Unlike pressure-cooked mallards, these birds are not renowned for closely scrutinizing the shoreline. Instead, their eyes tend to be on the water, seeking out other rafts of ducks or easy, shallow-water feeding areas. That means your blinds don't need to be perfectly camouflaged or extremely low profile. You can use natural materials, such as rocks or driftwood, or build a wooden frame and cover it with camo or burlap. Taking into account the wind, set up near some natural cover on a point, rock pile or sandbar that extends out into the lake, putting you in range of the ducks.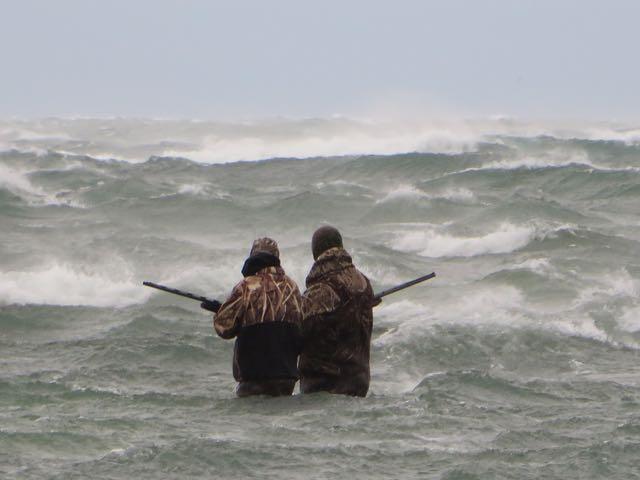 Wading
In this part of Lake Ontario, the mollusc flats are shallow and can extend several hundred metres into the lake. When shore blinds are too far from the action, and the weather is too rough for layout boats, consider wading out and setting up near any exposed rocks. The ducks don't seem to notice you, and they'll certainly tear past within shooting range. The key is spotting them early enough to get a good shot off—longtails fly at incredible speeds, often inches above the water's surface. Add three-foot swells and you'll only get flashes of incoming birds before they scream overhead.
Pass Shooting
Decoys don't always seal the deal when longtails are on a mission, determined to go somewhere else. But they're predictable enough that pass shooting is a viable option when they cut across points or skim over beaches at low altitude. For the best results, just remember to generously lead these birds, up your shot size and, well, empty the gun.
On the Table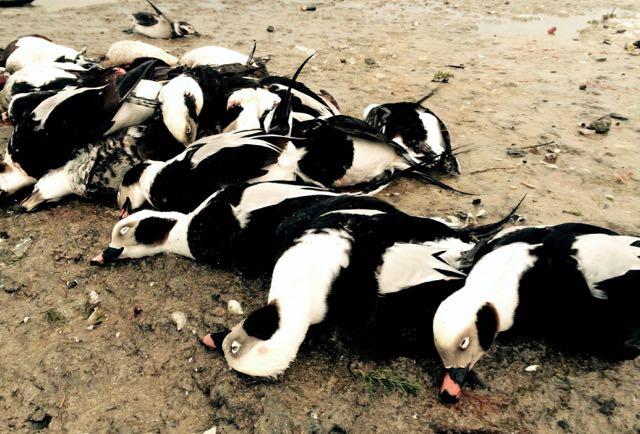 While it may not compare to mallard or canvasback, longtail for dinner is nothing to sneer at. It's perfectly edible if prepared properly. You can also grind up deboned longtail meat with bacon, then add it to other ground game meats. A small amount of sea duck incorporated into the likes of smoked sausages, pepperettes and burger patties will go completely unnoticed, with the end result remaining delicious.
The Ontario Connection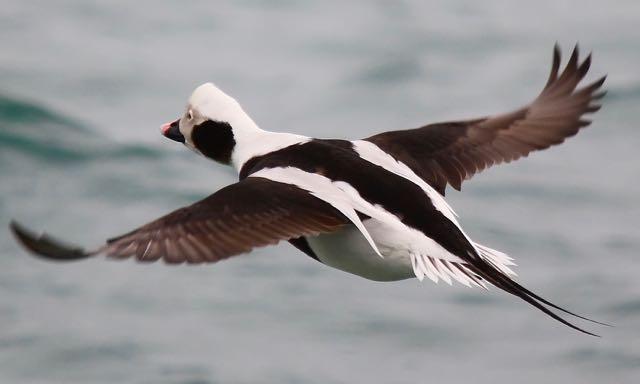 Records show longtails have always used Lake Ontario as a staging area during their migration to wintering grounds along the Atlantic coast. With the invasion of zebra mussels in the early 1990s, however, they began feeding on the molluscs and overwintering in greater and greater numbers. Hot spots now include the stretch of shoreline from Presqu'ile Provincial Park east to the Thousand Islands region.
Centred in this core wintering range is Prince Edward County, where the numerous rocky points and expensive shallow mollusc beds attract and hold these foraging sea ducks. The region is also subject to high winds and wave action, which keeps the waters from freezing much later than other areas.
Lake Ontario's overwintering longtail population has been estimated at as high as 100,000-plus birds, with 60,000 as the long-term average. These numbers represent up to 10 per cent of the entire North American population, set apart from the other 90 per cent that overwinter along the Atlantic and Pacific coasts.
Interestingly, longtails typically appear on Lake Ontario later than other waterfowl, usually in early December, with numbers continuing to build until they peak sometime in January. So confirmed University of Western Ontario researcher Philip Wilson, who implanted some 100 adult longtails with satellite transmitters to monitor their wintering movements, migratory routes and breeding locations. Colder than normal temperatures can fast-track their arrival, allowing hunters to jump-start the season, but the risk of frozen shorelines can also cut the season short.
Given that long-tailed ducks are most numerous along the Pacific and Atlantic flyways, it's not surprising that hunting for them is also quite popular along the Nova Scotia, Maine and New England coastlines down to Chesapeake Bay off the Maryland coast, where many of the birds overwinter. Hunters will also encounter longtails from Alaska down to the northern California coast. North America aside, these circumpolar Arctic nesters also offer renowned hunting opportunities along the coastlines of Greenland, Scandinavia and Russia.
Contributor Adrian Skok hunts for all manner of game, both in Canada and abroad.