Unleashing the Lazy Worm
Outdoor Canada Team Seduces the Fat, Lazy, Lock-jawed Smallies of Lake Simcoe
One of the funny things about fishing is how sometimes three people in the same boat can have such a different experience. For example, on Wednesday Outdoor Canada's editorial team—Patrick Walsh, Bob Sexton and yours truly—ditched the office to spend an unseasonably mild November day on the water in our 2016 Alumacraft Competitor 175 LE (below).
For Bob and Patrick, it was a tough day. For me, though, it was pretty great. I took a chance on a seemingly ridiculous technique, and it led to one of my biggest smallmouth ever (below), and our only two fish of the day. Read on for details, including my wacky take on a modern-classic lure.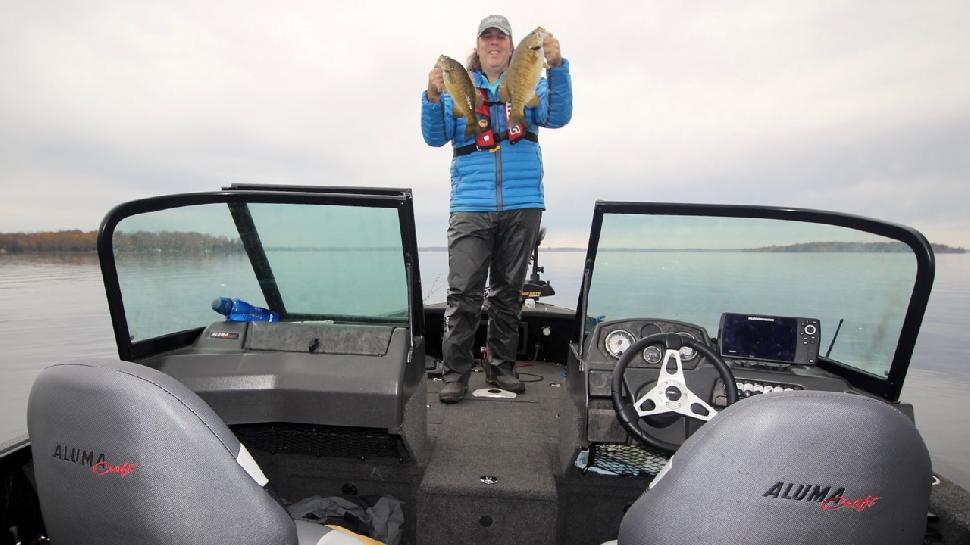 Our home water of Lake Simcoe produces some giant bass, but Simcoe can be frustrating, too. Often, it's a feast-or-famine kind of lake. On Wednesday, we blanked on three or four likely spots. Then we tried a large shoal in the south-central part of the lake, with water ranging from 10 to 16 feet in depth. And we knew this was the right spot because (1) in the gin-clear water we immediately saw lots of big fish and (2) Dave Chong—a top Canadian pro and OC friend—was on the same spot.
But then the feast laid before us turned to famine. For several hours we threw everything we had at the fish, to no avail. Once in a while one of those big bass would lazily cruise over and eye a bait, but that was it. Dave was landing a few here and there on cranks, small swimbaits and spybaits, but said he couldn't really suss out a consistent pattern either.
Finally, I got tired (and honestly, a little bored) of casting fruitlessly. So I tried one of my fave new tricks: lazy-worming. Never heard of it? Well, that's because I just came up with name for the technique (and I'm hopeful it will stick). I learned this trick from Southern Ontario guide/pro/fish whisperer Taro Murata, of Fish City Tours. It's a goofy, yet remarkably effective new way to fish Senko-style stickbaits. Lazy-worming takes the near-magical effectiveness of the wacky worm technique to a new level… of laziness.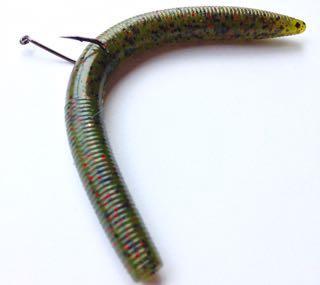 By now, most bass anglers know that the wacky-rigged worm (above) is arguably the best ever bass bait for fishing around cover. As Gord Pyzer described in OC's 2016 Adventure issue, you cast it tight to cover, let it sink and give it a few gentle hops. And it positively unhinges bass. But what I learned from Taro is that you can also fish it—and very effectively—in open water as well.
Here's what you do: Chuck your wacky rig way out, let out another 10, 20 or 30 feet of line (if the water is deep) and sit down, relax and maybe have a sandwich. Seriously. That's it. As we zig-zagged across the shoal at 0.5 mph, with the other guys casting away, I took a seat, and ultra-slow-trolled my wacky rig, giving it the very occasional shiver or tug. Once in a while, after it touched weeds or bottom, I'd recast, in order to keep it well up in the water column. After about 30 relaxing minutes there was a bump, I tugged back, and it felt like I was into a bowling ball. Following a spirited fight—one that brought me to my feet in a hurry—I had one of my best ever smallies.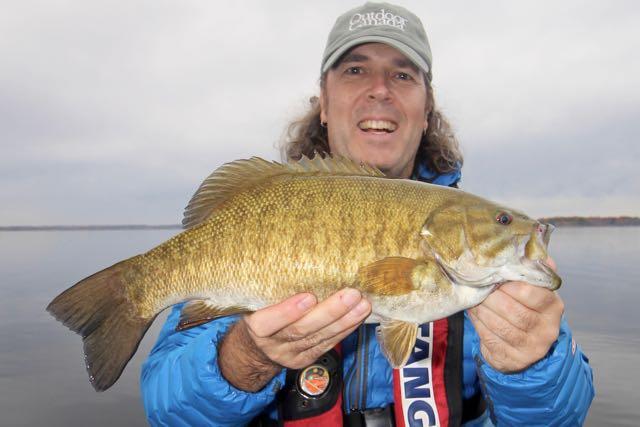 And a while later, it happened again, so I got to do one of those the classic double-fist photos (below).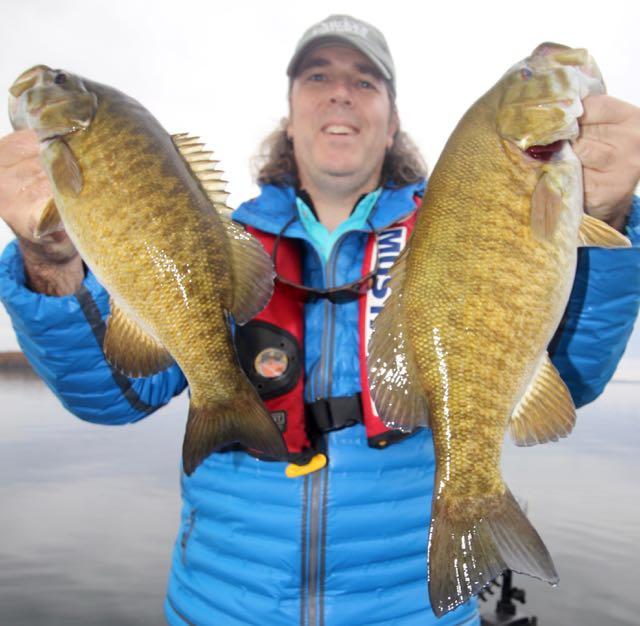 And that's the lazy worm. This summer I caught or helped friends catch at least two dozen large- and smallmouth bass on this lethal, lazy technique. It works best when you're pretty confident there are fish in the general area, but there's no obvious structure to target—just like that shoal on Wednesday. My guess is that the little shiver of a stickbait drifting and very slowly falling through the water column is just so subtle and seductive, it will bring cruising, and even negative fish, in for a looksee… and then a snack. When I'm kayak fishing and stop for lunch or coffee or just a break in open water, I always throw out a worm, put the rod in the holder, drift and chow down. And you'd be surprised how often I spill my drink or drop a sandwich while grabbing for that rod.
Lazy-worming is also a fantastic technique for youngsters and novices, especially if they don't have the casting chops to target structure, or if they just want to hold a rod and not do much else. That describes my kid Sam. One evening this August I was working my butt off "walking the dog" with a Zara Spook, and getting only a few small ones. Meanwhile Sam (below) in the front of the canoe pretty much cleaned out the lake with his lazy worm.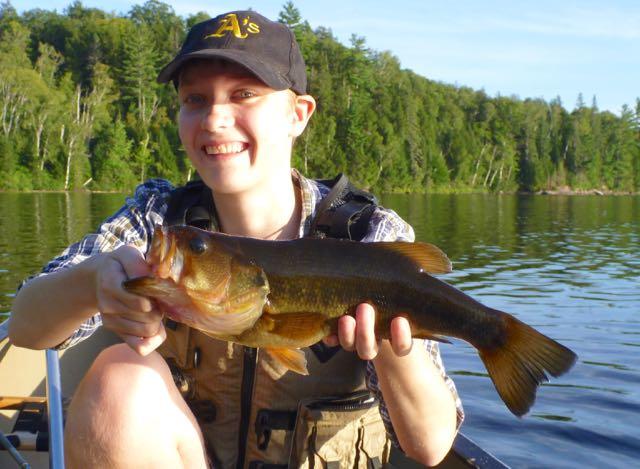 So how did I come up with the name? Well, wacky-worming is a basic, yet effective, bass technique, where you move the bait very little. So lazy-worming is what happens when you do even less. I tweeted Taro (@TaroMurata) to tell him that I took it upon myself to name this technique. I haven't heard back yet, but considering he's hilarious as well as being a great guide, I hope he'll approve. And I stress again—this isn't a gag. This technique really works, provided you're patient enough and, well, lazy enough to try it.