Koda and the whitetail
Without photo evidence you'd never believe this was real
[easy-tweet tweet="Koda and the white-tailed buck—without photo evidence you'd never believe this was real " user="OutdoorCanada" hashtags="animalphotos, trailcam"]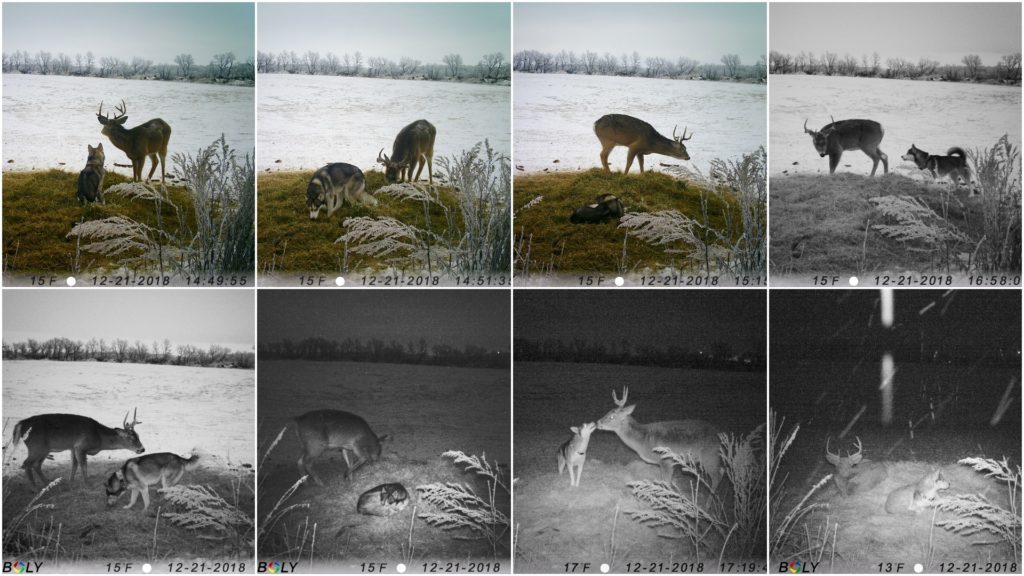 Here at Outdoor Canada we sometimes hear a story that's so incredible, we have to share it with readers as soon as we can. The following once-in-a-lifetime story—and the unbelievable pictures that go with it—arrived courtesy of Rachel Howatt and Clinton Sibbick, who live in the Pembina Valley, south of Manitou, Manitoba. Here's what they told us…
Around Christmastime (December 20 to be exact), our Siberian husky Koda, who is known for wandering, disappeared. It was terrible—she was missing for three entire days, and we started to think the worst, since we hadn't seen or heard of her, even after searching the entire valley, both on foot and using a snowmobile. We did joke many times that perhaps she'd made new friends in the valley, and was too occupied to come home.  After those three very long days, Koda came sauntering back into our yard like nothing had happened, and she'd only been gone a minute. She wasn't hungry, and didn't have so much as a scratch on her body. Of course we were happy, but where had she been? And what had she been doing? We had sooooo many questions for her—if only dogs could talk. 
A month later, my uncle was talking to a neighbour in the valley. The neighbour has many game cameras set up for watching wildlife on his property, but he'd been away on holiday for weeks, and only just started looking at the photos from late December. But what he caught on camera was amazing: hundreds of pictures of our Koda and a buck kissing and sleeping together. That's not something you believe without photo evidence. So I'd like to share the photos with you, so you believe me. 
Rachel and Clinton sent us the following set of 12 truly remarkable photos of Koda the husky and a deer buck frolicking, snoozing and yes, even nuzzling. From the time stamp, you can see they spent at least 12 hours together. Just incredible.
We hope you enjoy these photos as much as we did. And a huge thank you to Rachel and Clinton for sharing them with all of us.