Splake through the ice
Everything you need to know about location, tackle and presentations
Nothing will test your patience more than ice fishing for splake, the stunningly beautiful cross between male brook trout and female lakers. It's not that these fish are particularly difficult to catch. Rather, they have a split personality and behave erratically as individuals, even in the same lake on the same day. It's as though they can't decide whether to act like brookies or lakers.
Ice expert @GordPyzer shares his top #icefishing tips for splake (a brook trout-lake trout hybrid), with everything you need to know about location, tackle and presentations!
LOCATION
As a result of their split personality, you can find splake in the same places you'd find brookies and lakers. That makes prominent underwater points your best bets to start looking. You can fish the deep water near the tip, as you would for lake trout, or the shallow, weedy and wood-laden water near shore, where brookies are typically found during winter. You can also find splake along the breakline between those two areas.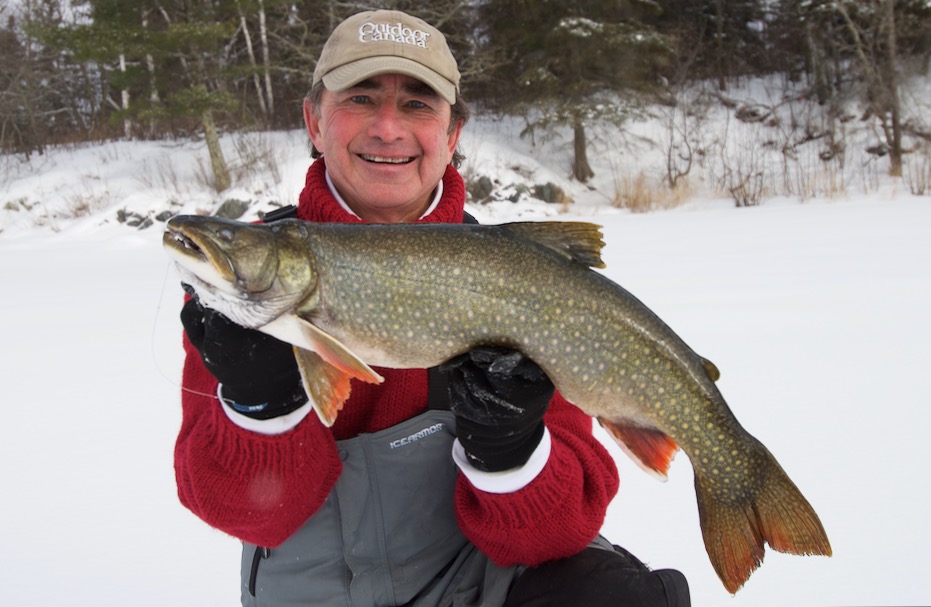 Splake lakes are definitely good places to take advantage of using two lines, which most provinces allow during winter. I typically drill far more holes, over many more depths, when I'm ice fishing for splake than any of the other trout species. And I'm much more mobile, moving my tip-up every 15 minutes if I don't get a bite.
It's important to know that splake are typically stocked in deeper, less-fertile lakes, which are often already home to yellow perch and sucker populations that would otherwise outcompete brook trout. That tells you a lot about what you need when it comes to bait selection and presentation.

TACKLE
For my splake tip-up, I use the same set-up as I use for brookies, but with a bigger minnow attached to the #2 or #4 Gamakatsu hook hanging below my half gold/half silver W30 Williams Wabler (above). When jigging, however, I go with a beefier set-up: a 30- to 36-inch medium-action jigging rod spooled with 10-pound-test Sufix Ice Fuse and an eight- to 10-pound-test Ultragreen leader. And my go-to bait is a white Bass Magnet tube jig, which I present the same way as I would for lake trout.
It helps to know how big the splake grow in your favourite lake because the hefty heavy hitters tend to behave more like lake trout, while the mighty mites act more like brook trout. Can't decide which is the case? Then use a dropper rig with a 1/4-ounce Mepps Little Wolf (in glow pink/gold back) or Acme's gold Kastmaster spoon with a small jig dressed with a piece of cisco or herring belly meat a foot above it.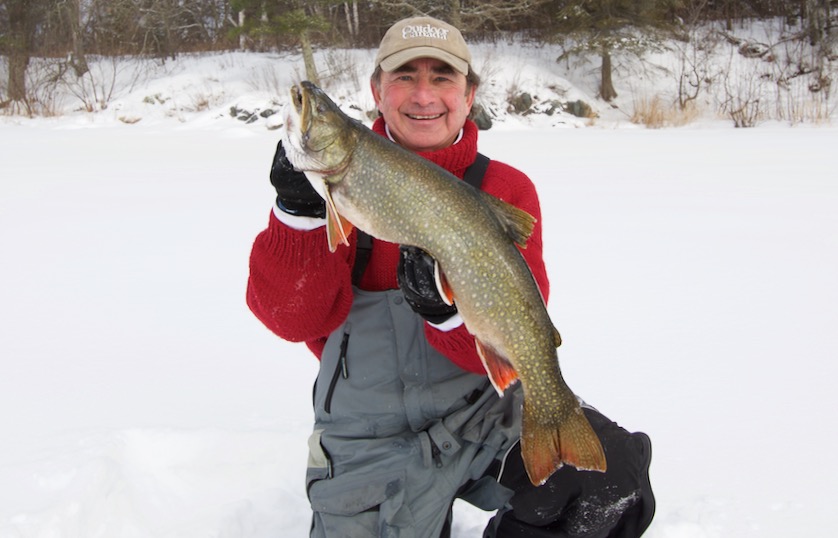 PRESENTATION
I like to divide the water column into 10-foot zones. If I'm jigging in 40 feet of water off the end of a point, for example, I drop the tube to the bottom, reel it up a foot or two, then use my wrist and arm to briskly lift it up a couple of feet before pausing. If I don't feel a hit, I'll let the tube fall back down and pause, then repeat the procedure. If I don't get a bite within a few minutes, I'll reel up 10 feet and duplicate the process. And on it goes until I'm jigging the zone immediately under the ice. After that, I move on to the next hole to do it all over again.
When you strain the water column this way, you discover two things. First, there's always a favourite depth the fish are using each day. But perhaps more importantly, many lakers cruise just under the ice—relating to it as if it were the bottom—ready and willing to smash your lures.
Every Friday this winter we'll be sharing Outdoor Canada's coolest ice-fishing tips for 2019. Check back often for the latest tackle, tips and techniques for icing more walleye, trout, perch, northern pike, lake trout, crappies and whitefish.