Buck Buster
Winchester 's XPR promises great value for the money
This year, Winchester celebrates its 150th anniversary and grand history of manufacturing firearms, which includes the pre-1964 Model 70, considered by many hunters to be one of the finest, most dependable rifles ever made. Not that Winchester has rested on its laurels. Like so many companies, it has had to keep pace with changing consumer demands, such as the need for a hunting rifle that provides solid value at an affordable price.
Enter the XPR, which hit the market last year at around $500, roughly half the price of the Model 70. Touted as a "robust, reliable and affordable hunting rifle," it's the first new Winchester bolt-action centrefire design in more than 50 years.
My first observation is that the XPR utilizes the exact same MOA trigger that significantly improved the Models 70's performance. It offers zero take-up, zero creep and zero over-travel that, when checked, was remarkably consistent between three pounds 12.7 ounces and three pounds 14.2 ounces. It certainly lived up to its MOA hype, with a clean, crisp break to boot.
Made of chromoly steel and sporting a recessed target-style crown, the barrel is precisely button-rifled, thermally stress-relieved to ensure optimum accuracy, and free-floated to eliminate potential pressure points. A barrel nut is used to secure the barrel to the chromoly receiver, which is inset into the stock with a steel recoil lug.
The receiver itself has a large ejection port for reliable ejection and easy access when loading cartridges by hand. Nickel Teflon-coated for smooth cycling and advanced corrosion resistance, the bolt has a short 60-degree lift. All other metal surfaces are matte-blued for corrosion resistance.
As for the stock, it's composed of an advanced polymer, with textured panels on the fore-end and pistol grip for improved handling in cold, wet weather. The fore-end has rounded edges, but offers a slightly flattened bottom for improved stability when shooting from a rest. The stock also incorporates an inflex-technology recoil pad that reduces felt recoil by moving the comb down and away from the face.
Rounding out the package, the XPR offers a two-position thumb safety, a highly visible cocking indicator, a bolt unlock button that allows the chamber to be unloaded with the thumb safety in the on-safe position and a detachable polymer single-stack box magazine.
My only negative comment on this rifle is that I would have preferred a flush-mount clip magazine. That's minor, however, given the great bang for the buck the XPR offers. Available with either a black or Mossy Oak Break-Up stock, it comes in 11 calibres, from .243 Winchester to .338 Winchester Magnum. For this review, I put an XPR in .30-06 Springfield through its paces.
Test Results
After I shot just shy of 100 rounds with the XPR, the results were certainly noteworthy. Like most rifles, it sure had its likes and dislikes, with some ammo grouping well under an inch, while others pushed the tape beyond two inches. But the very good news was that nine out of the 22 groups measured at an inch or less, with the overall average being 1.36 inches; some even approached a half-inch. Even better, 74 out of 85 shots of all brands and bullet weights grouped into a three-inch square.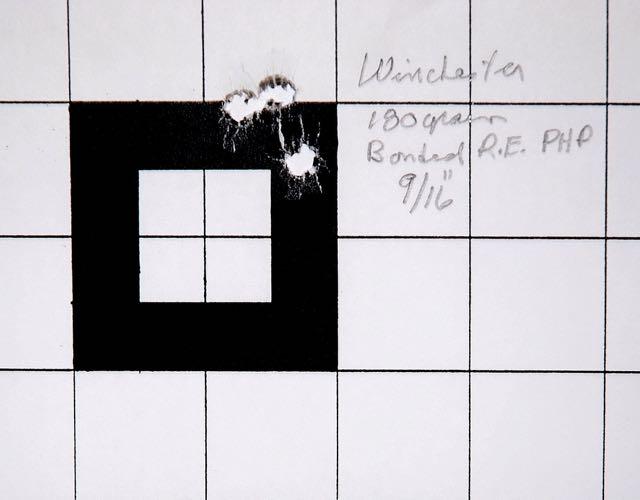 I also noted that the XPR seemed to prefer the heavier 180-grain ammo, with a number of groups well under an inch, while still delivering MOA accuracy with 150-grain bullets. For hunting deer-sized game, I would opt for either Winchester's 150-grain Deer Season XP or Hornady's 150-grain American Whitetail. As for elk or moose, either Winchester's 180-grain Power Max Bonded or Federal Premium's 180-grain Trophy Bonded Tip should do the trick.
Finally, considering the diversity of the ammo I put through it, the XPR coupled with a Redfield scope offered dependable accuracy. Unquestionably, this pairing would make for an effective buck-buster combo.
B.C.'s Mark Hoffman is Outdoor Canada's new hunting firearms reviewer.

The Specs
Calibre: .30-06 Springfield
Barrel Length: 24″
Overall Length: 44½"
Length of Pull: 13¾"
Drop at Comb: ½"
Drop at Heel: ¾"
Weight: 7 lb
Rate of Twist: 1″ to 10″
Magazine Capacity: 3