Turkey Taker
Boasting a pistol grip and Winchester's Active Valve system, is it a great gobbler gun?
Brought back from the brink of extirpation in many areas, wild turkeys are now estimated at seven million birds across North America. This major resurgence has not only been a welcome addition to the world of bird hunting, it has also sparked entire lines of products dedicated to hunting these birds. The latest shotgun offering from Winchester—the SX3 Long Beard—unquestionably falls into that category.
A number of years back, when the SX3 first hit the market, I tested it in a waterfowl configuration, the Waterfowl Hunter. I was very impressed with a number of the internal design features, and the Long Beard now shares them. The single-most impressive of these is the proprietary Active Valve system. In short, it's a gas system consisting of a gas piston with an internal valve that self-adjusts to fire a wide range of loads. With light loads, most of the resulting gases are used to operate the action; with heavy loads, excess gases are vented from the piston. And when shooting 3½-inch mega-magnum loads, a portion of the gases is also vented forward out of the Quadra-Vent ports in the forearm.
This distribution of the gases allows you to reliably shoot just about any load you want with less recoil. It also feeds the company's claims that it's the fastest autoloader in the world. Winchester might well be right, as the Long Beard will fire five shells in roughly half a second, a blinding speed that impressed the heck out of me.
As for the external features that separate the Long Beard from other SX3s, the most recognizable is the pistol grip synthetic stock with interchangeable soft combs. Less visible but vital to the performance of this shotgun is the Briley Long Beard extended extra-full choke. Then there's the cantilever Weaver pattern rail for mounting a scope or electronic sight, and the TruGlo fibre optic front sight and adjustable rear sight. Common features with other SX3s include the multi-axis adjustable stock, superior cushy recoil pad and full-camo finish.
Test Results
Although I was a bit skeptical at first, I ended up really liking the pistol grip. Well suited to a shotgun that's most often used to aim rather than point, I found it gave me a very firm grip on the gun and precise shoulder placement—both pluses.
Also because this shotgun is used much like a rifle, it's worth noting the trigger performance. While it had a bit of creep, it broke consistently at six pounds two ounces—quite acceptable for a turkey gun.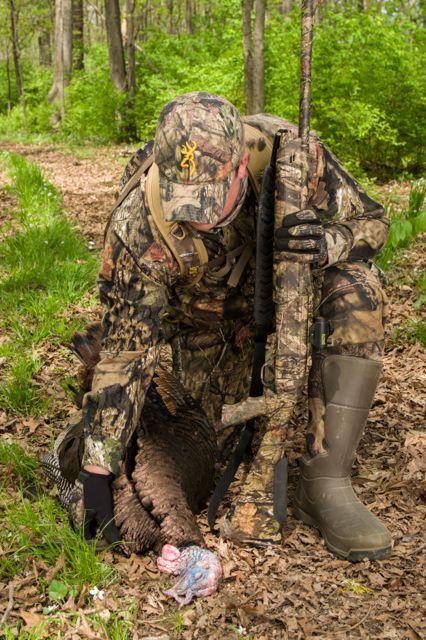 And I can't leave the discussion on this shotgun without mentioning the distance it would throw spent shells. Some landed just shy of 20 feet—quite remarkable. In so far as the ammunition used, I included nine different loads from Winchester, Federal, Hornady and Remington, all but one being dedicated turkey loads.
For all of my 40-yard tests, I used Birchwood Casey's Pregame turkey targets. Measuring 12 x 18 inches, they offered a full-colour image of a tom's upper body, neck and head, while clearly delineating the vitals. Even better, pellets make colour-coded splatters upon impact: pink for the brain and neck, chartreuse for the body and white for a miss—awesome targets.
My tests produced a couple of surprises. For starters, Hornady's various loads did not provide the results I expected. My postmortem analysis revealed why. With its Versatite wad, the ammo was designed to be fired from a shotgun with an improved cylinder or modified choke—not the Briley extra-full choke I was using.
The second surprise was the performance of the Federal Premium Mag-Shok #6 lead shot, in that it about equalled all the specialty turkey ammo with 10 hits in the pink zone and 34 in the chartreuse. The exception was Winchester's Long Beard XR #5 shot, which topped the next best load by 10 hits, with 59 combined pink and chartreuse hits.
Both Federal's and Remington's turkey ammo also performed very well, delivering nine or better pink zone hits and 38 or better chartreuse hits. Each of these loads offered instant lethality in the SX3 Long Beard. Turkey terminator indeed.
B.C.'s Mark Hoffman is Outdoor Canada's new hunting firearms reviewer.
The Specs

Gauge: 12
Chamber: 3½"
Magazine capacity: 4
Overall length: 46″
Barrel length: 24″
Length of pull: 14¼"
Drop at comb: 1¾"
Drop at heel: 2″
Weight: 7 lb 8 oz.