Weather buster
The X-Bolt Hell's Canyon Speed rifle is made for tough conditions
It's a wonder that a rifle and scope can withstand the rigours hunters sometimes encounter, especially in extreme weather. Even still, we expect our rifles and scopes to perform in everything from torrential costal downpours to Arctic blizzards. That's because today's rifles, with their stainless steel barreled actions and synthetic stocks, have come a long way in handling some pretty tough weather conditions. The same goes with scopes offering advanced, gas-purging technology and lens coatings. Even still, I've long been looking for the ultimate weather-busting combo. My search ended last year when Browning introduced the X-Bolt Hell's Canyon Speed rifle and Leupold came out with the VX-3i scope.
The Cerakote Burnt Bronze finish on this X-Bolt's barrel and action, combined with the A-TACS AU camo composite stock, not only provides an appealing, modern flare, but also outstanding weather resistance. Indeed, the state-of-the-art Cerakote finish is both weather- and corrosion-proof. Meanwhile, the textured gripping surfaces, Dura-Touch Armor Coating, palm swell and Inflex recoil pad collectively make for a rifle that feels great in the hands, no matter what weather conditions Mother Nature may generate.
The heart of any rifle, however, is still its barrel and action. In this case, the action is individually bedded at the front and rear, ensuring the fluted barrel is free-floated for a consistent stock to barrel spacing along its entire length. The rifle also has a muzzle break, which increases the barrel length and muzzle blast, while conversely offering a significant advantage in reducing recoil and muzzle jump. That's a real plus for follow-up shots and observing shot placement.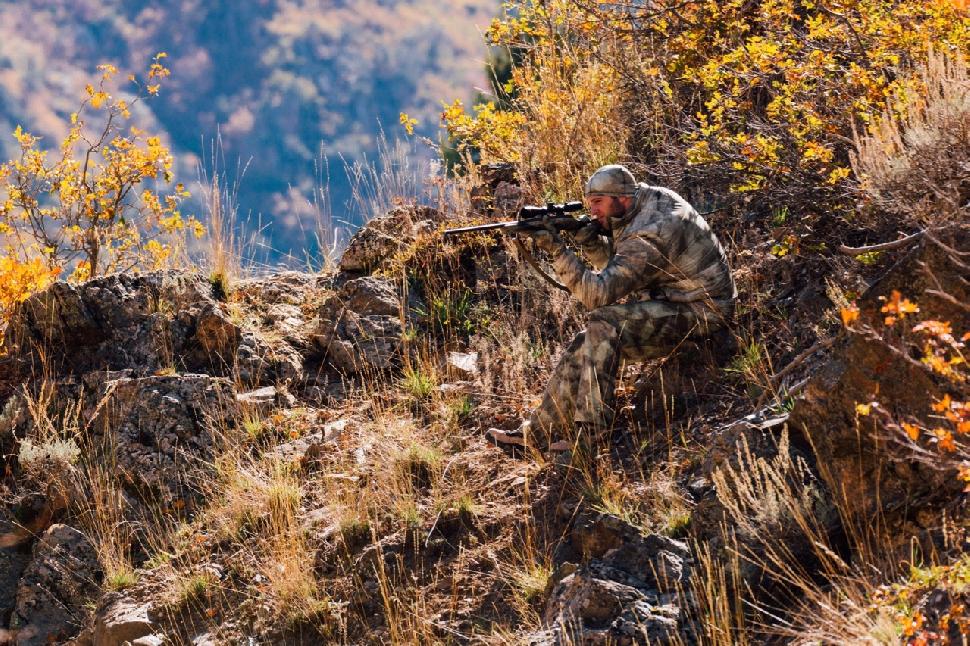 Other features worth noting include the three-lever trigger. Referred to as a "feather trigger," it offers a clean, crisp pull with no take up or creep. Plus, it's adjustable from three to five pounds, from its factory set weight of three and a half to four pounds. Then there's the unlock button, situated on top of the bolt handle, which allows the rifle to be unloaded with the tang safety in the on position.
Next is the bolt. With its three locking lugs constructed of solid steel bar stock, it provides exceptional strength. And with its 60-degree lift, the bolt not only makes for the fast cycling of rounds, it also ensures your hand clears the scope during cycling—no skinned knuckles here. Finally, the rifle's removable rotary magazine is easy to load, and it feeds rounds from the centre line for straighter chamber feeds.
Test results
Mounting the Leupold scope with Browning's new X-Lock Mounting System, which uses four screws per integral base/ring, was very straightforward. Combined, the rifle and scope weighed in at seven and a half pounds, making for a light, nimble rifle that also balanced and fit very well. Both the rifle and scope were flawless in function, and the fit and finish of all the component pieces were spot on. The stock had a very solid feel to it, while the scope offered Leupold's signature dependability.
At the range, I decided to test just about every brand and type of factory ammo I had, as well as several handloads that had shot well in the past. In all, I tested 19 varieties of factory ammo and six handloads—more than enough to judge the potential of this rifle-and-scope combo, which essentially shot lights out.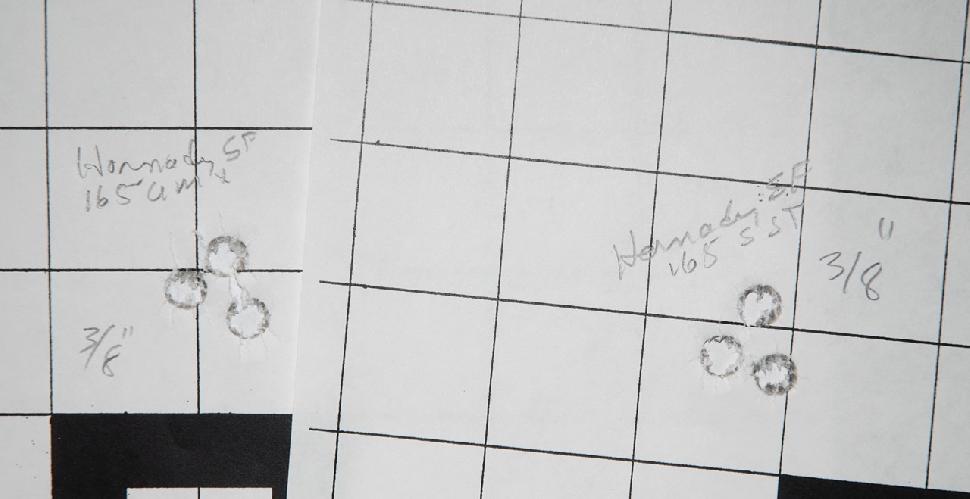 As always, there were some winners and losers (above), but in this case there were a lot more winners. Seventeen of the 25 loads shot into one inch or less, and five of those 17 shot into a half-inch or less. And while the majority of factory ammo shot exceedingly well, my handloads provided just a tad better accuracy. The X-Bolt Hell's Canyon Speed is definitely a shooter, making for an excellent all-weather rifle you can take anywhere, especially when combined with Leupold's VX-3i scope. It will no doubt be around for many years to come.
B.C.'s Mark Hoffman is Outdoor Canada's hunting firearms reviewer.
The specs

Calibre: .30-06 Springfield
Capacity: 5 rounds (with one in chamber)
Barrel length: 22″
Overall length: 42¾"
Length of pull: 13⅝"
Drop at comb: 11/16″
Drop at heel: 0.5″
Average weight: 6 lb 9 oz
Rate of twist: 1 in 10″