A western take on trout
Trout tackle, tips and tactics from a hardcore B.C. ice angler
One of the things I enjoy most is being in touch with anglers across the country—heck, around the world—getting fresh ideas and perspectives on how folks catch my favourite species of fish. So, when Prince George, B.C., friend Chad St. Amand sent me some images recently of the brook trout, rainbows and lakers he and his family have been icing, I had to learn more—a lot more.
"Ice fishing for trout in northern British Columbia is on a par with the best fishing in Canada," Chad told me. "I have lakes with five-pound rainbows, eight-pound brookies and 20-pound lakers within 20 minutes of each other. We typically start the season in higher elevations and northern parts of the province around the end of October, and ice fish right up until April."
B.C. is the heartland for rainbows, while brookies were introduced long ago from eastern Canada. So I was curious how Chad differentiates between the habits of the two trout, and incorporates the dissimilarities into his hard water strategies.
"I look for brookies in two to eight feet of water on mud flats beside weed beds and submerged trees," he says. "Any sort of bottom cover seems to attract them. Rainbows, on the other hand, are different. They're almost unique to every lake. Generally, though, I set up for them in deeper water, usually eight to 20 feet deep. Gravel flats with weed growth are ideal and I typically start fishing one to two feet off bottom, unless my sonar tells me the trout are up higher."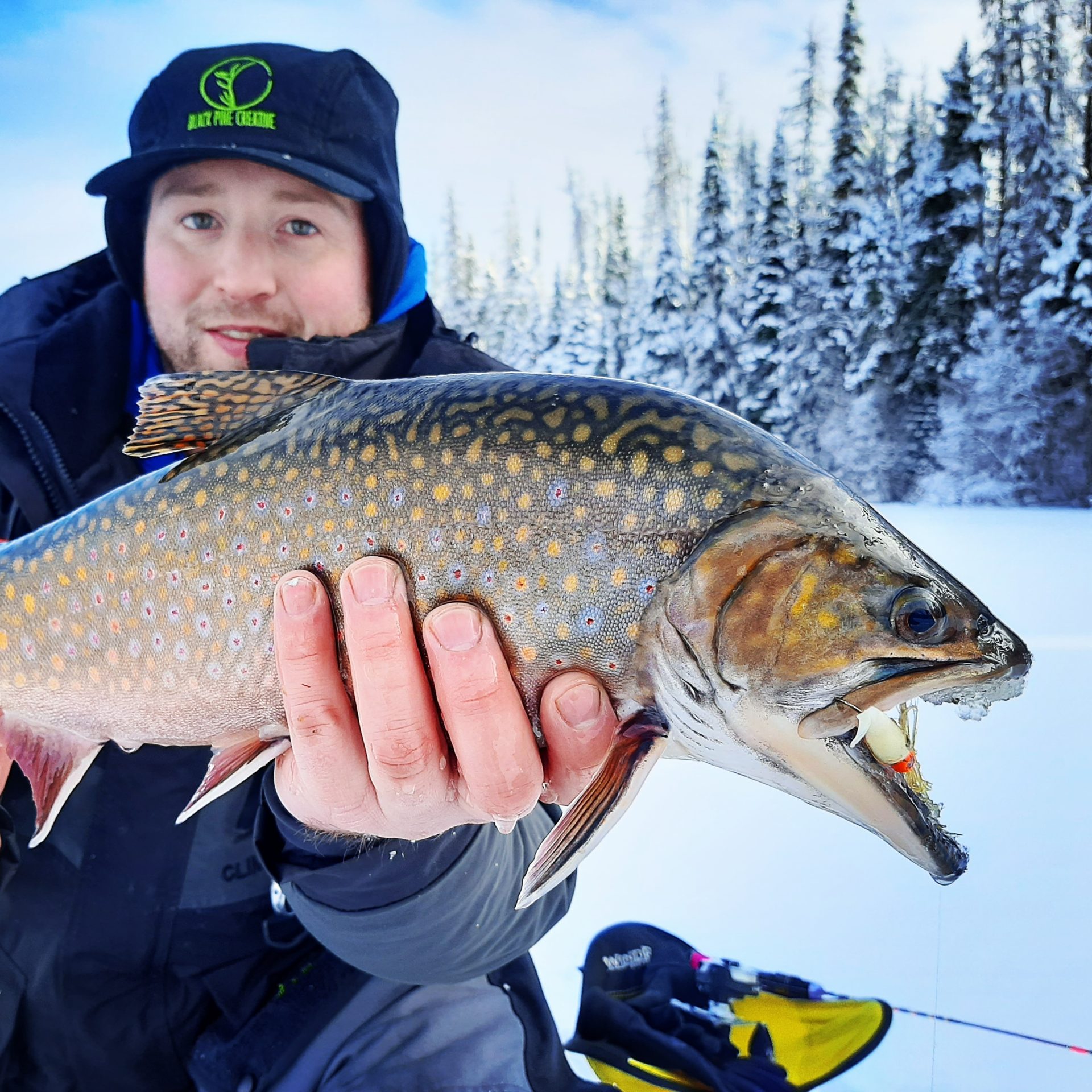 St. Amand also told me: "I find the biggest difference between the two trout is the depth they prefer. So in lakes with both species, if we want to catch brookies, we go shallow. On the other hand, if we want to catch rainbows we drill our holes out deeper. I also find that rainbows prefer natural structure like underwater points and drop offs, whereas brookies really like downed trees and weed growth."
And what about the tactics that St. Amand uses to ice the trout. Does he do anything different? 
"Brookies love movement—the more the merrier," says St. Amand, who has been fishing since he was a baby, strapped into a car seat, on Shuswap Lake. "So I use soft plastics with lots of inherent action. As a matter of fact, I could never find the one with just the right amount, so I started my own company called Black Pine Creative. I make a bait called the Mighty Minnow that has crazy tail vibration. It moves even when you tap your finger on your ice rod. My go-to colours for brookies are fluorescent orange and chartreuse.
"My set-up for rainbows is typically very similar. In fact, many days it's the same. The Mighty Minnows are just so versatile. If I do use bait, it's usually cured prawns. And some days Russian hooks work amazingly well."
While I was intrigued to hear how Chad targets brookies and rainbows, what really caught my eye was the size of the tube jigs he uses for lake trout. They're considerably bigger than the three- and four-inch models most ice anglers use in the central Canadian Ice Belt.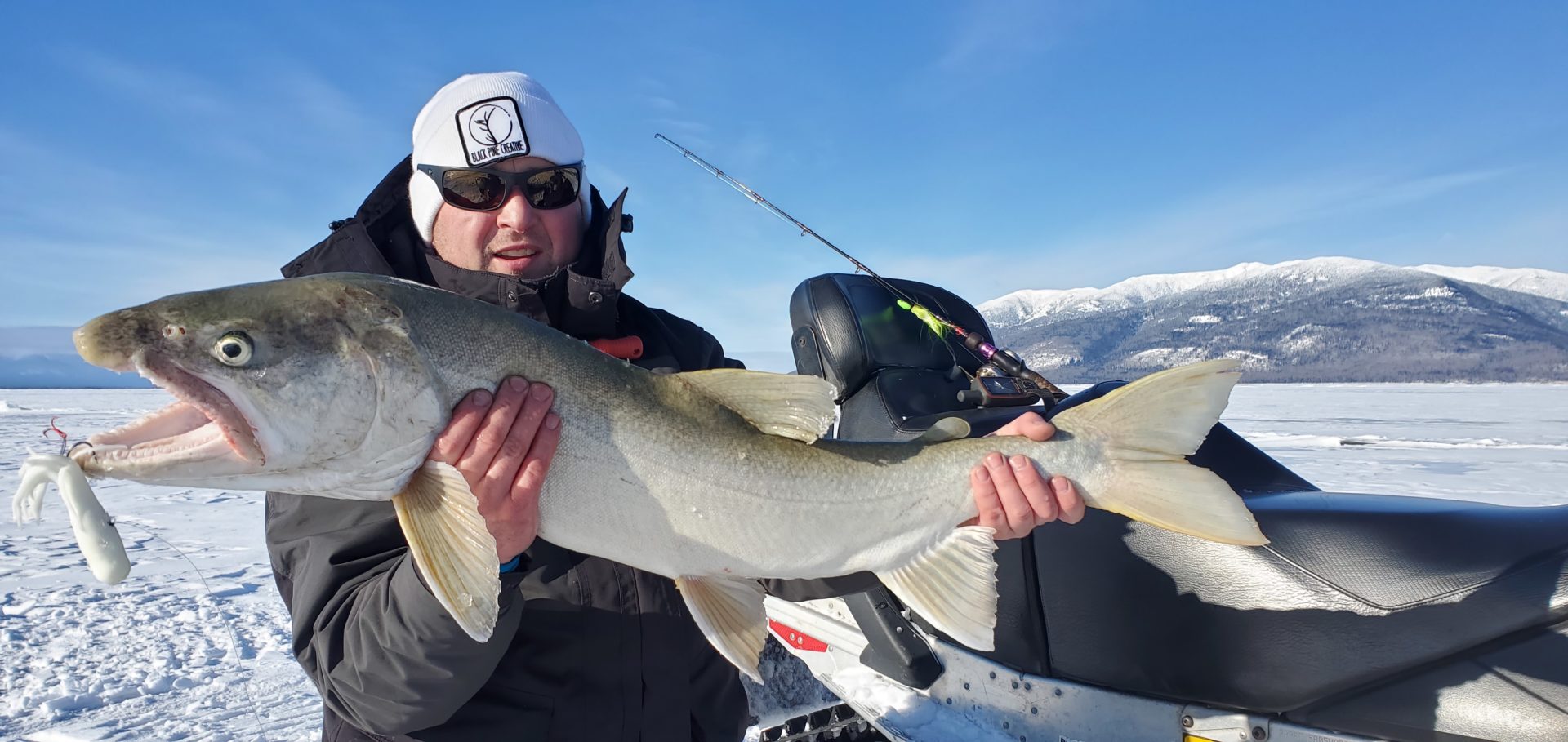 "Before I started pouring the bigger tubes," St. Amand says, "we could could only get the smaller ones. But I am a believer in the big bait/big fish model. Most days, char have eyes that are bigger than their stomachs.
"I am also a huge fly fisher and have been tying flies since I was nine years old. In our area, the lakers eat Kokanee, so I have shaped my tubes to match the profile of the salmon. Also, by incorporating a larger, denser head, I can get a much better glide on the drop. The bigger tube also pushes more water causing a greater disturbance that the big predatory trout can't resist.
"I typically rig them on a spearhead jig with a stinger hook, attached using a plastic-coated wire loop. That way I can easily switch hooks. I also have custom 1-ounce jigs that I rig with the head exposed.
"I let the tube fall down to the bottom, smash it into the mud a couple of times and then lift it up a few feet. I jig the entire water column from the bottom up. We are not allowed to use fish or fish parts for bait, but this method is so effective you don't need it anyway."