It's a sheep thing
A hunting friendship rekindled and the triumph of a first Dall's ram in the rugged mountains of the Yukon
As we flew south of Whitehorse over the Yukon's lush-green rolling mountains, I could see white dots scattered across the grassy slopes below. They were Dall's sheep, and they were everywhere. This particular area had been caught up in a legal battle for the better part of 17 years and, as a result, it hadn't seen any non-resident hunting pressure the entire time. That meant the promise of not only high numbers of sheep, but also some truly grand old rams.
I've been on enough trips to so-called unhunted areas over the years to never allow my hopes to get too high—there's often a reason such places have been left untouched. But this time, it truly did appear to be a hunting Shangri-La in waiting (below). Plus, I had plenty of faith in the person who would be guiding me and my partner, Vanessa.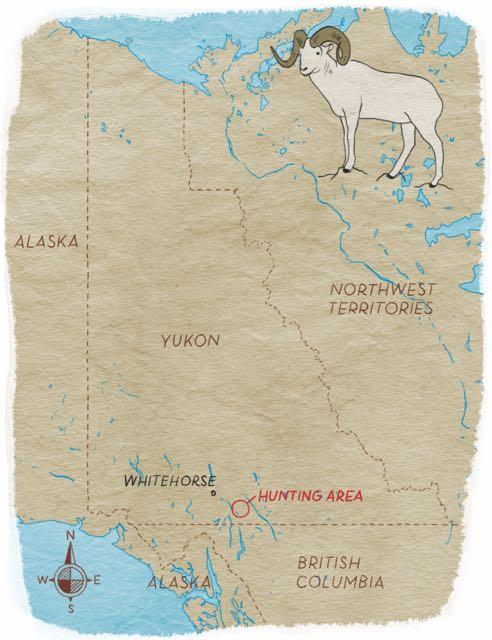 Through my pursuit of big-game animals across this vast world, I've made some amazing friends and rare is there a place I can't connect with a fellow hunter by simply picking up the phone or sending out a message on Facebook. I try to keep in contact with most of the folks I've shared a camp with or met on a windy mountainside, so it was really no shock when Mac Watson called some weeks earlier.
Mac wrangled on one of my first-ever outfitted hunts, and I was the first hunter he had in camp when he was actually being paid for his services. He was 11 years old at the time, and I had a lot less grey hair. I've since hunted nearly a dozen times with Mac and his family. They're an old-school hunting clan with outfitting roots that trace back to Mac's grandfather, James. He started out in B.C. in 1946, followed by Mac's dad, Darwin. And now Mac had just purchased his own outfit in the Yukon.
As I was the first hunter he had actually ever worked for, Mac wanted me to be one of the first hunters in his outfitting area. Well, kind of. He knew I'd taken a Dall's ram a few years earlier, so he suggested that Vanessa hunt for her first ram instead and that I come along for the experience. Who was I to argue?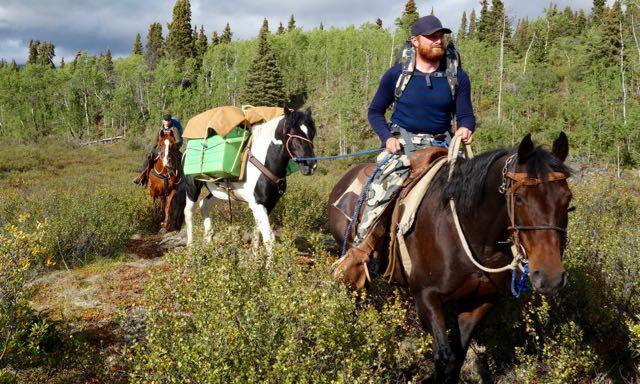 After landing, settling into camp and getting Vanessa's 6.5 Creedmoor sighted in, we had a hearty meal then headed off to bed. The plan was to check out some areas near camp the following day, and if we didn't spot anything, we'd head farther afield and spike camp for a few days.
Sleep did not come easily that night, and Vanessa and I were both out of bed quickly the following morning when we heard the first horse bells outside the cabin. Horse bells are definitely the most soothing sound you can hear in a remote camp—it's when you don't hear them that you begin to worry.
We rode about four hours from camp that morning, and as we ascended a low ridge, a long valley with numerous side basins soon greeted us. It looked like sheep country, and Mac suggested we break for lunch and do some glassing. I was still pulling my sandwich from my saddlebag when he exclaimed, "I've got one!"
I could tell by the way he was studying the sheep, which was several kilometres away, that it had possibilities. And after Vanessa and I both took a look through the spotting scope, we agreed we needed to take a closer look.
We set off on foot and it was late afternoon by the time we were close enough to the ram to get a really good look. He was easily 40 inches and carried his weight well. The three of us all agreed he was awfully close to, if not, a record-book ram. The terrain didn't allow us to get any closer and the strong wind negated any opportunity at shooting across the 630 yards between us and him. All we could do was wait. He was going to have to close the distance by at least 300 yards before Vanessa was comfortable shooting.
Over the course of the next several hours, the ram made his way closer, but he was still too far away for a shot by 8 p.m., our designated time to start heading back to camp. We only had a couple of hours of light remaining and we at least wanted to get to the horses before dark. And from there, we'd have to trust their instincts to get us safely back to camp.
It was after 2 a.m. when we finally rolled into camp, and everyone got up to make sure we were okay and to hear our tale of the day's adventure. And the camp cook, Leona, still had supper waiting for us. Vanessa and I both slept well that night.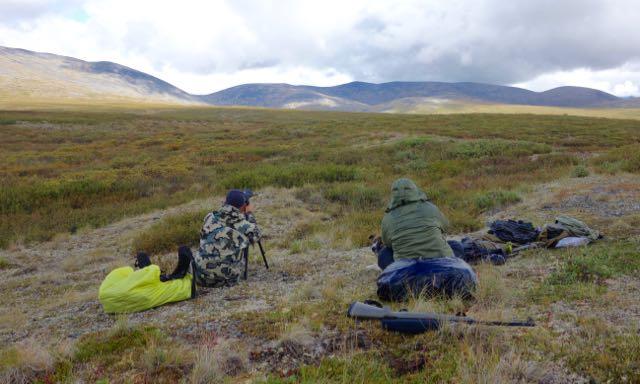 It was past noon the following day when Mac, Vanessa and I finally got the horses saddled and the pack horse loaded. Our plan was to head for the valley where we saw the big ram and spike camp for a few days in hopes of getting in position for a shot. We were definitely relieved when we arrived at the head of the valley and the ram was only a few hundred yards from where we'd left him the previous day. As it was too late to try a stalk on him, we got camp set up and were soon in bed with plans for an early start in the morning.
We were somewhat disappointed not to see the ram on the slope the following morning, but considering the openness of the terrain, it made approaching the ridge much easier. We suspected he was somewhere on the other side, and as we peeked over the top, we spotted eight rams below. The big guy was not with them, but four or five were easily legal and two were exceptional.
I've always had a thing for wide-flaring rams, and the larger of the two was more than 30 inches wide with 10 rings on his horns. Vanessa studied him carefully through the spotting scope; the ram was in an easy spot to approach, but in the end, she decided we should continue looking for the big ram from the previous day.
A couple of hours later, we spotted him on a large plateau about 1,000 feet below us. After a few hours of duck walking and crawling, we were on the plateau. By then, the ram was nowhere to be seen, but with all the dips and folds in the landscape, he could have easily been nearby. In hindsight, we should have just waited him out, but we pushed on.
Suddenly, there he was, just 90 yards away. He took off on a dead run, making a big arc around us. Vanessa got down on the bipod while I kept the video camera running. Then the ram paused. "How far?" we asked in unison. I'd given Mac my range-finding binoculars and we were waiting for him to call out the yardage. Through the camera, the ram looked a long ways off. "Two-eighty," Mac finally said.
As Vanessa's finger tightened on the trigger and the 120-grain projectile careened downrange, the ram suddenly moved to the right and the bullet kicked up dirt where his shoulder had been only a fraction of a second earlier. Vanessa had missed and the ram took off across the plateau and down into a steep drainage. He was gone. It was a dejected crew that climbed back up the mountain toward camp.
 ***
The following morning, we rode the horses right to the base of the ridge and were up top shortly after first light. The group of rams from the previous day had made their way to the plateau, right where we had messed up. This time, we were more patient, and once we got within what we thought was range, we waited for the rams to show. After nearly an hour, the wide-flaring ram offered up a shot at a little more than 300 yards and Vanessa made good on it.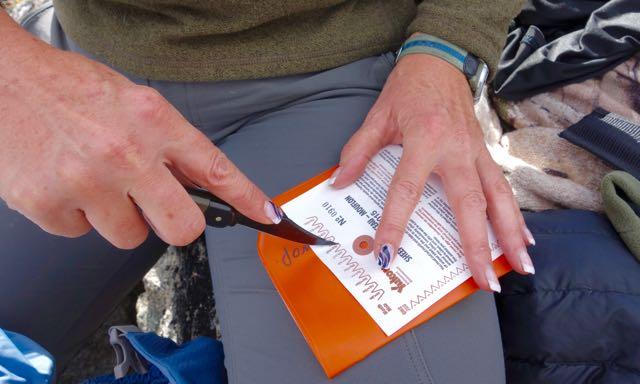 Success is always bittersweet. It signals the end of a journey. It signals the end of a life. It signals the end of one's time in a magical place. But it also offers reward for hard work and perseverance. Vanessa didn't take the ram she set out to, but the one she ended up with was hardly a consolation prize. He was a grand old ram that epitomized everything that sheep hunting is all about.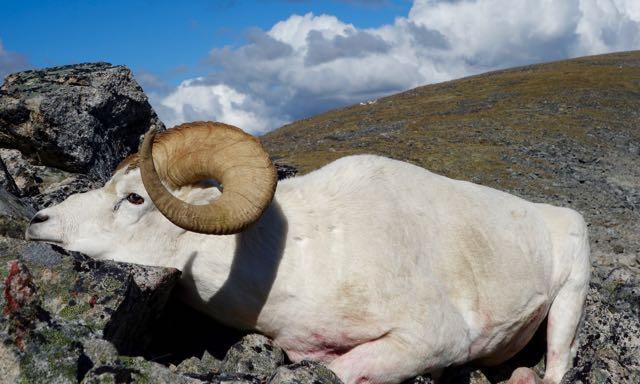 Even though it wasn't my trophy this time, I still came away from the hunt as I always do—physically exhausted but mentally refreshed. And to those who've never pursued sheep, it's hard to explain the camaraderie of the hunt and the special bonds that develop over the years. Indeed, I have little doubt I'll once again share a camp with Mac Watson. Sheep-hunting friends are friends for life, after all.
Alberta's T.J. Schwanky is a long-time Outdoor Canada contributor.