Expert advice
Investigating a rare North-West Mounted Police Winchester .45-75, a pair 100-year-old rifles and a WWII Mauser
Whether you have a question about antique guns, modern firearms, ammunition or reloading, expert Dave Anderson is here with the answer. Please send your detailed questions and applicable, high-resolution photos to editorial@outdoorcanada.ca.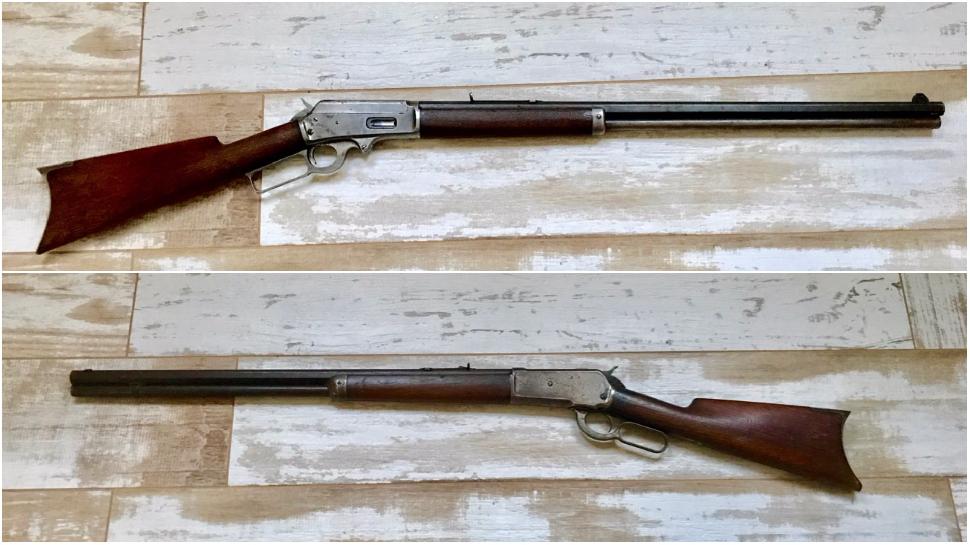 My dad is 87 years old and he's interested in the values of two rifles, both of which are staying in the family. One is a .38-55 tack driver, a Marlin Model 1893 (serial number 176114) (above, top). It was my grandpa's, and I still hunt with it. tack driver (Marlin model 1893.). The other is a .38-70 Winchester Model 1886 (serial number 96001) (above, lower). It was my great-grandfather's, but I've never shot it due to a lack of ammo.
Brian Bildson
Grande Prairie, Alberta
According to the records I have, your Model 1893 was made in 1899. Your nice, clear photo only shows the right side of the rifle, but assuming the other side is about the same, it seems to be in good condition for a rifle nearly 120 years old. It's a model B with blued receiver. There were also models made with case-coloured receivers, which are in a bit more of demand with collectors. On the other hand, your rifle is in .38-55, which should be worth more than the more common .30-30 and .32 Special chamberings.
In recent months, there's been some uncertainty in collector values, but I think your rifle would bring at least $1,000 at auction, possibly $1,500. You mentioned you still hunt with it—well done! Some day, I'd like to form a club for hunters who take game with firearms more than a century old.
As for the Winchester 1886, these rifles are very much in demand among collectors of vintage Winchester lever actions. It's considered one of John Browning's greatest designs, and that's saying a lot. Your rifle was manufactured in 1895. The .38-70 chambering is rare—only 830 Model 1886s are known to have been chambered for this cartridge. The octagonal barrel is another feature collectors consider desirable.
Model 1886s made before 1902 had a case-coloured receiver, which can bring a substantial premium. On your rifle, it appears the colours are almost completely faded, and overall there is some surface rust. Nonetheless, considering the unusual chambering, I'd expect it to bring $2,000 to $2,500 at a well-publicized firearm auction.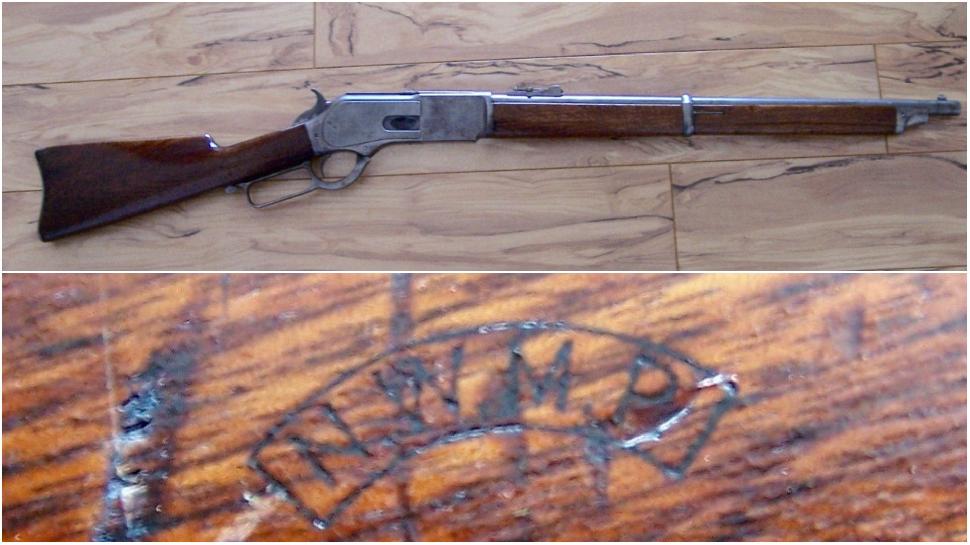 I have an antique Winchester Model 76 in .45-75, marked NWMP (above). This rifle has a very tight action, and the barrel is bright and shiny, with no pitting or rust. The elevated rear sight is nice and tight, too. The stamping on the right side of the butt stock is correct and there are no cracks. Everything is original. The serial number checks out, and it was shipped to the North-West Mounted Police in 1885. What would you think it's worth?
Tim Popp
Battleford, Saskatchewan
This is certainly a very collectible and valuable rifle. From your comment about the shipping date of 1885, I get the impression you already have a factory letter from the Cody Museum. If not, I recommend you get one. Any Winchester 1876 is of interest to collectors, as only 63,871 were produced from 1876 to 1897. Approximately 1,600 were purchased by the North-West Mounted Police and used in service from 1878 to 1914.
Your 1876 appears to be in very good condition considering it's more than 130 years old. I see a couple of twisted screw slots, but there's no rust or broken parts, and everything appears to be original. Of course, any serious collector would want to examine it personally to check that it hasn't been altered, refinished or reblued.
NWMP-stamped models are in great demand among U.S. collectors of the Winchester 1876. At a U.S. auction, it might well bring from US$6,000 to US$8,000. Canada also has knowledgeable collectors, although not as many, and the current value of the Canadian dollar would make it harder to compete with American buyers. At a well-publicized firearms auction in Canada, I'd expect your rifle to bring in $6,500 to $8,500. There just aren't a lot of these particular 1876s around, and even fewer in the same good condition as yours.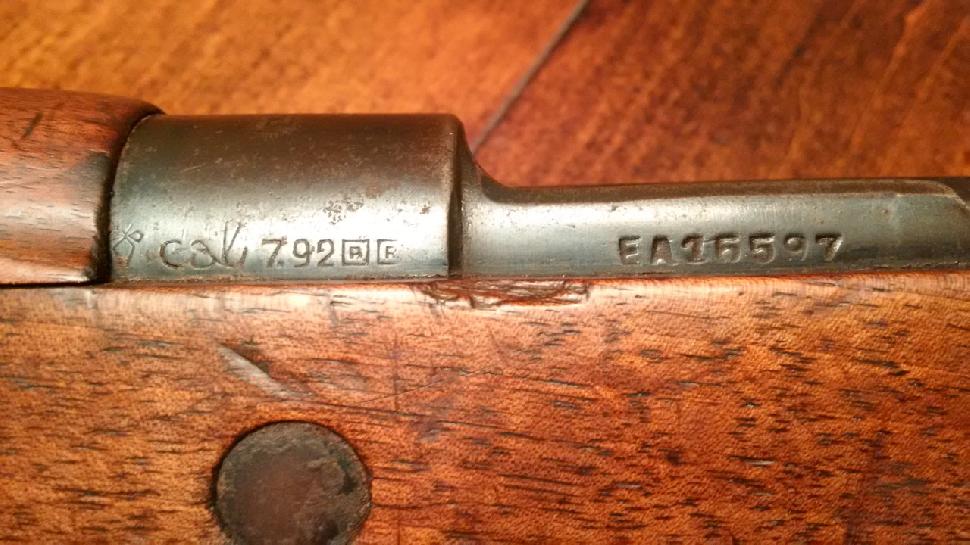 I recently acquired a rifle (above) and bayonet from a friend who never fired it in the 20 years he owned it. From my research, I understand it's a First World War Spanish Mauser. It's stamped 7.92cal. Is it inferior to a German-built Mauser? What is it worth and what else can you tell me about it? Thank you for this interesting and informative part of the magazine. I always enjoy reading your expert opinions.
Richard Tattersall
Winnipeg, Manitoba
This appears to be Model 1943 short infantry rifle from the Second World War era. It was made under licence from Mauser. The action is of the 1898 Mauser design, and it's chambered for the 7.92×57 cartridge, which was also the German military cartridge of the same era. Some sources say the Spanish Mausers had softer steel than the German-made models, though I've never seen any solid evidence to support this. I doubt there's any significant difference in quality—if anything, I would consider the workmanship on the Spanish rifles superior to that of the guns made in wartime Germany.
Many military Mausers were cannibalized for their actions or otherwise altered for sporting use, so military models in their original condition have become scarcer and more collectible.
From what I can see, your rifle appears to be all original and in good condition. I would expect it to be worth between $600 and $750. I'm no expert on bayonets, but any authentic bayonet from the Second World War would be of interest to collectors. It should bring in at least $100 to $150; some of the more unusual and rare bayonets can bring a lot more. And if the bayonet's serial number matches the rifle, it would add 50 to 100 per cent to the value. Thank you for the kind comment, by the way. I appreciate it!
Collector's corner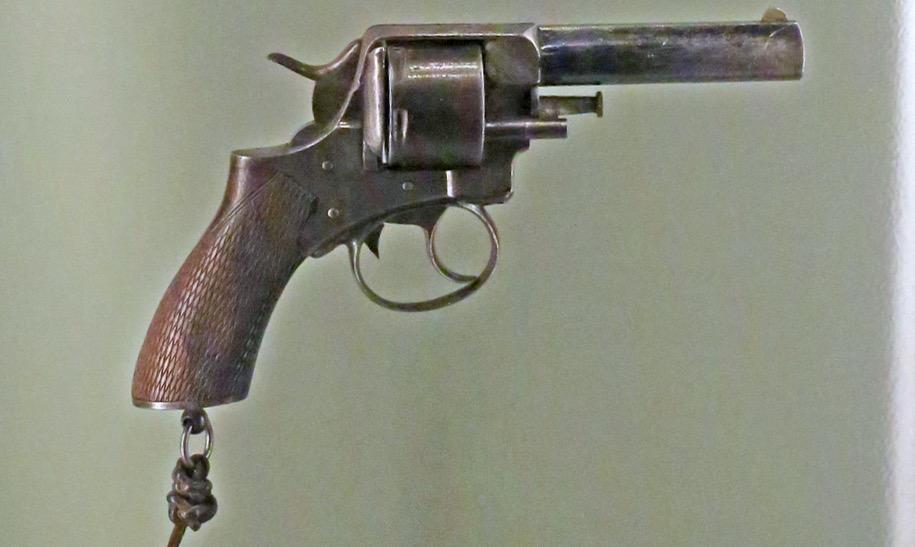 This style of revolver is known as a "Bulldog" or "British Bulldog," a design developed in England by Philip Webley in the late 1800s. British military officers of the era purchased their own sidearms, often opting for revolvers such as this one. By the start of the First World War, however, the Bulldog was considered obsolete, with officers instead using top-break Webleys, U.S.-made Colt and Smith & Wesson revolvers, and even Colt .45 ACP semi-automatic pistols. There is collector interest in Bulldog revolvers, but they normally don't command high prices.
This Bulldog (pictured) is of particular interest, as it was part of the Gallipoli display at the Museum of New Zealand Te Papa Tongarewa in Wellington. Gallipoli resonates for New Zealanders and Australians much as Vimy Ridge does for Canadians, though Gallipoli was a longer and bloodier campaign.
Specifically, this revolver is said to have been used by New Zealand Lieutenant Spencer Westmacott at Gallipoli. In his memoirs, he wrote how, after being shot in the right arm, he was able to roll onto his side, draw the revolver with his left hand and continue fighting. His injured arm was later amputated. Although the calibre of the gun is not mentioned, it's most likely .450 Adams.