Cold chrome
Steelhead expert shares his secrets for centrepin, bottom bouncing and lure techniques
With nearly 40 years under his wading belt chasing steelhead across southern Ontario, Michigan and New York State, Brantford, Ontario's Karl Redin (below) certainly knows a thing or two about catching chromers. "They're very strong and acrobatic, and they make great table fare," he says. "Fishing for them is adrenaline forming. You get addicted to it. You can't wait for that next bite."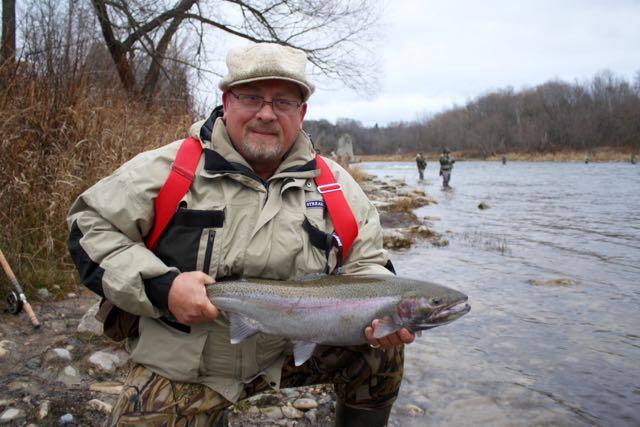 Redin's affinity for steelhead doesn't stop with merely fishing for them, however. He also serves as president of Ontario Steelheaders, a not-for-profit network of individuals and groups working to enhance and protect steelhead fisheries across the province—and promote steelheading itself in the process. Reviving the Saugeen River has been one of the club's major successes, growing annual returns to as many as 50,000 fish, up from just a few hundred a decade ago.
We recently connected with Redin in the steelhead tackle aisle of the Bass Pro Shops store in Vaughan, Ontario, to get some tips on targeting winter chromers. He says there are essentially three ways anglers can target steelhead during the winter: float fishing with centrepin gear, or bottom bouncing or casting lures with spinning gear. Here's a brief primer on what you need to know to get started.
Timing
What most steelheaders would call the winter season starts in late September and goes right through to ice-up, Redin says. "After ice-up, the fish basically go dormant in big holes, or upriver where they winter." Of course, with recent warm winter temperatures, ice-up might not even take place, so you could possibly fish for steelhead right through until spring.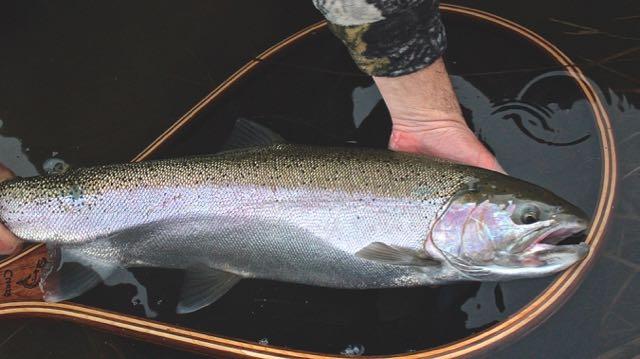 Location
Until the river starts to cool down, you'll find the fish in fast water such as riffles and rapids. As the water temperature cools, the fish drop back into the bigger holes and stay there. "You start out fishing relatively shallow, and as the winter progresses, you start to go deeper," Redin says. "The fish sit anywhere there's a little more depth, feeding on invertebrates, crustaceans and minnows."
Centrepin
While tricky to master, centrepin fishing is considered the best way to naturally present the bait. For this, you'll need a centrepin reel, naturally, and an 11- to 13-foot rod. The hottest bait under floats these days, Redin says, is a plastic bead representing a dead egg free floating in the water column. "That's what the steelhead target," he says.
With his centrepin set-up, Redin uses eight- to 10-pound-test monofilament for the mainline, with an 18- to 30-inch fluorocarbon leader attached with a micro-swivel to prevent line twist. He threads the leader through a slip float and a bead, then attaches a float stop above the float and bead according to how deep he wants to run the bait.
Redin will also add splitshot below the float as needed to keep the bait down. As for hooks, he prefers sizes 4 and 6 with a straight eye. He also sometimes runs a tandem bead rig, with a second leader and hook attached to the bend of the first hook.
While it can take some time to learn how to cast with a centrepin outfit, Redin says most anglers start with a side cast. "They take some line and pull it out, using one hand as a guide," he says. "When you force everything forward, it's drawing the line off the reel sideways and out through the first guide."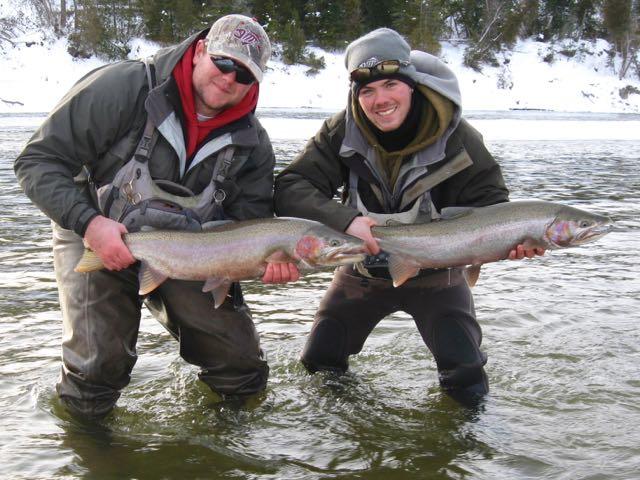 A centrepin reel spins as the float gets pulled along in the current, and you can control the speed by keeping your fingers on the palming ring, either holding it back or letting it completely free spool. "Every pin fisherman will have his own technique," Redin says. "Some guys run their bait way ahead of the float. Other guys like to have it almost vertical as possible under the float."
If the float does anything odd, like tip over or dip a little, it's most likely because of a fish, he says. "Guys who run their bait way out in front of the float, they'll actually feel the bite before they see the float move. The guys who run vertical, they're using the float as a strike indicator."
Bottom bouncing
To effectively bottom-bounce, Redin says you need a good-quality spinning reel on a nine- or 10-foot rod, with a relatively strong backbone. The terminal end is the same as on a centrepin outfit, with a long tag end off the swivel for adding splitshot to keep the bait in the strike zone. You can also use cylindrical pencil lead, which hangs up less than splitshot, he says. Just slide the weight onto the end of the tag end and pinch it to hold it in place.
"Theoretically, if you get hung up and give it a tug, you should be able to get everything off and not leave anything in the river other than splitshot," Redin says.
To the other end of the swivel, he attaches a 30-inch fluorocarbon leader. For bait when bottom bouncing, he typically uses a small yarn ball attached to a snelled hook. Many steelheaders also use roe bags.
As for fishing the rig, Redin says to cast it upstream at a 45-degree angle and reel in the slack as it drifts down. By the time it's in front of you, he says, it should be in contact with the bottom. "Now you'll feel the splitshot or lead tinging across the bottom. When a trout grabs the bait, the rig will actually stop, or you'll feel a tug, tug. Then you set your hook and you've got your fish."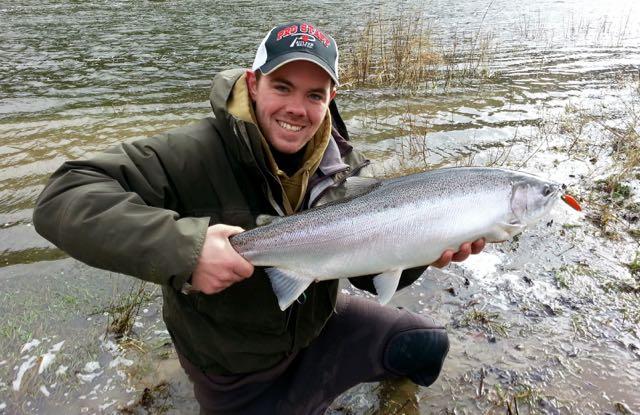 Casting lures
To cast lures, Redin says you can use the same rod-and-reel combo you'd use for bottom bouncing. Popular lures include Flatfish, Kwikfish and two- to 2½-inch spoons, such as Little Cleos or the Len Thompson Yellow & Red. According to Redin, you simply cast out into the current and let the lure do its thing. "What you're trying to do is make it flutter," he explains, "but keep the line tight so it doesn't get hung up."
When a fish does strike, it's much less subtle than when you're bottom bouncing or centrepinning. "There's no guessing," Redin says. "It just about jerks your rod out of your hands." And creates another steelhead convert in the process.