Winter Secrets
Hardwater advice from a hall of fame fishing expert
An outdoor writer, educator and tireless fisheries advocate, Wil Wegman was a decided shoo-in as 2017's inductee into the Canadian Angler Hall of Fame. After all, he was already a recipient of the National Recreational Fisheries Award and the Rick Morgan Professional Conservation Award. Known for his prowess as an open-water angler—and his considerable knowledge of Lake Simcoe's bass fishery—Bradford, Ontario's Wegman is also equally at home on the hardwater. Not only was he a member of Team Canada at the 1991 World Ice Fishing Championships, he's also had several top-10 finishes at the Canadian Ice Fishing Championships, among other accomplishments. And when he's not busy with his day job as a resource management technician with Ontario's Ministry of Natural Resources and Forestry, he is happily sharing his fishing expertise through his columns, website and popular series of seminars. Who better to ask for some ice-fishing secrets?
Strategy
Wegman says one of the biggest mistakes ice anglers make is staying far too long in just one spot. To consistently catch fish, he says, you need to run and gun. But don't think that means you must travel huge distances if you're on foot. Instead, focus on an area that's roughly the size of a football field. If you have an ATV or snow machine, however, go even bigger. "Choose that area carefully based on different depths, structure and habitat below," Wegman advises. Consult a hydrographic map or the likes of a Navionics app, he says, and start the day fishing shallow. Then as the day progresses, fish deeper and check out a variety of habitat, such as sand flats, edges and weed cover. Try to establish a pattern within the smaller area, Wegman explains, and it can potentially be duplicated elsewhere on the waterbody.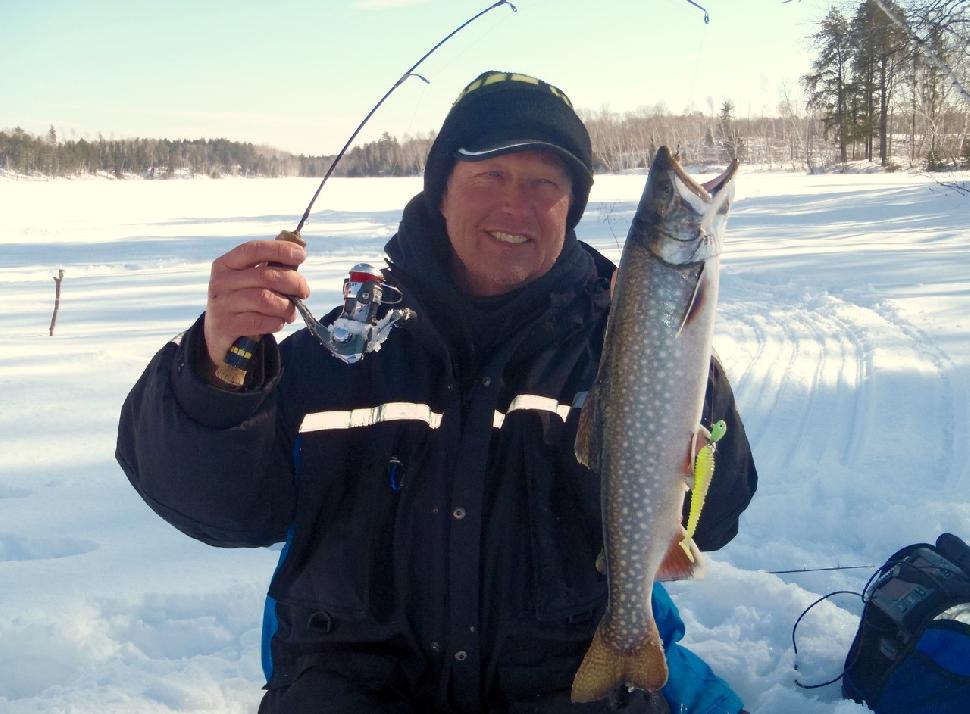 Tackle and Techniques
For walleye, Wegman recommends a jig tipped with a soft-plastic minnowbait, worked near bottom at dawn and dusk. For lake trout, he drills two holes a metre apart and sets up two rods—one with a tube jig or swimbait and the other with a spoon. In one hole, he jigs the spoon near the bottom. In the other hole, he deadsticks the soft-plastic roughly two metres off bottom, all the while intently watching his sonar unit; then when a fish appears, he reels in the spoon to encourage the fish to chase and grab it. "You almost can't reel fast enough," Wegman says, "but that same fish may turn up its nose at the hard bait and head straight for the tube or swimbait." If that's the case, he says, grab the jigging rod out of its holder, set the hook and reel in. If the fish doesn't immediately grab the lure, start reeling and get ready. "It's a very effective one-two punch that's hard to beat." For pike, meanwhile, Wegman presents a dead sucker or chub near the bottom on a quick-strike rig below a tip-up.
Weather
What are the ideal conditions for ice fishing? Wegman prefers overcast days without much wind, when the temperature sits between 0°C and -10°C. "I am not a fan of bright, bluebird days, regardless of whether I'm perch fishing shallow water, or deep water for lakers."
Cameras
Wegman only occasionally uses cameras because he moves around a lot and resetting the cords can be too time-consuming. However, he finds them especially practical when fishing in a hut. "They augment my sonar," he says. "They bring a whole new excitement level to the sport and allow you to better understand the fish's reactions to different baits and to one another. It gives you an idea of their activity level and size distribution."
For more of Wil Wegman's fishing tips and his seminar schedule, go to www.wilwegman.com. Also learn more about his Hall of Fame honour at www.outdoorcanada.ca/hof2017.
Every Friday this winter we'll be sharing Outdoor Canada's coolest ice fishing tips for 2018. Check back regularly to learn about the latest tackle, tips and techniques for icing more walleye, perch, northern pike, lake trout, crappies and whitefish.