It's not just for summer bass!
How to use a drop-shot rig through the ice to finesse light biters
If you think drop-shotting only works for bass during open-water season, you're in for a pleasant surprise this winter—especially if you ice fish for black crappies, brook trout, rainbows, sauger, walleye and yellow perch. With your hook one to two feet above the sinker, you can manipulate your live, dead or soft-plastic offering in ways you've never imagined.
For example, imagine you spot a school of sulking crappies on your sonar screen, suspended a foot above bottom in 32 feet of water. One way to entice them is to drop down a tiny Epoxy Drop Jig, Half Ant Drop Jig or Marmooska Jig tipped with a maggot. It will take the lure forever to reach bottom, however, and if the wind is howling and you're fishing outside in -30°C weather, the light line will be a nightmare to control.
Now tie the same jig to your line using a simple Palomar knot, leaving at least a two-foot tag end (make sure you pass the tag end back through the eye of the jig before tightening the knot). Now attach a quarter-ounce or heavier Ultra Tungsten drop-shot weight to the end of the line so the jig is hanging one to two feet above it.
Not only does the entire rig fall to the bottom like a rock, it's a pure delight to manipulate and manage. When you lay the weight on the bottom and tighten up on your line, you can hold the jig in front of the fish's face. Plus, you can make the jig shake and quiver to draw up the fish, then let it flutter ever so delicately down through the school. Talk about a deadly way to present a finesse bait.
Instead of a jig, you can also tie on a super sharp Gamakatsu drop-shot hook or one of the new VMC SpinShot or Stringease Zero Spin drop-shot hooks. I usually settle on a #8 to #12 hook for crappies and bluegills, and a #2 to #6 hook for walleye, sauger, jumbo perch, brook trout and rainbows.
When the fish are totally turned off, or so pressured by anglers that they have you pulling out your hair, there's no more natural way to present a lively shiner than to hook it lightly through the lips or tail on a drop-shot rig, unencumbered by any additional terminal tackle.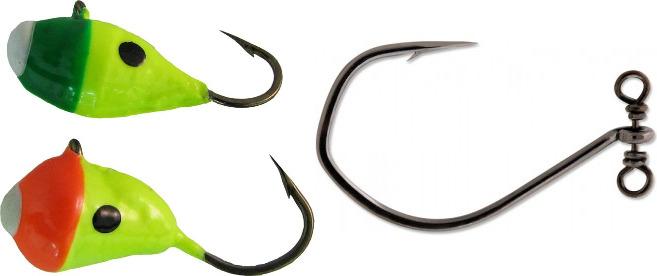 Every Friday this winter we'll be sharing fishing editor Gord Pyzer's top ice fishing tips for 2015. Check back regularly to learn his tackle tricks and simple techniques for icing more panfish, northern pike, sauger, trout, walleye and whitefish.