Playing hard to get: black crappies
Fire up crappies with a sneaky "surf and turf" set-up
When a big fish shows up on your sonar screen, there's a natural tendency to drop your lure in front of its face. But trying to make it easy for a fish to bite rarely works. So how do you get the fish to bite? By making it harder for them! If you understand the species you're targeting, you can trigger their predatory urges by tempting, teasing and goading them into attacking your bait. 
A two-timing approach works wonders for black crappies, which most days are the most laid-back dudes of winter. When I'm on a super-hot crappie bite, I'll typically drill the three holes so close to one another, they're almost interconnected.
Unlike my walleye set-up, however, I never tip my deadstick rod with a minnow. Instead, I bait a tiny HT Marmooska jig with a one-inch Trigger X nymph (below), larvae, spike worm or wax tail, and set the rod on a pail. The jig is especially deadly when adorned with the Trigger X larvae. These scented plastics come in sausage-like links, so I attach a group of six by putting the hook through the first one and letting the rest trail behind.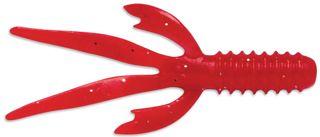 As for my jigging rod, I've found few better lures for hailing curious crappies than the Clam Speed Spoon. When you lift or pop it up, the spoon looks like a minnow struggling to escape. And when the lure falls, it looks like a dying minnow. Adding to its appeal, the hook is separated from the main body of the lure by a fine gold chain. Because crappies have an eclectic palate, using both the minnow-like spoon and the larvae-tipped jig offers the fish a choice of surf or turf.
It never ceases to amaze me how you can fire up and catch a black crappie or two by aggressively jigging the Speed Spoon and slowly pulling it away, only to have the next two or three fish devour the deadsticked larvae. It's as though they see the flash of the jigging spoon and come roaring in to eat it, but spot the neighbouring suspended morsel and decide to snap it up instead.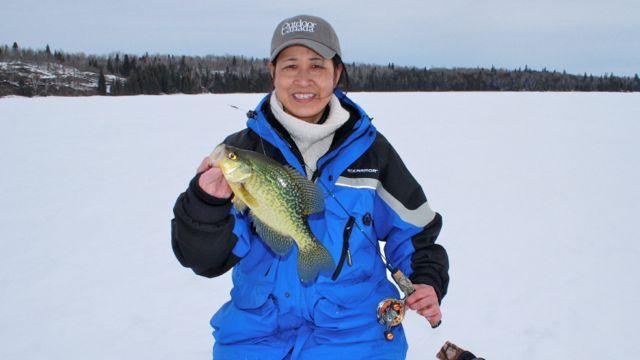 Having the three ice holes grouped so tightly allows me to watch, out of the corner of my eye, the ultra-light spring bobber attached to the end of the deadstick rod. And because I always us a single-action ice reel spooled with two-pound-test fluorocarbon, my bait hovers in the water as though it's floating on air—if a crappie even breathes on it, I'll see the rod tip quiver.
As for your jigging rod, pay close attention to the section of line between the tip and where it enters the water—it can tell you when a crappie bites. This is perhaps the trickiest thing for first-time crappie ice anglers to master, but it's crucial because you often won't even feel the bite. That happens when a fish rises to take your bait, then continues coming up, making the line go slack—your signal to set the hook.
To make sure I can always see my line, I spool my 28-inch medium-light-action jigging rods with colourful four-pound gel-spun line, such as fluorescent-orange Sufix Ice Fuse. I then add an 18-inch leader of four-pound-test fluorocarbon, and I'm ready to start playing hard to get.
Every Friday this winter we'll be sharing Outdoor Canada's top ice fishing tips for 2016. Check back regularly to learn about the latest tackle, tips and techniques for icing more walleye, perch, northern pike, lake trout, crappies, whitefish and even burbot.