Night terrors
Alarming increase in "spotlighting" as night hunters grow bolder
To raise awareness about the dangers of night hunting, also known as spotlighting, the Manitoba Wildlife Federation recently staged a dramatic press conference. As members of the media sat in a room waiting for the conference to begin, the doors were shut and the lights were turned off.
"We then illuminated a deer decoy, and I did a narration about a farm family working all day and crawling into bed for the night," says MWF managing director Rob Olson. As he spoke, the deer cast a shadow on a large photo of a farmhouse. "Then we played a very loud audio recording of a gun shot. One of the reporters just about jumped onto the stage."
The MWF also screened a four-minute film recounting the story of farmer Doreen Silworsky, who was nearly shot by an errant bullet fired by night hunters in September 2015. Conservation officers figure the hunters were shooting at a white-tailed deer in the family's alfalfa field, and wouldn't have been able to see the house in the darkness. The film, available on the MWF's website, ends with a call out for others to share similar stories. Since the press conference, Olson says the federation has received roughly a dozen calls from farmers and ranchers with similar tales of brushes with night hunters.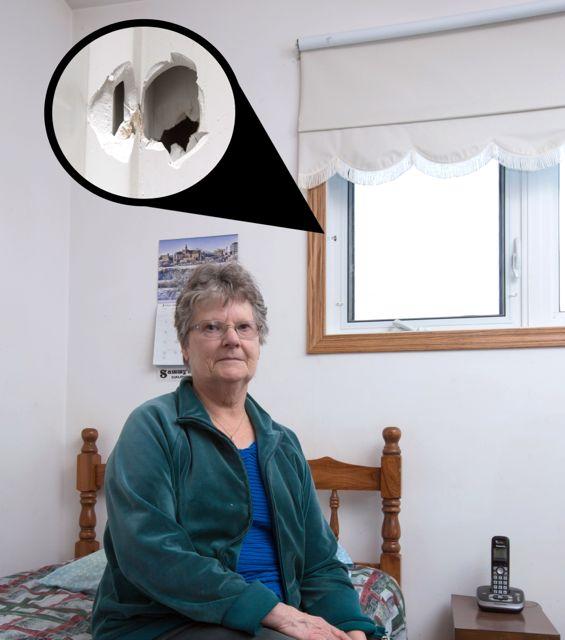 "We believe that spotlighting is an unsafe activity that shouldn't be happening, certainly in a populated area of the province," he says, noting that the problem only seems to be getting worse. Since there are now fewer conservation officers in the field, and with little budget for night operations, Olson says night hunters are getting bolder and more aggressive. They routinely cut fences, damage crops, shoot livestock by mistake and even kill game in farmyards, he says.
While it's legal for First Nations and Métis hunters to hunt at night, it's illegal for anyone to hunt on private land without permission. And it's not just First Nations and Métis who are spotlighting—non-natives are also to blame. As a result, the MWF wants the province to ban the practice outright, at least in inhabited areas. Olson says that the federation is getting support from First Nations hunters, but notes there are areas where some hunt moose by moonlight, and they don't want to lose that traditional practice.
With Manitobans going to the polls on April 19, the MWF had been striving to make spotlighting an election issue. At press time, the opposition Progressive Conservatives had committed to banning night hunting if elected, but the other parties had yet to weigh in.
Learn more about the MWF's programs and positions at www.mwf.mb.ca.