Must-have gear: Nebulus Emergency Flotation Device
This product will save lives this winter
This winter 40 to 60 people will break through the ice and drown, most while travelling on snowmobiles or ATVs. It's tragic, senseless and does not need to happen.
Especially, not now, with the introduction of products such as the Nebulus Emergency Floatation Device, one of the smartest new products I've come across in years. Indeed I've featured the Nebulus in my annual ICAST/EFTTEX roundup of the best new fishing products of the year in the upcoming fishing issue of Outdoor Canada magazine. But don't wait for the magazine to come out to check out this product. If you ice fish, snowmobile or ATV across frozen lakes and rivers in the winter, you need to check it out—now.
I've personally crashed through the ice three times and I don't intend on doing it a fourth. I also know of several folks (far too many, in fact) that have perished after breaking through thin ice. One of the poor souls had so frantically tried to claw himself back up onto the ice that the tips of his fingers were rubbed raw and the bones were exposed. I shudder to think what he went through in the last minutes of his life, alone in that icy cold water in the middle of the night.
Two other good friends, Jeff Simpson and Dave Penning, were filming an In-Fisherman ice-fishing television episode in Montana a couple of years back. They met up with their guide and host at the mountain reservoir and planned the day's shoot. Then Jeff and Dave went ahead on their ATVs while the guide stayed behind to pack up some remaining gear.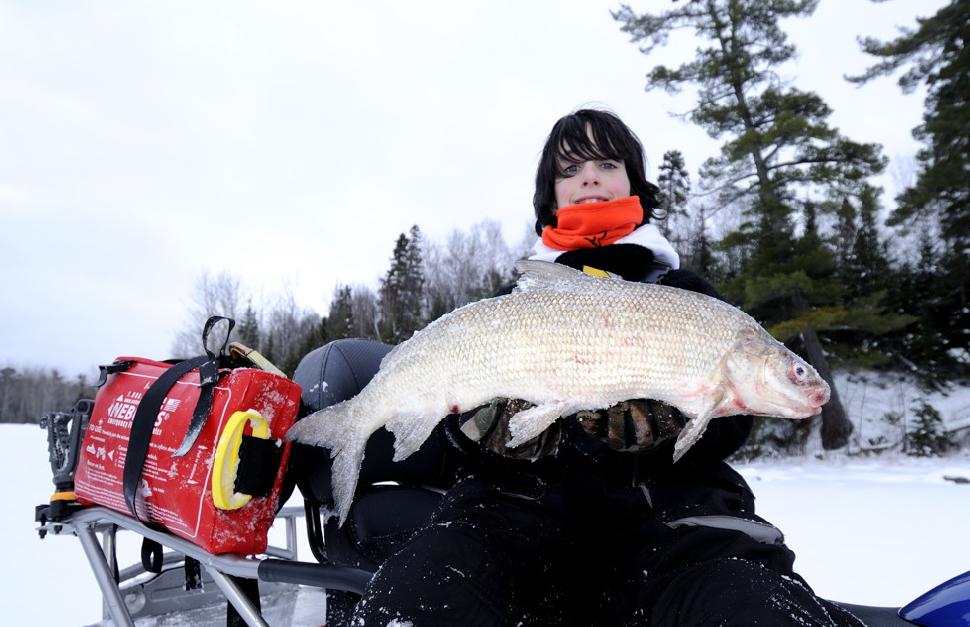 Arriving at the pre-arranged fishing spot, the boys waited for the guide to arrive, but after half-an-hour or so, he didn't show up, so they assumed his machine had broken down. They hopped on their ATVs, retraced their route, and spotted the guide's tire tracks leading to a fresh hole in the ice and wide open water.
The guide, a veteran outdoorsman, had broken through the ice and perished. So don't think it can't happen to you.
That's why the Nebulus  Emergency Floatation Device is so brilliant and so essential. Tethered to your snowmobile or ATV it's not much bigger than a laptop. The Nebulus fully inflates, just like a personal floatation device, in less than 30 seconds, and has enough buoyancy to not only float your snowmobile or ATV, and function as a life raft that you can climb onto.
Now, I have to be honest with you, if I were to ever crash through the ice again, saving my snowmobile or ATV would be the absolute last thing on my mind. After all, that is why I buy insurance. But having a fully inflated life raft to climb into would be a godsend of unspeakable proportions as it is virtually impossible to pull yourself back up onto safe ice when you're fully dressed in thick, wet, heavy, soggy, cumbersome winter gear and boots, and your hands are soaking wet.
I've taken to strapping a Nebulus to the back of my snowmobile whenever I go out these days and I carry it in my sled when I  walking on the ice.  The rest of the time I keep it on the floor in the back of my half-ton when I am driving on the local ice roads, as you just never know when you are going to spot a crisis situation and need to help someone out.
Like I said earlier, I know of too many people who have crashed through the ice and drowned. If they had had a Nebulus Emergency Floatation Device with them they might be alive today. I can't believe it has taken this long for someone to think of this. The Nebulus EFD is simply brilliant, so please do me a favour and watch this short video. Then go out and get one!