Lake trout through the ice
Everything you need to know about location, tackle and presentations
I love lake trout and have remarked more than once that I spend at least half the winter chasing them. Part of their appeal is they can grow to gargantuan sizes—my biggest winter Goliath weighed 44 pounds. But just as enticing as their size is where they often live: the starkest, loneliest, wildest and most beautiful parts of the country.
Another reason lake trout fascinate me is that they're so often misunderstood. For example, most anglers immediately think of deep water when they think of fishing for lakers. That's certainly true during the dog days of summer, but when the lake is blanketed in four feet of ice and snow, you can catch them anywhere.
LOCATION
Here are some great examples of how you can catch winter lakers anywhere in the water column. Some years ago, I enjoyed my best-ever hour of ice fishing when I landed nine nice trout from a single hole positioned over just 19 feet of water. And last winter, my grandson Liam pulled an old, toothless, gargantuan laker through a hole in the ice when we were jigging for yellow perch in 28 feet of water. Both scenarios illustrate the most critical factor when it comes to successfully fishing for lakers: food.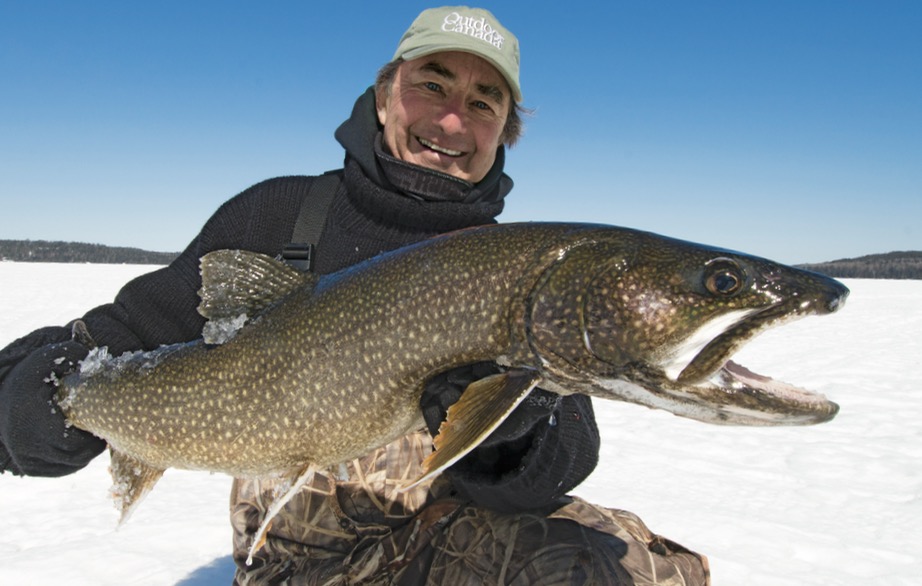 In lakes such as southern Ontario's legendary Lake Simcoe, you'll find the trout on the bottom when you also find invasive round gobies scurrying around like mice on an abandoned farmhouse floor. In lakes where smelt, ciscoes and other forage cruise the middle of the water column, on the other hand, you need to fish that magical depth with matching baits to be successful.
TACKLE
In most lakes, where the trout favour some form of soft-rayed, silvery forage, nothing will produce more fish faster than a 3 1/2- to five-inch white tube jig (below). Simply insert a 1/4- to 3/8-ounce jig head inside the tube so that it plummets to the bottom in a corkscrew-like pattern. Alternatively, you can rig the tube like a swimbait, so that the jig head sits outside the front of the tube, looking like the head of a baitfish.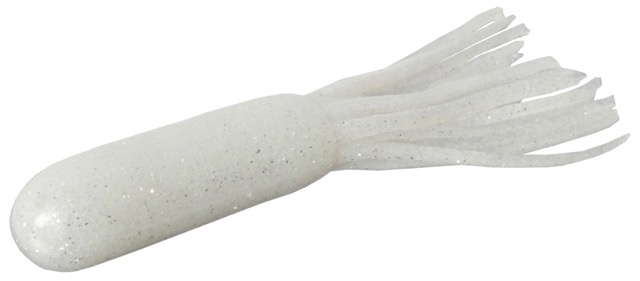 I also carry the same spoons I use for brookies and rainbows, but one size larger. And I always experiment with lipless rattling crankbaits, such as Rapala's Rippin' Rap and LiveTarget's Shiner, especially when the trout are in a chasing mood. Why? I believe the rattles provoke them.
For working these baits, I use a medium- to medium-heavy-action ice rod (34 to 36 inches long if I'm in a shelter, or 36 to 42 inches if I'm out in the open). As for line, I spool on 10- to 12-pound Sufix Performance Ice Fuse, and I always tie on three feet of 10- or 12-pound Maxima Ultragreen mono for a leader.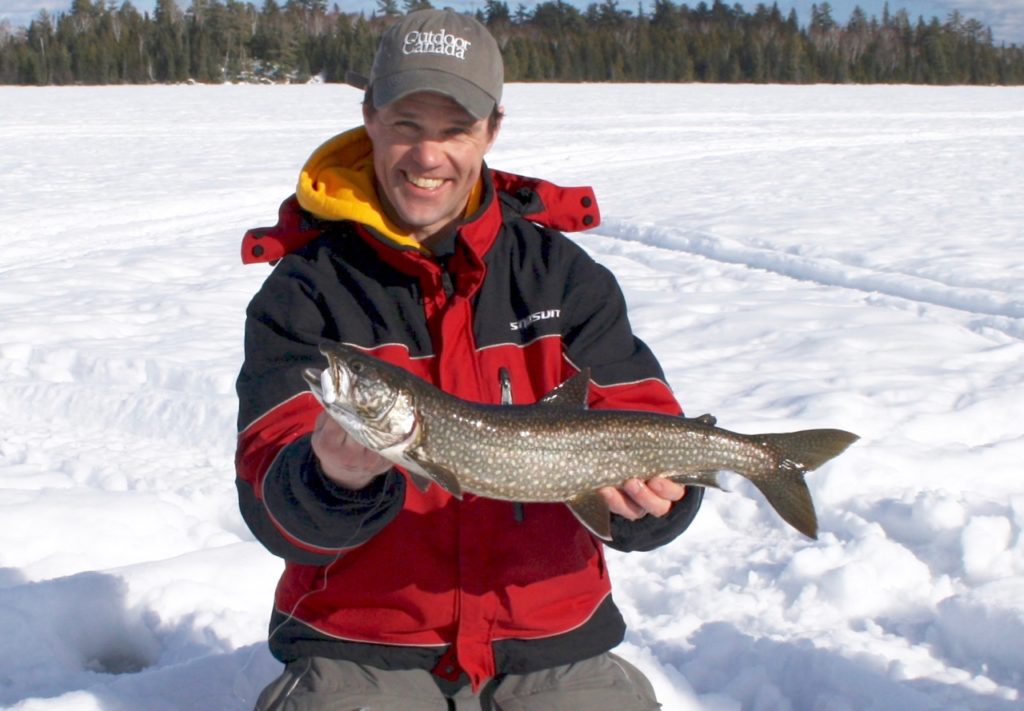 PRESENTATION
When you jig your tube jig or spoon, always be prepared for followers, because lake trout are pack animals that hunt in groups of three or four fish. If your buddy hooks a fish, immediately drop your lure down a nearby hole—the chances are good another laker will whack it. If there isn't another hole available, drop your lure down your friend's hole as soon as the fish is landed. Your offering probably won't reach the bottom before another trout pummels it.
Every Friday this winter we'll be sharing Outdoor Canada's coolest ice-fishing tips for 2019. Check back often for the latest tackle, tips and techniques for icing more walleye, trout, perch, northern pike, lake trout, crappies and whitefish.