Amazing Mesa
A quality big-game rifle for the budget-conscious hunter
I've long wanted to find an affordable, quality-built, lightweight, accurate and easy-to-carry rifle for deer and antelope—a tall order, no question. Then a couple of years back, Christensen Arms introduced the Mesa, a rifle that appeared to be just what I was looking for. While it may be the gun maker's entry-level rifle, at US$1,295, the Mesa offers features frequently attributable to more expensive premium-grade rifles.
Let's start with the Cerakote-finished barrel, which is made out of Christensen Arms 416R stainless steel. It is featherweight contoured, hand lapped, button rifled and free floated, complete with a match chamber and a seamless, stainless steel radial muzzle brake and steel thread protector.
As for the action, it includes a Christensen Arms 416 stainless steel billet receiver, skeletonized bolt handle, enlarged ejection port, improved bolt release, match grade trigger (2.5 to 3.5 pounds), and billet aluminum-machined bottom metal with a hinged floor plate. It's also Cerakote finished, and compatible with the STD Remington 700 base. The nitride-treated twin lug bolt is spiral fluted, with a fluted bolt knob, and includes an M16-style extractor; the magnum calibres have dual ejectors.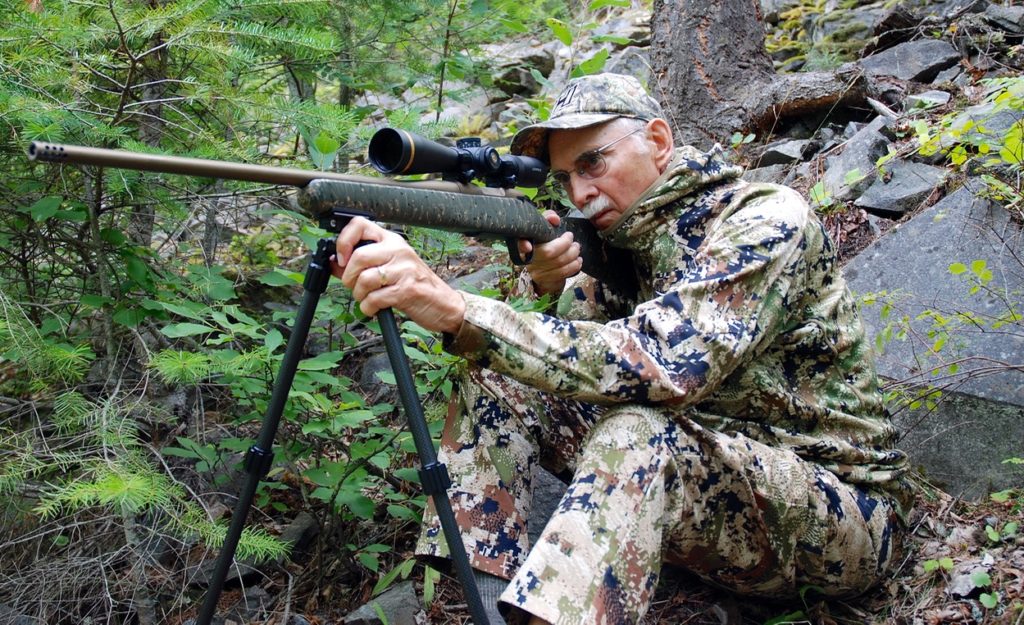 Finally, the carbon-fibre composite stock is hand laid and engineered to offer a strong, lightweight stock at an affordable price. It sports dual bedding pillars constructed from Invar, a nickel/iron alloy known to reduce thermal expansion and prevent the associated loss in accuracy. As well, the recoil lug area is spot bedded to provide stability during recoil.
TEST RESULTS
The overall look of my test Mesa in 6.5 Creedmoor, with its burnt-bronze metal finish and green stock with black and tan webbing, was most appealing—it exuded the aura of a professionally built rifle. It was a few ounces heavier than the advertised weight of 6.5 pounds, so I mounted the Leupold VX-5HD scope with Leupold's lightweight Backcountry mounts to keep the weight down.
Using a Lyman Digital Trigger Pull Gauge, I measured five trigger pulls, which varied between two pounds nine ounces and two pounds 10.3 ounces. That's only a variance of slightly more than one ounce, with absolutely no creep or overtravel, making for a trigger you'd expect to find on a rifle costing considerably more.
Meanwhile, I expected the action to be a bit rough with its spiral-fluted bolt, but it was smooth from the get go. Another attribute of this well-constructed rifle was the stock itself—no cheap, hollow synthetics here. If I were to get picky, the only improvements I would suggest would be to add a three-position safety, and possibly a fluted barred.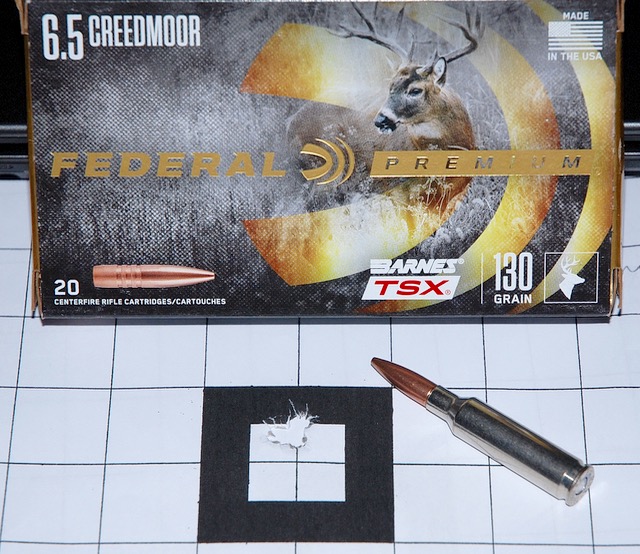 On the range, I intended to test a variety of premium handloads and factory ammunition, from 120 to 143 grains. However, I discovered that hotter loads, such Hornady's Superformance and one of my handloads, exhibited all the classic signs of having too much pressure for this rifle, so I immediately dropped them from my review. I ended up including five handloads and nine factory loads.
The rifle shot exceedingly well with all of the ammunition, except for one factory load. My handloads provided the best overall performance, averaging groups of 0.402 inches. The factory ammo was just a fraction larger at 0.685 inches, making for a collective average of 0.544 inches. That alone is simply outstanding accuracy, but I would be remiss if I didn't also mention two remarkable loads that bettered 0.25 inches: Federal Premium's 130-grain Barnes TSX ammo (above), and my handloaded 127-grain Barnes LRX bullets with IMR 4451 powder.
As hunting loads, either of those two would be at the top of my list, but hey, take your pick—all but one of the loads in my test shot lights out. I was so impressed with the Federal load, in fact, that I decided to take it and the Mesa on an antelope hunt in Montana and an elk hunt in Idaho last fall. With the Leupold CDS dial calibrated for the load, I simply dialed in the range to make two drop-in-their-tracks kills. My outfitters were as impressed as I was. This is simply an outstanding rifle and scope combo, and at a good price, too.

THE SPECS
Calibre: 6.5 Creedmoor
Barrel Length: 22"
Twist Rate: 1 in 8"
Overall Length: 43"
Length of Pull: 13.6"
Weight: 6.5 lb
Capacity: 4 plus 1