PERFECT PAIRING
Nosler's Mountain Carbon in .27 Nosler is one deadly combo
If there was one writer in the last century who popularized the .270 Winchester, it was the late Jack O'Connor. Throughout his 31 years as Outdoor Life magazine's shooting editor, he touted the cartridge as a flat-shooting game getter. I was one of his converts, adding a Husqvarna in that chambering to my own growing list of rifles. But my affection for the .270 did not end there—I next added the .270 Weatherby Magnum and the .270 Winchester Short Magnum to my collection, and all three have lived up to or exceeded my expectations. So, when Nosler announced last year it was taking the .270 to a whole new level with the addition of the .27 Nosler, I was immediately intrigued.
What separates the .27 Nosler from its counterparts? Let's start with the case. Based on the .404 Jeffery, its capacity exceeds the .270 Winchester by 42 per cent, the .270 Winchester Short Magnum by 25 per cent and the .270 Weatherby Magnum by 12.5 per cent (generally speaking, more powder capacity means increased velocity and energy). According to Nosler, the .27 outperforms its three competitors in both feet per second and foot-pounds of energy, speaking volumes about its knock 'em flat downrange potential. Initially, Nosler has introduced the .27 in two new Model 48 rifles, the Long-Range Carbon and Mountain Carbon.
For my test, I opted for the Mountain Carbon, the lightweight result of collaboration between experts in both ballistics and engineering. It sports a 24-inch Light Sendero Contour carbon-fibre-wrapped barrel made by Proof Research. Capable of sub-MOA accuracy, this match-grade, cut-rifled, muzzle-threaded barrel is mated with Nosler's Model 48 action and a 100 per cent carbon-fibre Mountain Hunter stock. The result? An overall weight of just six pounds.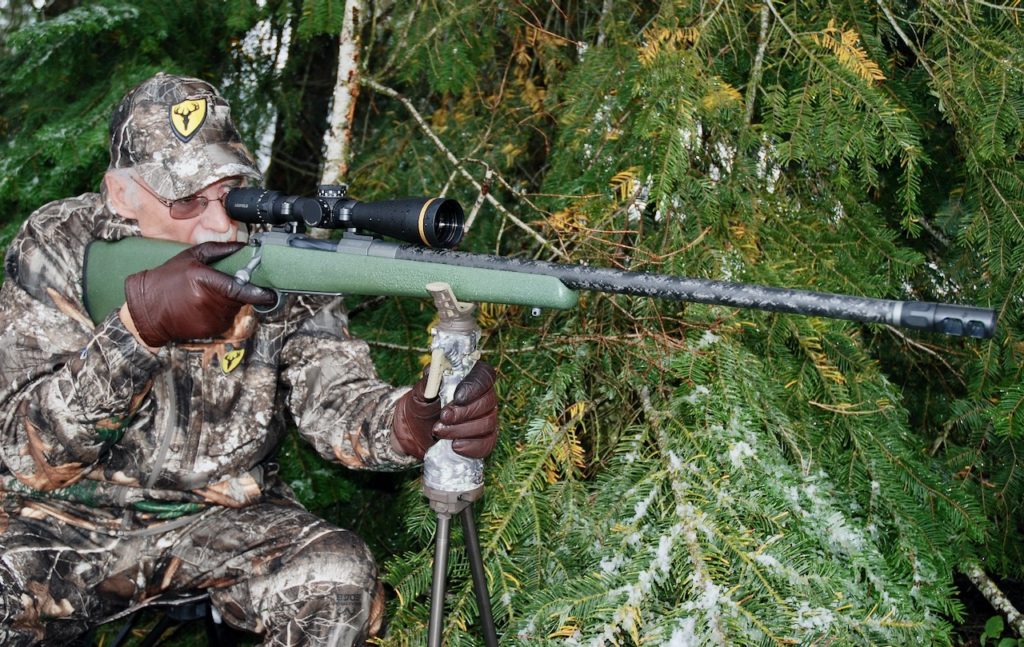 Made specifically for the Model 48 action, the stock is reinforced with aramid, a close relative of Kevlar. For improved handling in cold or wet weather, the stock also features a textured forend and pistol grip palm swell, along with a rubber recoil pad. As for finishing touches, Nosler added a spiral-fluted bolt and the renowned Timney trigger, with its two-position safety. It also coated all metal surfaces with tungsten-grey Cerakote for superior protection against the elements.
TEST RESULTS
For my test, I paired the Mountain Carbon and with a Leopold VX-6HD scope, for a combined weight of seven pounds nine ounces. The trigger was superb, with five pull weights varying minimally between three pounds 7.1 ounces and three pounds 8.6 ounces, and absolutely no creep. Overall, both the rifle and scope performed flawlessly.
All the test bullets, brass and factory ammo were supplied by Nosler. The only variances were the powder, primers and RCBS reloading dies. I did find the throat was too short for all my handloads using Nosler's suggested maximum overall cartridge length of 3.340 inches. So instead, I used the length of Nosler's factory 150-grain AccuBond ammo as the max for my loads. I should also note the suggested max loads for Nosler's 150-grain Long Range AccuBond bullets with H1000 powder showed incipient pressure signs, so that load was immediately dropped from my test. A mid-range load solved the problem.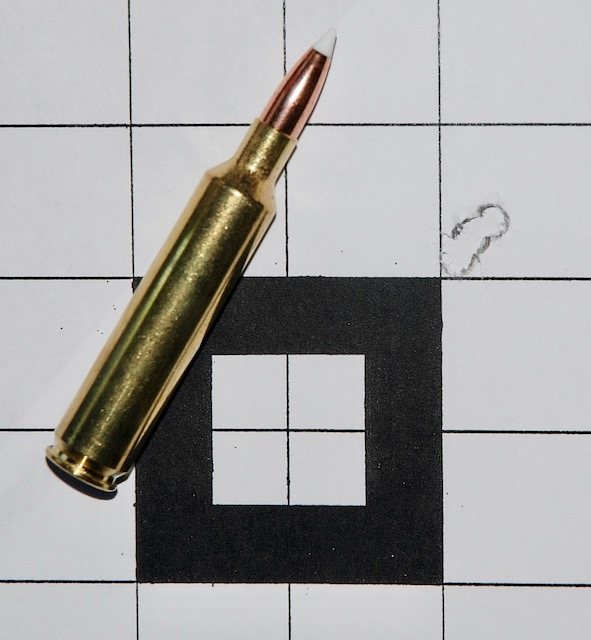 Back to the test—this rife is a shooter! The two factory 150-grain AccuBond groups averaged 0.827 inches, well within Nosler's MOA performance standard for this rifle. My 11 handloads faired about the same, with an average of 0.853 inches. The standout load, however, belonged to one of my 150-grain AccuBond handloads with H1000 powder—a mere 0.265 inches. That is simply superb accuracy.
Rams, billies, bucks, bulls and bears beware: Nosler's Model 48 Mountain Carbon chambered in .27 Nosler makes for a fast, lightweight, accurate and deadly combo.

THE SPECS
Calibre: .27 Nosler
Barrel length: 24″
Overall length: 45″
Weight: 6 lb
Barrel twist: 1:8
Length of pull: 13.5″
Drop at comb: 0.38″
Drop at heel: 1.27″
Magazine capacity: 3