SPEEDY SHOOTER
The straight-pull Chapuis Armes ROLS impresses on all fronts
Chapuis Armes of France is known for its high-end double rifles and shotguns, so I was somewhat surprised to learn it also makes eight straight-pull rifle models, including some with wood stocks that are simply candy for the eyes. The concept of a straight-pull centrefire action has always intrigued me, because of both the design engineering and the cycling speed it offers over a standard bolt action.
To test the Chapuis ROLS line, I opted for a practical field model called the Soft Touch, chambered in .308 Win. Fundamentally different than a standard bolt action, this unique rifle offers the speed of a straight pull with the safety of the Chapuis Locking System. The ingenious design utilizes a bolt head that locks directly into the barrel, which, with its 260 square millimetres of lug surface engagement, enables it to withstand 123,000 psi of pressure. That about doubles the psi pressure of most standard centrefire cartridges, such as the .30-06 with its SAAMI maximum pressure of 60,000 psi.
There is no standard safety on the ROLS rifle. Instead, it can only be fired if you cock it by pushing forward on the cocking lever (located where you would normally find the tang) with your thumb until it locks in place. To decock, you simply depress the button above the cocking lever. With a live round in the chamber, the bolt cannot be opened unless the rifle is cocked, preventing it from accidentally opening while being carried. The rifle also won't accidently discharge with the bolt handle in the locked vertical position, as a safety device prevents the firing pin from striking the cartridge primer.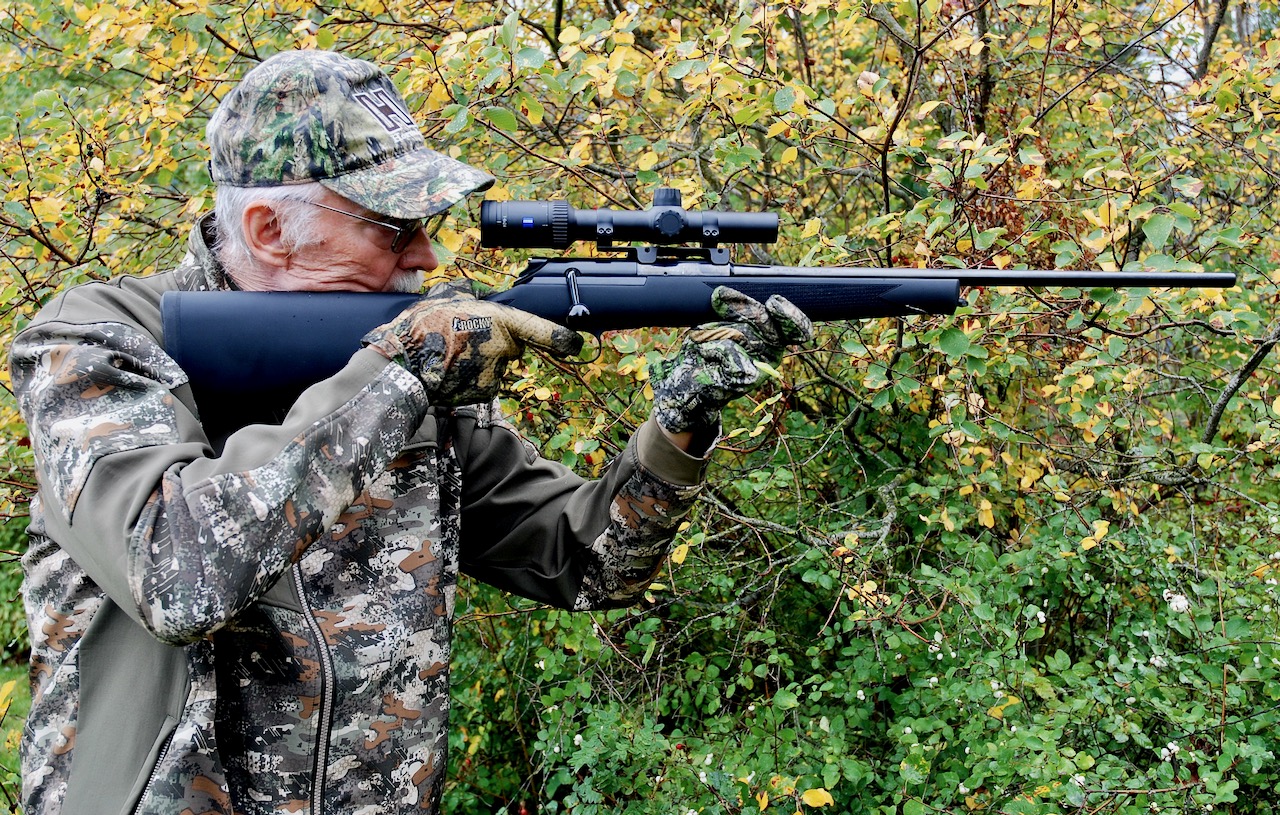 Fortuitously, the ROLS offers the option of 11 interchangeable barrels. At the chamber, each barrel is held in a sleeve, which has a recoil lug (machined to less than 1/100 of a millimetre) that locks on a steel bedding in the stock. This allows you to easily swap out barrels for a precise first shot, from barrel to barrel.
The only other necessary alteration is if you change from a standard cartridge barrel to a magnum, such as the .375 H&H; in that case, the bolt head needs to be swapped out, which is a relatively short but necessary process.
TEST RESULTS
Chapuis utilizes its own mounting system, designed for quickly attaching and detaching the scope and mount as a single unit. With a Zeiss 1.1-6x scope in place on my test ROLS, the entire package weighed in at seven pounds nine ounces. That's a very user-friendly weight, particularly since the combo balanced so well.
As for the trigger, the pull weights were consistent between two pounds 6.1 ounces and two pounds 9.8 ounces, with just a tiny amount of creep. Also of note, the speed and smoothness of the action was simply impressive—it was the fastest I've ever tested. I also liked the Soft Touch synthetic finish on the stock, which provided a sure grip and positive feel, not unlike a rubberized finish.
Note that the operation, assembly and disassembly of the ROLS is not as straightforward as that of a standard bolt action, so anyone taking one of these rifles to the range should first carefully review the accompanying instruction manual.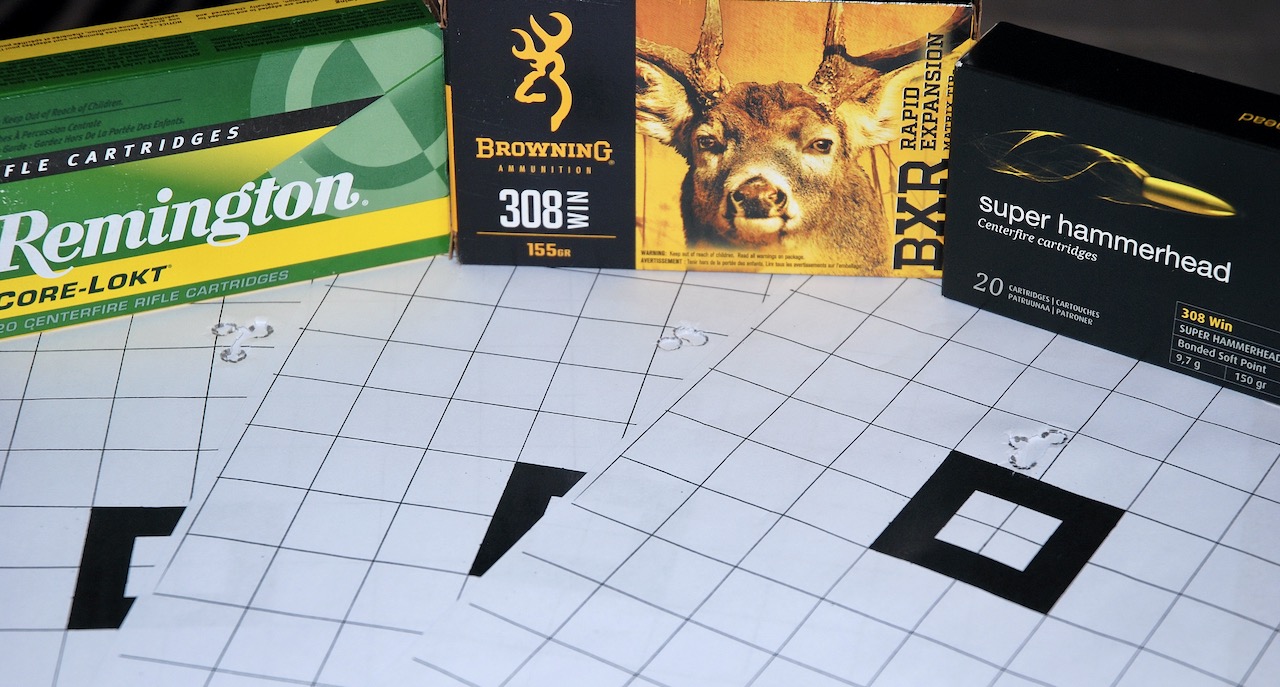 My test rifle suprised me, shooting better than I expected (above). The 15 factory ammo groups averaged just under an inch at 0.987, with the best of the lot—Browning's 155-grain BXR Rapid Expansion—grouping into 0.335 inches. It would make an excellent choice for deer-sized game, as would Sako's 150-grain Super Hammerhead Bonded Soft Point and Remington's 150-grain Core-Lokt PSP, which grouped at 0.592 and 0.595 inches, respectively. For a bit larger game, Federal Premium's 165-grain Trophy Bonded Tip would do nicely, having grouped at 0.632 inches.
While the ROLS runs a bit on the pricey side, I would be hard pressed not to give it the nod if I were looking for a rifle for safaris or driven hunts, or simply something that's easy to transport anywhere. Not only does it shoot well and offer an outstanding cycle speed, it's also a take-down rifle with interchangeable barrels. What more could you ask for?

THE SPECS
Calibre: .308 Win.
Total length: 40 15/16"
Barrel length: 23 5/8"
Weight: 6.6 lb
Length of pull: 14 9/16"
Drop at comb: 1.46"
Drop at heel: 1.50"
Barrel twist: 1:12"
Magazine capacity: 4 plus 1