Sharp shooter
Tikka's groundbreaking rimfire offers outstanding accuracy
For years, I silently pondered whether Tikka, a brand renowned for its affordable quality, was ever going to introduce a rimfire rifle. After all, sister company Sako has had a rimfire on the market for years now. Well, the wait is over—the T1x MTR hit the market last year with a full array of features, and it was with genuine anticipation that I awaited the arrival of a test model. It did not disappoint.
While the T1x MTR was essentially designed as a hunting rifle, its MTR moniker (standing for "Multi-Task Rimfire") suggests uses well beyond that singular function. In some respects, it resembles the Tikka T3x, which I'm confident was part of Tikka's thinking given the interchangeability of shared features. Those include accessory components such as the pistol grip and fore-end. A traditional grip is offered for both rifles; it comes standard on the T1x, or it can be exchanged for a vertical pistol grip. And if you prefer a wider fore-end, a beavertail fore-end can be added.
Spacers can also be added for increasing the 13.25-inch length of pull, which fits average-sized adults and most larger youths. I found it a bit short for my wingspan, however. The stock itself is injection-molded synthetic, with 35 per cent fibreglass for more rigidity and less sensitivity to temperature changes, which improves accuracy. The stock also has a foam insert in the butt to dampen noise, and rather than standard diamond-type checkering, it sports unique contoured grooves with serrated scales for a confident grip in wet conditions—a noted improvement over the rimfires from numerous competitors.
As for the semi-heavy, 20-inch barrel, it is cold-hammer forged and threaded for a suppressor or other muzzle device. The heavier barrel essentially mimics the qualities of a target barrel, providing more stiffness for improved accuracy and better balance when shooting offhand, kneeling or sitting.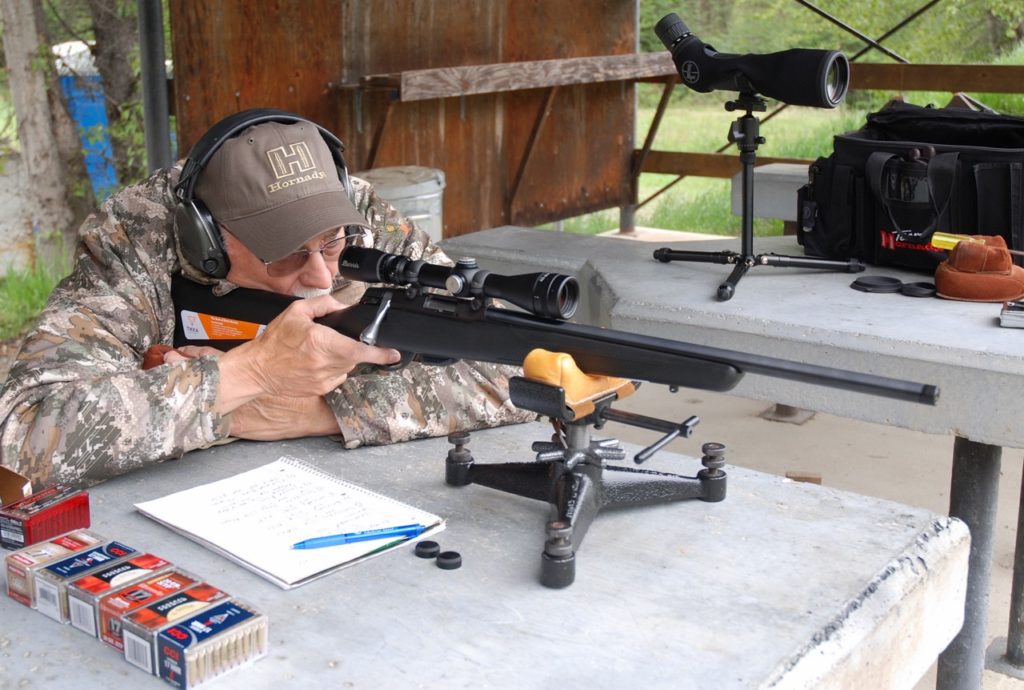 Meanwhile, recognizing the value of a great trigger in the accuracy game, Tikka utilizes the same trigger mechanism in the T1x as it does in its centrefire rifles. The T1x action also shares the same bedding surfaces and inlay footprint as the T3x centrefire. With that quality of bedding, the light recoil induced by the T1x rimfire will be of no consequence.
Finally, the bolt is stainless steel and, like its centrefire brethren, it operates smoothly with a reliable and flawless feed from the 10-round magazine. The 1.5-inch bolt throw is short, as one would expect in a rimfire, but if you're looking for a larger bolt knob, it can be replaced with an aftermarket one.
TEST RESULTS
When mounting a Burris 4.5-14x32mm scope on my test T1x, I noted that while it is dovetailed for rings, as well as drilled and tapped for bases, it will not accept T3x rifle rings because the dovetail grooves are too narrow. Instead, one-inch Burris rings designed for .22-grooved receivers did the trick.
I next set about checking the total weight and trigger pull. The rifle and scope combo weighed in at six pounds 12 ounces, and the trigger pull was extremely consistent between three pounds 12 ounces and three pounds 14 ounces, with two pulls at three pounds 13 ounces—simply a great trigger for a rimfire.
Overall, the rifle itself was a joy to shoot. It cycled perfectly and, with the heavier barrel, balanced extremely well. With Tikka's Multi-Task Rimfire concept pervading my thinking, I decided to test the rifle's accuracy at both 50 and 100 yards and, if the conditions permitted, right out to 300. I included ammo from Hornady, Federal, CCI, Winchester and Norma in three-grain weights and six different bullet designs.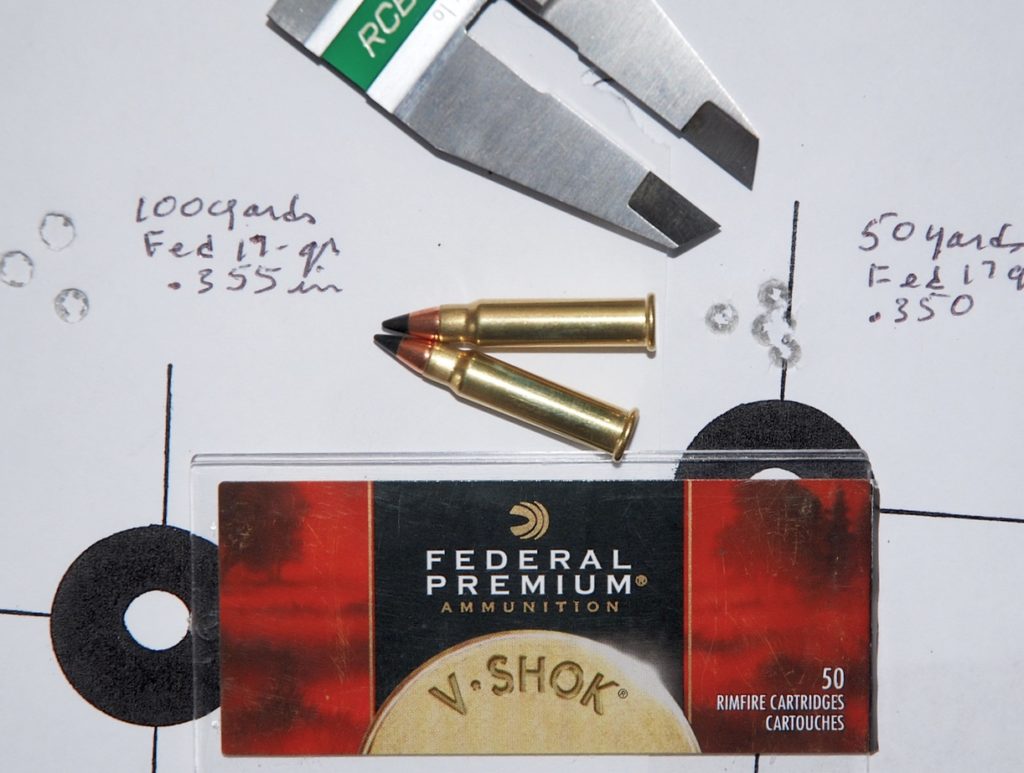 The rifle shot so well, with an overall five-shot, 50-yard average of 0.457-inch groups, that half of the ammo I tested at 100 yards made into the elite 0.5-inch or better grouping (Federal fared best, above). Overall, in fact, the three-shot groups averaged 0.477 inches at 100 yards. As for the ultimate test at 300 yards, I was able to hit a 4×4-inch target with relative ease after first taking a couple of sighter shots. That is outstanding accuracy, making the addition of the T1x to the Tikka line a surefire winner.

THE SPECS
Calibre: .17HMR
Overall length: 39.6"
Barrel length: 20"
Weight: 5.7 lb
Twist rate: 1/9"
Length of pull: 13.25"
Magazine capacity: 10 plus 1