While big-game hunting has long been a driving force in my life, bird hunting also remains a passion. There's just something magical about my four-legged hunting buddy unraveling a hot scent and flushing a rooster ringneck. My array of shotguns and bird dogs over the years reflects that passion—quick and nimble 20 gauges for those tight-sitting early-season birds, and the extra firepower of a 12 for those spooky late-season pheasants. While the 20s proved ideal for early birds, the slower-handling 12s frequently tested my shotgunning prowess on late-season, long-range flushes.
Then along came Browning's do-it-all A5 Sweet Sixteen in 2016. Now, don't confuse the A5 with its predecessor, the Auto-5 Sweet Sixteen. While both may share the same signature humpback profile, they are two very different guns.
It all starts with the A5's inertia-driven action, which is so reliable that Browning guarantees it for 100,000 rounds, or five years of trouble-free operation. Then to improve target acquisition and pointability, the slim forearm places your hand closer to the bore while the humpback profile seamlessly melds with the rib for a 30 per cent longer sight plane.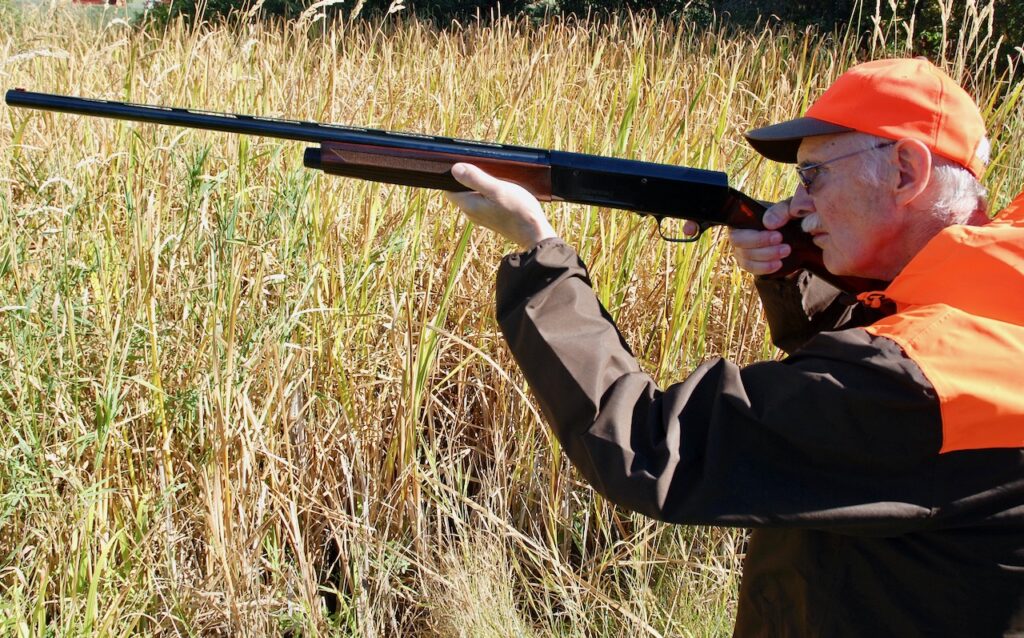 Next, the Inflex ll Recoil Pad is designed with a softer material that is slippery to avoid hang ups when shouldering. The pad also directs recoil down and away from the comb. Mechanically, the gun is designed to automatically chamber the first round as soon as it's loaded in the magazine. And for improved patterns, the back-bored barrel incorporates a longer tapered forcing cone, and it comes with three long, double-sealed, flush-mounted choke tubes.
Other notable features include a smaller 16-gauge receiver, an easy-to-remove magazine plug, a grade l Turkish walnut stock with 18 lines per inch checkering, and a fibre-optic front sight. There are also shims for adjusting the cast, drop and length of pull, and barrel length options of 26 and 28 inches.
TEST RESULTS
Why choose a 16-gauge over a 20-gauge—which offers so many more options in terms of models and ammo—particularly when you can stoke up a 20 with three-inch, 1¼ ounce loads that duplicate the heaviest 16-gauge loads? The simple answer is 16s just pattern heavier loads better than 20s. Those heavy 20-gauge loads, which are stuffed beyond bore capacity, can lead to less consistent shot strings and poorer patterns. The larger bore size of the 16, on the other hand, handles those 1 1/8-and 1¼-ounce loads more consistently, resulting in more and cleaner kills.
At five pounds 12 ounces, this was one delightful shotgun to handle. It fit and balanced perfectly, and the longer sight line aided by the humpback profile provided extremely quick target acquisition. My only negative comment concerns the trigger—at six pounds two ounces, the pull weight was heavier than the gun itself. Knock off a couple of pounds and the problem's solved.
Using an equal amount of ammo from Browning and Remington, I divided my test into two components. First, I had a lengthy session on the trap range shooting one-ounce #8 target loads, then I patterned 1 1/8-ounce #6 game loads at 35 yards using splatter targets.
On the trap range, my son, Brent, and I launched 50 clay birds each. For my 50, I didn't shoulder the gun until each bird had left the trap in order to fully assess the shotgun's quickness. Using a modified choke, I missed a paltry four birds. Not only was the A5 a joy to shoot, it also performed beyond my expectations. The recoil was mild, and the target acquisition was second to none.
The gun also patterned well, providing consistent shot dispersion. While the total number of hits were about the same, Browning's BXD Upland tended to pattern just a bit more consistently than Remington's Pheasant Loads. Still, either would make an excellent choice for pheasants. Conclusion? The Sweet Sixteen definitely hits the sweet spot.

THE SPECS
Gauge: 16
Chamber: 2¾"
Barrel length: 26", 28"
Overall length: 47¼", 49¼"
Length of pull: 14¼"
Drop at comb: 1¾"
Drop at heel: 2"
Weight: 5 lb 13 oz
Magazine capacity: 4
Chokes: Full, modified, improved cylinder