I met Wally Robins for the first time last September after I'd donated a guided fishing trip for muskies on Lake of the Woods, as part of a fund-raising benefit dinner for Big Jim McLauglin who is battling cancer, and Wally had put in the winning bid.
When I picked him up on the dock, at the Lakeside Inn here in Kenora, Wally was clutching half-a-dozen G.Loomis muskie sticks in one hand and a gigantic muskie tackle bag full of lures in the other hand.
I laughed when I saw him standing there and thought … "a man after my own heart".  Wally instinctively read my mind, smiled back, shook my hand and within 10 minutes of swapping tales you'd have thought we'd known each other and fished together for the past 20 years.
Only another muskie angler could even begin to understand what I mean!
Since that first adventure, Wally and I have stayed in close touch, flipped e-mail messages back and forth and shared a bunch of photos.
The last one that Wally sent me, though, had particular significance.
In the photo, Wally is holding a beautiful muskie that he caught in the Lower Ottawa River.  No surprise there, the Ottawa River is one of the best muskie fisheries in the world.  What was totally revealing, however, was how Wally caught the fish.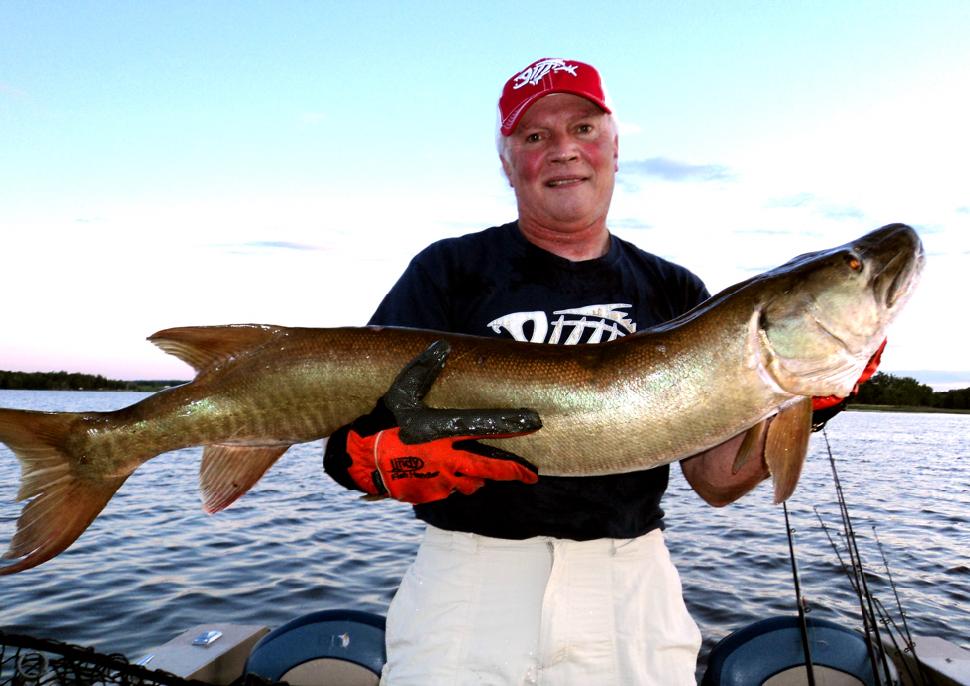 "I hooked her just outside a very shallow, ultra-weedy bay", Wally explained.  "We had been throwing Cowgirls and single bladed bucktails for three hours and hadn't raised or seen a fish.   Then a slight weather change occurred, that dropped the air temperature a few degrees.   I switched over to a Top Raider and used a traditional steady retrieve cadence with the occasional short burst to try and trigger a fish.  It produced absolutely nothing.  Then, I tried a few casts using a dead s-l-o-w retrieve, so slow that the prop on the Top Raider was barely turning.  My partner was looking at me a little oddly as I was doing this until this fish hit.   But "hit" may be the wrong word.  It was more like a bluegill sucking in a mayfly.  It was just the slightest bulge behind the bait.  On the hook set, however, she went skyward and embarrassed every smallie in the system with a first rate aerial show."
Wally also mentioned this ultra-slow topwater retrieve has produced many muskies for him in the past, which is particularly insightful because nearly every muskie (and pike) angler I've ever met believes there are only two retrieve speeds for the big toothy predators.  And those are "fast" and "faster".
What we often forget, however, is that the fish often become "conditioned" to these faster-than-a-speeding-bullet retrieves.  Especially as we move into the tail end of the season as we are doing right now.
"I think musky anglers are conditioned to aggressive high octane retrieve speeds regardless of what they're throwing," Wally remarked.  "But the lesson I've learned is that "slow" is also a retrieve speed."
Indeed it is and it is a lesson more muskie and pike anglers need to heed.
Still on the topic of muskie tactics, here is one that buddy Richard Quade has been using to, in his words, "hammer muskies" of late.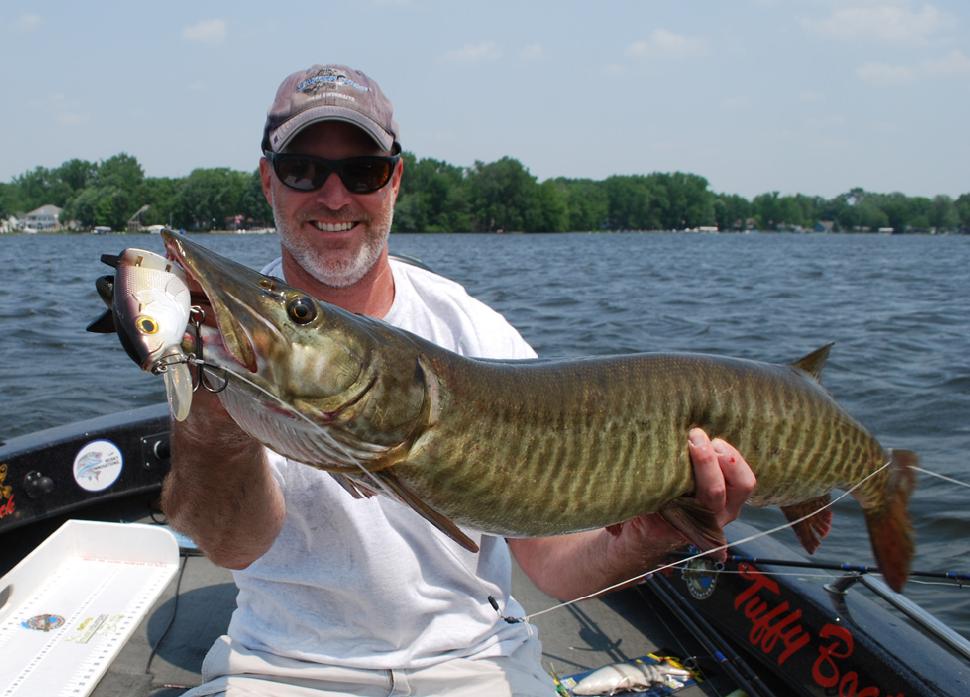 Richard has been casting big 9-inch Revolution Shad swimbaits made by Reaction Strike.  I saw these baits when I was down at the ICAST show in Las Vegas in July and they're definitely sweet.  The neat thing about the Revolution Shad, however, is that if you use the slow fall version, it falls horizontally to the bottom – not nose down like most other lures – and literally sits on the hooks.
Richard has been enjoying the most success lately, however, with the dive/suspend model, using a rip-pause retrieve, getting the bait down 8- to 10-feet, putting it right in front of the big toothy critters' noses.