Guns & ammo: your source for firearms info
Evaluating an 1880s Marlin rifle, a Winchester Model 94 and a mysterious Belgian 32-guage shotgun
Whether you have a question about antique guns, modern firearms, ammunition or reloading, Outdoor Canada expert Dave Anderson is here with the answer. Please send your detailed questions and applicable, high-resolution photos to editorial@outdoorcanada.ca. 

I would like your advice regarding the value of my grandfather's gun (above). It's in excellent condition. Here are the details: Marlin 32.40 calibre; last patent 1882; 27½-inch octagon barrel; full-length magazine; overall length of 46½ inches; checkering around 22 per inch; bluing excellent; serial number 19000+; figured wood; black powder; bullet mould; reloading tool.
Robert Tolles
Barrie, Ontario

I believe your rifle is the Marlin 1881. Between 20,000 and 21,000 of this model were produced between 1881 and 1892. The serial number indicates your rifle was made in 1888. Fewer than 2,000 were made for the .32-40 cartridge.
Collector interest in vintage Marlins has increased in recent years. Most 1881 rifles had a straight grip and uncheckered stock. The fact yours has what appears to be special order, upgraded wood with a checkered pistol grip adds to the value, as do the bullet mould and reloading tool. Your rifle would certainly be of great interest to Marlin collectors.
From what I can see in the photos, its condition is outstanding for the era, with the case hardening colour still visible on the lever, hammer and buttplate. S. P. Fjestad's *Blue Book of Gun Values*, which lists prices for sales among U.S. collectors, shows standard model values of US$3,100 with 90 per cent original finish and $3,900 with 95 per cent. For such a valuable item, I suggest you get a factory letter from the Cody Firearms Museum (720 Sheridan Avenue, Cody, Wyoming 82414); they should have records for this model and serial number.
There are quite a few serious and knowledgeable Marlin collectors in Canada, and I expect your rifle would bring perhaps $3,500 to $5,000 at a well-publicized firearm auction. Judging by your photos, the rifle doesn't look like it has been reblued or refinished, but a collector would want to be sure. He would also look for any rust pits or damaged parts, and examine the bore condition.

Could you please evaluate this Winchester Model 94 in .32 Win. Special (above)? What is it worth?
Eric Hall
Saint-Isidore, New Brunswick
According to the serial number, this rifle was made in early 1972. A Model 94 made after 1964 is not particularly collectible unless there's something special about it—new in the box, a commemorative model or an unusual cartridge chambering such as 7-30 Waters, for example. There's no extra value with the .32 Win. Special chambering.
The photo appears to show some rust pitting or finish flaking along the top and bottom edges of the receiver. From what I can see, it's a practical sporting rifle rather than a collectible. I estimate its value in the range of $300 to $400.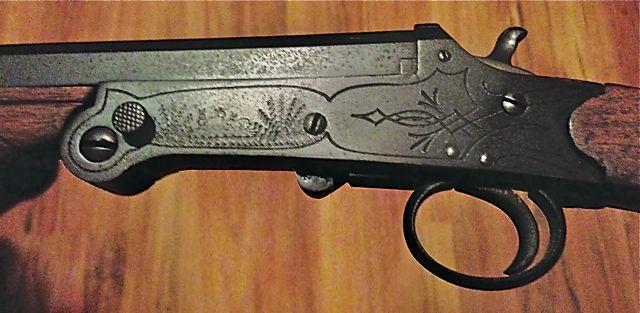 I have a single-shot break barrel shotgun with the serial number 8021 (above). I believe it takes 32-gauge 2½-inch shells, which are not made in Canada. It has an EL stamp between two rifles, which indicates it's Belgian in origin. The number 8021 shows it was made between 1899 and 1906. It also has a "T" with an asterik above it as the inspector's stamp, and a half-circle with 32-65 for gauge size. Then there's the beautiful engravings. Any information on the definite size of shot, and whether it can be purchased, would be greatly appreciated.
John Essery
Kenora, Ontario
You've done a good job of researching your shotgun. Here are a couple of additional points: the 32-65 marking indicates the gauge (32) and the length of the chamber (65 millimetres, or about 2.56 inches). The "ACO" marking on the barrel indicates the barrel was made in Belgium by Oliver Frères (Oliver Brothers).
At present Fiocchi is the only ammunition maker I'm aware of that still produces 32-gauge cartridges. They're not made on a regular basis, but Fiocchi does a run now and then. A search on the Internet shows Canada Ammo is a retailer of Fiocchi ammunition, although its website doesn't show 32-gauge cartridges in stock. It might be worthwhile to get in touch with them to see if they could import a supply. I wouldn't expect it to be cheap, though.
If anyone knows of another source of 32-gauge cartridges in Canada, I'd be interested to hear about it. The Internet shows some U.S. sources, but the logistics of shipping ammunition from the U.S. to Canada make it impractical.
I really have no sources of comparable sales to estimate the gun's value. Old Belgian shotguns from this era are generally not of interest to collectors. I'd consider it a relic of a bygone era and retire it for display purposes only.
If you have a question about antique guns, modern firearms, ammunition or reloading, e-mail expert Dave Anderson at editorial@outdoorcanada.ca. Please include as much detail as possible, and a high-resolution photo.
Collector's corner
The Ruger Standard .22 semi-auto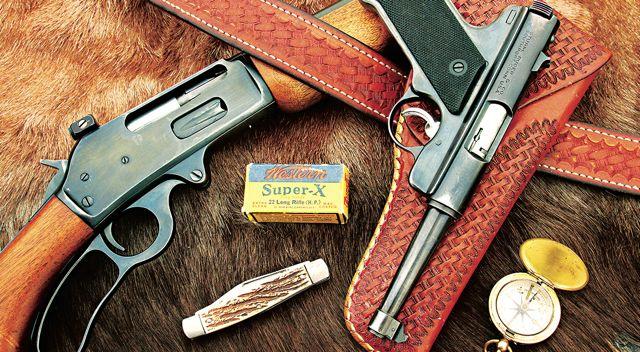 This Ruger Standard .22 semi-auto was made in 1955. Since it's fairly blue-worn, and a great many of the same model were made, it's not worth very much by collector standards. Nonetheless, it still represents a very important milestone in the history of the American sporting guns industry.
Designed by Bill Ruger, with financing from his friend Alexander Sturm, the Ruger .22 was first made in 1949. For more than a decade, the price remained at $37.50. Due to the similarity in name and the superficial resemblance to the infamous Luger pistol, some people initially thought it was a rip-off.
In a short time, however, the little .22 would prove to be tough, reliable, accurate and just about impossible to wear out. It was so successful that rivals such as the Colt Woodsman and the High Standard Sport models were eventually dropped from production. Much more importantly, the success of the .22 pistol paved the way for the Ruger single-action revolvers, the 10/22, 77 and Mini-14 rifles, and many other models.
While this particular pistol is only worth approximately $300 to $350, earlier models in new condition, complete with the original "salt cod" boxes, can reach the $3,000 range. After 60 years and who knows how many rounds, this gun nonetheless remains accurate and reliable. The rifle, incidentally, is from the same era. It's a Marlin 336 in .32 Special, made in 1948 and valued at $550 to $600.