Guns & ammo: your source for firearms info
Appraising a 12-guage/.38-55 side-by-side, a Browning Sweet 16, and a shotgun from the early 1900s
Whether you have a question about antique guns, modern firearms, ammunition or reloading, expert Dave Anderson is here with the answer. Please send your detailed questions and applicable, high-resolution photos to editorial@outdoorcanada.ca.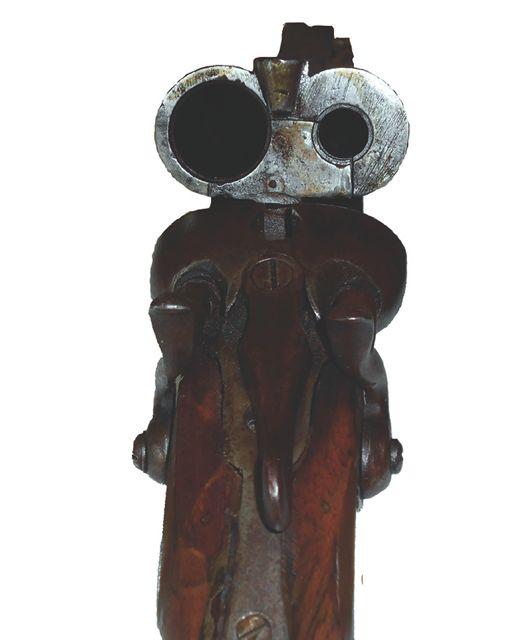 I was wondering what information you could give me about this gun (above) and its value. It is a 12-gauge on one side and a .38-55 on the other side. I purchased it at a gun auction. I was told the maker was Canadian.
Dick Mclay, Erickson, Manitoba
It's an interesting old gun. Other than a nice, sharp photo, I don't have much to go on in terms of maker, proof marks or any other markings. What I can see from the photo is it is an external hammer gun, which tend to be in less demand than con­cealed hammer models.
The workmanship, judging from the fit of the wood around the tang, is just fair. I note the action has a "doll's head" between the barrels, locking into a slot in the receiver. This is a feature not often seen on cheap guns.
The screw slots are marred a bit, but not too badly, and there seems to be consid­erable rust and pitting with little, if any, original finish remaining. I'd consider it a memento and an interesting old artifact, rather than a shooter.
Since market value is what a willing buyer would pay and a willing seller accept, it would seem whatever you paid for it at an open auction would meet the definition of market value.

Enclosed is a photo of a J. Stevens Arms & Tool Co., Chicopee Falls, Massa­chusetts, 12-gauge, single-shot, break-open shotgun (above). It has 914 HA and STEVENS embossed on the buttplate, at an angle. There are no other identifying marks or notations. Can you tell me some history about this shotgun? Is it a collector shot­gun? How much is it worth today, and what did it sell for in its day?
Anonymous
The marking "J. Stevens Arms & Tool Co." was the style used from 1886 to 1915. If your shotgun has a plain extractor (it lifts the fired cartridge from the chamber, but does not eject it), it's likely a Model 105. If it has an automatic ejector, it's a Model 107. It was most likely made in the early 1900s, though there are no exact records.
At the time these shotguns were being made, the Model 105 was listed at a price of $11 and the Model 107 at $11.50. There is virtually no collector interest in Stevens firearms at present, though they are, for the most part, considered to be sound and well-made guns. Their value is primarily as shooters or heirlooms.
Based on the photo provided, I would not consider the value to be very high—perhaps $50 or so.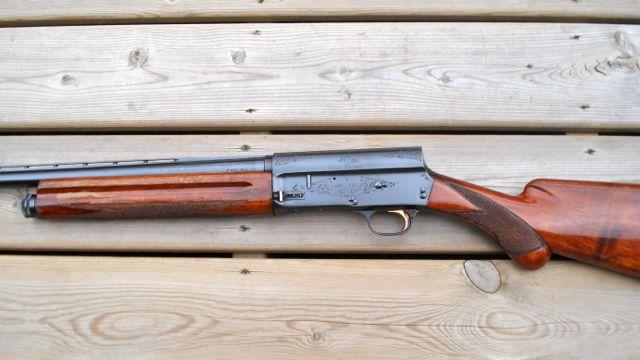 I have my father's Browning Sweet 16 (above). The serial number is 1S80353 and the barrel has a full choke, and vent rib. Mark­ings on the gun indicate it was made in Belgium, and from what I can find out, it was manufactured in 1967. The gun has been lightly used, and the bluing and engraving are like new. I understand that steel shot cannot be used. Can you give me an idea of the value? And would it be feasible to resize the barrel?
Bill Colman, Manotick, Ontario
You have a very nice shotgun there; it would certainly be of interest to Browning collectors. My records indicate the 1S pre­fix means 1961 production. Some collec­tors will pay a premium of around 20 per cent for pre-1962 production, as they pre­fer the reddish-coloured wood (which your shotgun has) to the blond-coloured wood of later models.
The round knob pistol grip and the vent rib are also desirable features. The cur­rent Blue Book suggests values from about US$1,800 with 95 per cent original condition to as much as US$2,200 in 98 per cent condition. These prices reflect the demand among American collectors.
In Canada, we have some very knowledgeable collec­tors, but not as many as in the U.S. Demand tends to be lower, and information on recent sales is hard to come by. However, you have a desirable collector's item in outstanding condition. If it were mine, I'd want to get at least $1,800 to $2,000 in a private sale to a collector. Obviously, dealers would offer considerably less, as they have to allow for operating costs and the risk, time and expense involved in finding a buyer. As I've said before, if you want all the value out of a used firearm, you must be prepared to do all the work.
Considering the collector value of your shotgun, I'd advise against altering it in any way. If you want to continue shoot­ing it, only use lead shot for clay targets or upland game (if legal where you hunt). Browning advises against steel shot in older shotguns.
Your dad was obviously a man with good taste in firearms!
If you have a question about antique guns, modern firearms, ammunition or reloading, e-mail expert Dave Anderson at editorial@outdoorcanada.ca. Please include as much detail as possible, and a high-resolution photo.