Guns & ammo
Investigating a 19th century Winchester rifle, a classic Lee-Enfield and a mysterious box of Canadian-Mexican ammo
Whether you have a question about antique guns, modern firearms, ammunition or reloading, expert Dave Anderson is here with the answer. Please send your detailed questions and applicable, high-resolution photos to editorial@outdoorcanada.ca.

Would you be so kind as to evaluate this Winchester Model 1895 in .30-40 Krag, serial #22588 (pictured above) ? Please suggest a possible value for a collector, as well as contacts I might be able to approach. Any help would be greatly appreciated.
Ronald Macdonald
Sherbrooke, Quebec
Your rifle was made in 1899, according to my references. It appears to be a standard model with a round barrel; 425,881 of these rifles were made between 1895 and 1931. The .30-40 Krag (also called the .30 U.S.) was a common chambering.
From what I can tell based on the photo, the condition is exceptional. I've never seen a Model 1895 in such good shape, except in museums or photographs. For a near 120-year-old rifle, it looks almost too good! It's certainly a very collectible rifle—even if it turns out to have been refinished and reblued at some time, I'd still put its value at between $1,500 and $2,000. If it's in its original condition, I'd at least double the amount.
The first step to determine the true value is to get a factory letter listing any available information from original Winchester records. You can get a letter from the Cody Firearms Museum (www.centerofthewest.org/firearms). It should have records for Model 1895 rifles with serial numbers 1 to 59999.
To get the most value for your rifle, I recommend going through a well-publicized firearms auction. I can guarantee a lot of serious Winchester collectors would be interested in this rifle, but they'd likely want to examine it first-hand and learn more before investing substantial dollars. For recommended auctions houses, go to www.outdoorcanada.ca/gunauctions.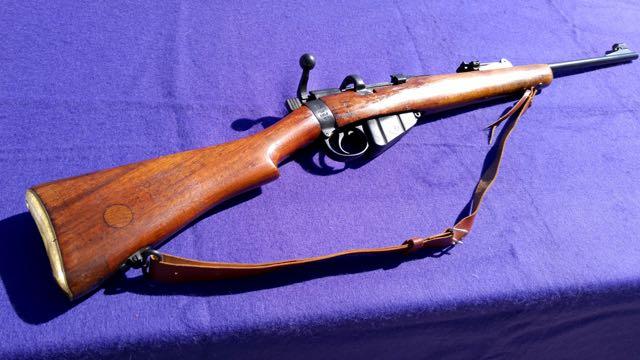 I have an Enfield .303 (above), with the following identification marks stamped on it: ENFIELD, 1913 (or 1918, as the stamp is unclear), SMLE, III* and FTR (pictured below). What would be the value of this gun?
Art Kowalchuk
Winnipeg, Manitoba
This is a Short Magazine Lee-Enfield (SMLE) No. 1 Mk. III rifle, the primary firearm used by British soldiers in the First World War. Millions were manufactured. They also saw extensive use in the Second World War, after which thousands were sold as surplus and converted for sporting use, usually by removing the upper handguard and shortening the forearm. Sometimes the barrel was also shortened.
Military collectors are more interested in the original unaltered models, unlike yours, which has had the forearm shortened. These cut-down SMLEs are also no longer in much demand as hunting rifles, partly because it's not easy to mount a scope on them. The main reason is that hunters now have so many other moderately priced bolt-action rifles from which to choose.
I've seen a great many of these modified SMLEs with badly corroded bores, the result of not cleaning the bore promptly after using surplus ammunition with corrosive primers. Assuming your bore is in decent shape and the rifle is in an overall sound, safe condition, I'd put its value in the range of $150 to $200. If the bore is badly corroded, the rifle should not be fired and the value would be more in the range of $75 to $100. The low values may seem a bit unfair considering the British SMLEs were always made with good workmanship and quality steel, but there are a lot of these rifles in circulation—and not a lot of demand.
I have this cartridge box that I believe was loaded by Dominion Cartridge Company. Was it for the Mexican market? There is a "D" logo on the cartridge image on the box; inside, some of the cartridges have a "D" stamped on them. I'm thinning out my collection, so I'm wondering what this might be worth. I'd also like to know how to date Dominion cartridge boxes using the code numbers and letters. Thanks for any help.
Wilf Verner
Esterhazy, Saskatchewan
Brothers Felipe and José Quintana started the business Quintana Hermanos around 1875, importing and distributing firearms and ammunition in Mexico. The Dominion Cartridge Company did indeed provide cartridges for them. I've read that Quintana Hermanos also purchased primed cartridge cases from Dominion, as well as from Italian and American makers. They purchased bullets and powder from other sources and had the components loaded locally. The D stamp on the case head does indicate the ammunition, or at least the cartridge case, was made in Canada by Dominion.
During online auctions, I've seen boxes of cartridges identical to yours trading at US$65. However, that price was for complete, sealed boxes with all the original cartridges. For just the box and a few cartridges, I would only be guessing at the value.
As for determining the dates of Dominion boxes, the late Canadian author and historian Alan R. Capon published an article on that very subject in the August 1986 issue of Canadian Journal of Arms Collecting (Vol. 24, No. 3). You can purchase a copy of the issue for US$6 via www.armscollecting.com/canadian-journal.asp.
Collector's corner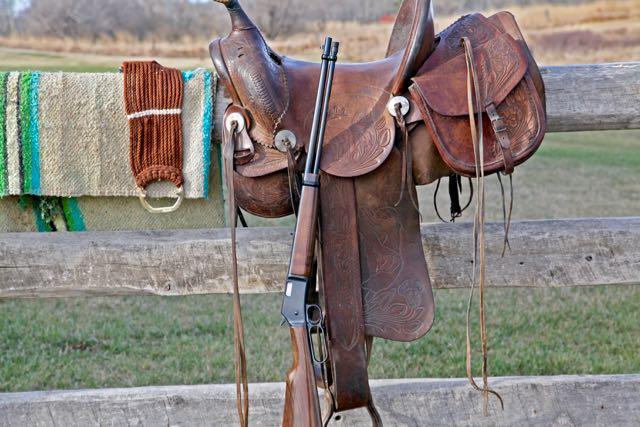 If you are a beginning collector, it's probably a bit late in the game to start collecting vintage Colts, Winchesters and Lugers—unless you have virtually limitless funds. Even 1950s-era sporting arms are getting pricey, especially those in top condition. The beginning collector these days is well advised to look for a niche not yet widely recognized, but with the potential for future growth in collector interest.
I think the Browning BL-22 (above) may be one such niche. It's still in production, so don't expect great initial returns on your investment, but I see the potential for big profits 30 to 40 years from now. Why? It comes with a famous name, consistently excellent workmanship, a steady demand since 1970 and a fairly wide array of models. Plus, it's a light, accurate, reliable rifle that would gladden the heart of any rimfire enthusiast.
The BL-22 pictured here—a basic .22LR Grade I—was manufactured in the early 1970s. Except for one small nick in the stock, it is in nearly 100 per cent original condition. And as a bonus, it has the original factory box and all the papers, making for an overall value of approximately $500.