THE F-WORD
It turns out that friction of the weight is the crucial factor
One of the things I've learned over the years of spending untold hours out on the water, is that the smallest of details often pay the biggest rewards. Take the question I was asked recently by a reader. He wanted to know how much deeper his lures would run if he clipped an 8-ounce snap weight (or any weight for that matter) onto 30-pound-test braided line, instead of the 30-pound-test monofilament line that was used to develop the dive curve.
Being much thinner in diameter, you would suspect that the braid would cut through the water much more efficiently and thus, take the lure down much deeper.  And it turns out, that is the case, but not necessarily the way you might think.
To find out why, I went straight to the source of all things dive curvy: my good friend, Mark Romanack, the host of Fishing 411 TV and the author of PRECISION TROLLING DATA. Over the years, using scuba gear, Mark has carefully tested just about every crankbait and trolling aid on the market. He has published several books illustrating the resulting dive curves, including Precision Trolling: The Troller's Bible.  I have the Precision Trolling app, which is updated regularly as new lures are introduced, and rely on it big-time to tell me how deep I'm getting my baits.
So, here is the dive curve for an 8-ounce snap weight attached to 30-pound-test monofilament line, trolled at 2 mph. As you can see, when you let out 90 feet of line, it will dive down 30 feet; with 175 feet of line out, it will go down 40 feet deep, and so on. But, what happens when you use the much thinner 30-pound braided line ?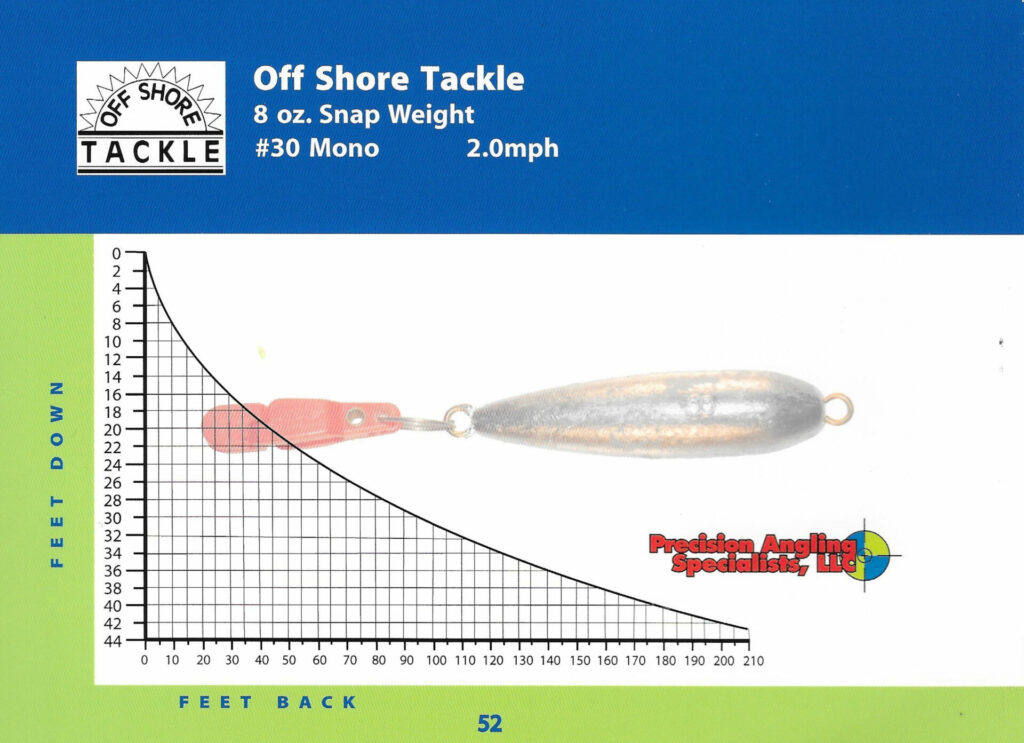 "The answer is that it depends," says Romanack. "Trolling speed is more important to snap-weight depth than line diameter. At slow speeds, say 1.2 to 1.5 mph, that 8-ounce snap weight will run significantly deeper. But at faster speeds,  like 2 to 2.5 mph, the increase in depth is only modest, at best. 
"Last summer we ran some tests with 3-ounce snap weights in combination with diving crankbaits and were disappointed to find that it only increased the diving depth of a crankbait a foot or so, compared to a 2-ounce snap weight.
"The issue is friction. The larger snap weight sizes have so much added friction as they pass through the water that they just don't gain a lot of extra depth.  So, it will be the same with the 8-ounce snap weight that you're interested in. At slow speeds, a snap weight is a very efficient tool for gaining depth. But at faster speeds, they simply are not that efficient.
"I haven't tested the 8-ounce snap weight on 30-pound braid, but at slower speeds I would estimate that it would run on average 10-12 feet deeper than if it was fished on 30-pound monofilament.  At faster speeds, the difference would be much less, probably just two to three feet deeper. Speed kills when it comes to fishing snap weights."