Junior biologists inspire hope in fishing's future
Plus: Celebrate National Fishing Week with Gord Pyzer's tackle giveaway
Watch a group of kids these days, and invariably, you will see them marching around like robots, their eyes glued to an electronic device while their fingers tap away madly on buttons and keys. But not Kat Kearns' students.
For starters, being only four and five years old, they are too young for smartphones and electronic devices. The other reason her kids have yet to be enslaved by electronic gadgets, however, is because she has found much better ways to keep them engaged. I recently discovered this following a recent field trip made by Kat's class, to Rabbit Lake in Kenora, which is just a short walk through the park-like woods behind École Ste Marguerite Bourgeoys, where Kat is the kindergarten teacher.
During a recent field trip, some of the kids waded out into the warm water and captured a beautiful fish with an orange and aquamarine dorsal fin and a rainbow-hued body. And their curiosity got the better of them. That is how I became involved. Kat is a friend of my daughter, Sarah, who sent me an image of the fish. The kids were enthralled with their catch and wondered if I could help identify it.
The size, shape and external features clearly suggested it was a member of the darter family, and the colourful flanks hinted that it might be a rainbow darter. But Kenora is well outside the geographical range of the species, whereas Iowa darters are common.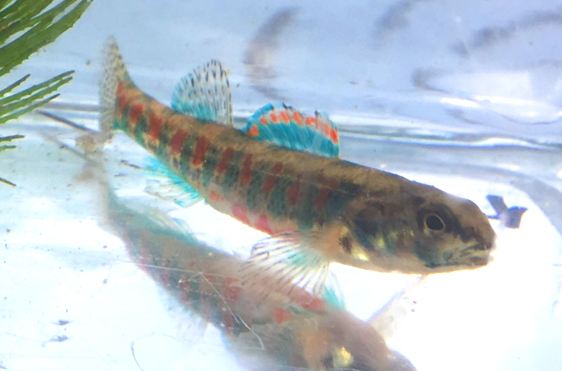 I am anything but an expert on fish identification, however, so I contacted two good friends—Dr. John Casselman and Nick Baccante—both former Ontario Ministry of Natural Resources colleagues, who are much more experienced than me.
If John's name sounds familiar, it is because he was the Senior Research Scientist with OMNR where he specialized in population dynamics and the age, growth, and production in fish. Most anglers know him better, though, for the groundbreaking Muskie Cleithrum Project that he and the late Dr. Ed Crossman, from the Department of Ichthyology and Herpetology at the Royal Ontario Museum, initiated in the 1980s and early 1990s. Many others will recall that John was honoured with the prestigious American Fisheries Society Award of Excellence for his lifetime contribution to fisheries' science.
Nick, on the other hand, worked in the OMNR Thunder Bay office, at the same time I was there. He was Dr. Peter Colby's assistant, and a key member of Ontario's walleye research program, where he literally helped write the book on walleye, contributing mightily to the Biological Synopsis of Walleye, published by the United Nations' Food and Agriculture Organization.  I remember spending many an hour in Nick's office, pestering him with questions about walleye behaviour, and why the fish do what they do. He later moved out to British Columbia, and headed up much of the fine fisheries management in that province.
But get this: When I sent the image of the fish that the kids had caught, enlisting John and Nick's help in identifying it, the first comments I received back from them were anything but scientific. In fact, they were reflections on earlier memorable times.
"You can't beat kids wading in streams, if you want great observations," John said. "It brings back fond memories of my early days. I don't know if I ever told you, but a number of years ago, by chance, I was involved with Grade 1 and 2 students in Kingston on the eel story. It was truly one of my most enjoyable presentations and associations. Kids can be easily hooked by fish."
Nick's initial comments were also about wading in lakes and rivers catching small fish. "I caught darters around Thunder Bay," he said, "and kept them in an aquarium because they are so colourful. I used to create a current in the aquarium with a diffusing bubbler and keep all sorts of darters."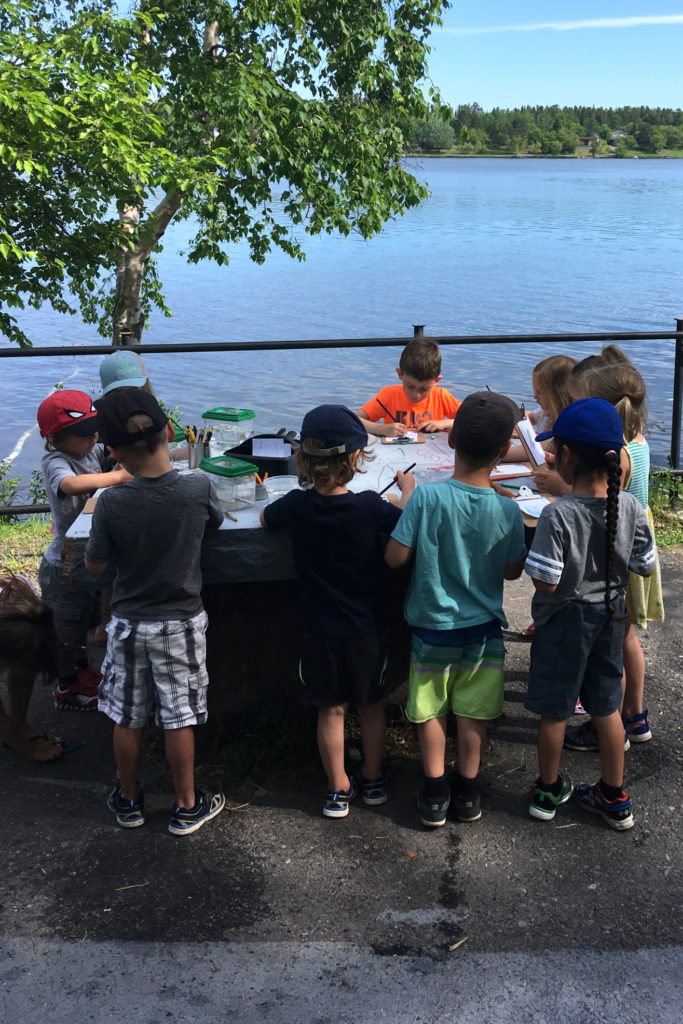 If you are wondering where I am going with all this, let me say that starting tomorrow is Canada's National Fishing Week (June 29 to July 7), a program dedicated to encouraging Canadians to get outdoors and enjoy our angling heritage.
"Fishing is a great way to spark an interest in our natural resources and in ways we can protect them," says Mike Melnik, Managing Director of the Canadian Sportfishing Industry Association, which is one of the hundreds of supporting members (along with the federal, provincial and territorial governments) of the week-long celebration. "Fishing has been a part of Canada from the beginning, both as a means of sustenance and as a leisure activity. It's a heritage pastime and a tradition that deserves to be promoted, fostered, and celebrated."
I should mention, too, that there are a huge number of events going on across the country and you can even fish licence-free in some jurisdictions. To learn all of the details, simply click HERE.
And I am going to sweeten the pot even further. For starters, with the support of the National Fishing Week folks, I am going to donate a brand new fishing rod-and-reel combination to Kat Kearn, to present to one of her deserving and budding young fisheries scientists. And I am also going to give away two more rod-and-reel combinations to readers.  All you have to do to enter is post HERE on my Facebook page, an image of your favourite youngster engaged in a fishing-related activity. It could be a photo of them trapping minnows like one of Kat's kids, or your youngster's first fish. It really doesn't matter so long as it is a youngster engaged in fishing.
I'll draw the winners' names and make the announcement on Monday, July 8th.
Oh, yes, and now the drum roll, please, for the identification of the fish that Kat Kearn's kids caught in Rabbit Lake.  According to another great friend of fish, Dr.  Nicholas Mandrak, Associate Professor in the Department of Biological Sciences at the University of Toronto, it is a male Iowa darter dressed out in his finest spawning regalia.
And here is what Kat Kearn's kids put together to help identify it. I am still in shock that these youngsters are in kindergarten. Our future is bright.