Destination: Winefred Lake, Alberta
Hitting the water with TV's Fish'n Canada Show
The province of Alberta continues to surprise us with fishing opportunities that, quite honestly, we would have never guessed existed. This is especially the case with northern pike and walleye—we figured Canada's only combination pike and walleye hot spots were further north or more to the east. But we've discovered yet another Alberta fishery that has blown our minds on two different visits: Winefred Lake.
Lying east off Highway 881 between Lac la Biche and Fort McMurray, Winefred is nestled in the heart of Alberta's boreal forest. The lake is 36 kilometres long and 23 kilometres wide, and for the most part, it's round in shape. Although Winefred is a well-known walleye lake, it's the pike that have impressed us most. Across two trips, we've hooked, lost, broke off and saw enough big northerns to equal the action at almost any lodge in the remote north—and this when it's a drive-to lake!
Winefred Lake, Alberta
Our accommodations were at Winefred Lake Lodge, which has been ranked as a five-star establishment. We agree: the food and lodging there are excellent. And so is the fishing, of course.
We've covered quite a bit of the lake during our two visits, catching fish almost everywhere. But for us, two areas in particular held the biggest and most fish. The first hot spot was a large hump in the main lake directly in front of the lodge, and the second was a massive weed flat off of Eagle Point. Both were loaded with big pike, and the definite key was the weeds. Find the weeds and you'll find the fish.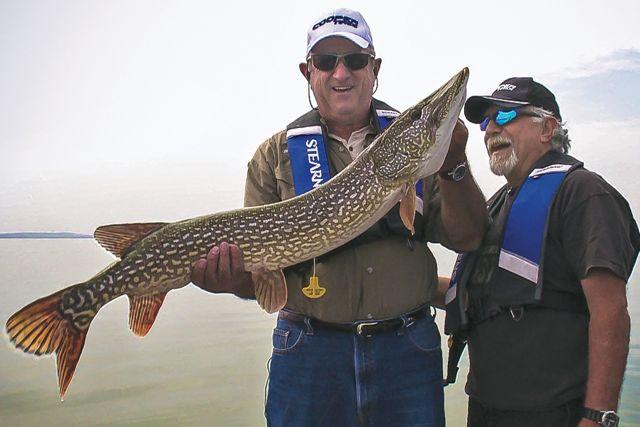 By throwing either five-inch shiny silver spoons or five- or six-inch swimbaits, we caught pike after pike after pike. On our second trip, we had some guests from Cooper Tire along for the TV shoot. They repeatedly cast their treble-hooked spoons into the weedbeds, let them get fouled up, then jerk them somewhat clean, triggering the big pike to pounce. That's a technique that, quite honestly, we wouldn't have tried. Well done, guys!
If you're looking for a western pike lake with a fantastic walleye fishery as a bonus, you must check out Winefred.
Learn more about Winefred's fishing and accommodations at www.winefredlakelodge.com. Contact Fish'N Canada's favourite Alberta fishing guide at www.reelangling.com. And for a complete guide to Fish'N Canada episodes, TV channels and show times, go to www.fishncanada.com or www.facebook.com/fishncanada.