No one has ever suggested that we anglers think logically.
A week ago, for instance, I was out ice fishing for walleyes with buddy and Lake of the Woods guide Ryan Haines. We fished for two hours right at sunset and did not go five minutes—I kid you not, not five minutes—between fish.
The action was crazy.
Then, on Thursday, I took my nine year old grandson, Liam, ice fishing for lake trout. He was enjoying a PD day from school and had never caught a lake trout, so what better time to break the ice. We hooked four gorgeous trout and had an absolute blast.
So, what is not to like?
Well, when I got home and checked my e-mail, I opened a message from buddy, Tom Gruenwald, one of the top ice anglers on the continent, who had been catching giant bluegills—and I started pining for the chance to do the same thing.
We have some of the best fishing in the world up here in Northwestern Ontario, for just about every species that swims in fresh water, and here I am wishing I could catch bluegills—about the only fish we don't get a chance to target.
Is that crazy or what?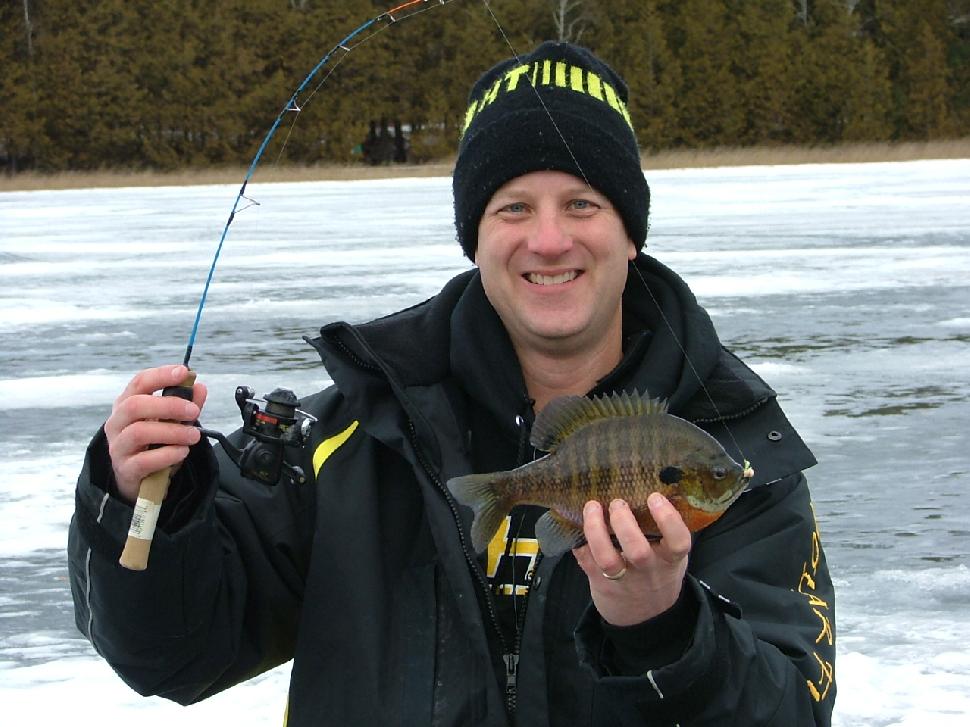 But the truth is that bluegills fascinate me. They always have and I suppose, they always will. Lest I forget to mention, too, for all of you folks living in southern Ontario, you have some of the best winter bluegill fishing in the world at your doorstep. Especially, in and around the myriad of lakes comprising the massive Rideau-Trent-Severn system.
And if you've never targeted bluegills through the ice, well have I got some great advice for you.
"Hearing about a lake known to produce some big 'gills," Tom told me, "but also learning that few ice anglers were having much success catching them consistently … well, the challenge was just too much!
"A map review and sonar scans revealed few bays and a relatively small percentage of shallow, weedy littoral zone. Instead, we found narrow shoreline flats ringing the basin, most breaking rather quickly into about 15 feet of water, then sloping more gradually into a 20 to 30 foot soft bottom basin. To me, this is a clear indicator of a possible big bluegill factory—not an abundance of shallow cover for the small ones to hide within, causing overpopulation and stunting.
"We tried working some holes and pockets within the narrow bands of shoreline weeds and a few turns along the deep, 14 foot weed line, but caught only a few smaller sized perch, so we began exploring the deep water flats and basins and the sonar lit up. To make a long story short, we found a couple loosely schooled packs of bluegills suspended about 10 feet off bottom over 25 to 30 feet of water. After catching several using a mobile, multi-hole, run-and-gun approach, we decided to begin keeping count.
"Moving across the basin and working to intercept these schools, we ended up icing over 150 bluegills, several measuring 7 to 9 inches, and I iced a giant 10.25 inch fish with a beautiful, eye-popping, namesake blue gill flap the size of my thumb!
"We caught them using HT Enterprise's original, super-sensitive Ice Blue ultra light rods and my now "go to" deep water ice jigs, the new HT Marmooska tungstens. The tungsten Marmooska Diamond in chartreuse/glow with the red crystal worked especially well, as did the new silver tungsten Marmooska Dancer, which features a #16 colored epoxy treble dropper. I would just nip the tip of two maggots through the tip of the hooks, mashing one to send out some attracting juices, while allowing the other to wiggle alongside the fluttering skin of the mashed grub.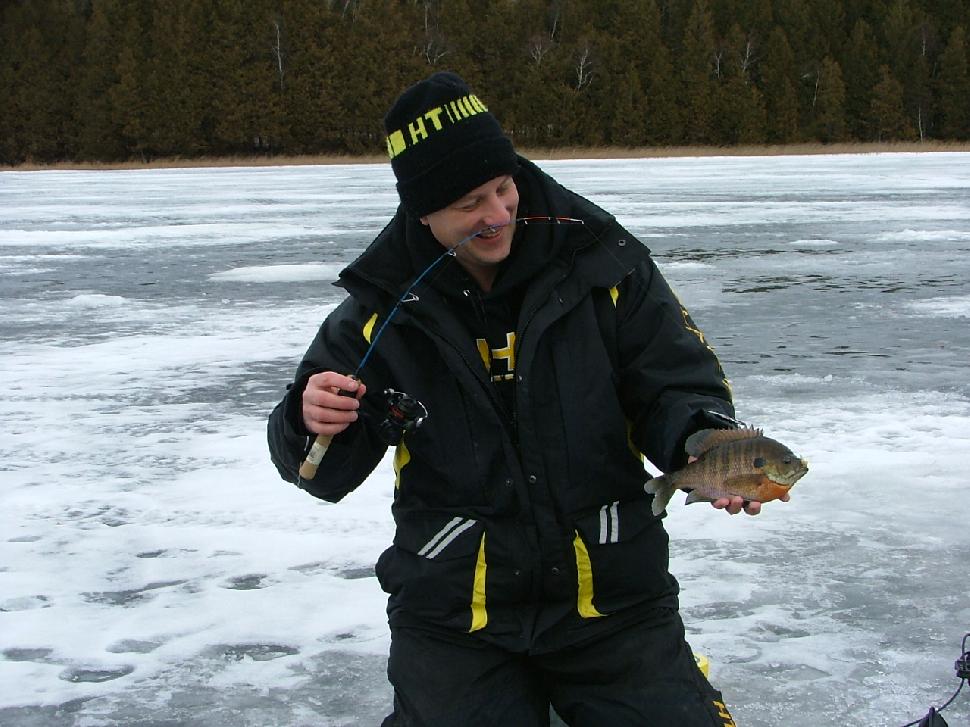 "The trick was to get this down to these fish before the juices dispersed or the schools roamed away, and these fast dropping tungsten jigs perfectly suited the situation. I would drop the bait down a foot or so above the top of the school, then gently work it, to lure active fish up. As soon as one would respond, I'd raise the bait ever so slowly a few inches, then pause to trigger the strikes. I'd also re-bait with a fresh maggot after every fish or two, which I found critical to keep them biting."
Now, that is quite possibly the most succinct strategy for catching bluegills through the ice that I've ever read or heard. And it is making me pine, even more, to get out and catch a bunch.