Bunched up for winter
How to take advantage of the walleye migration on large western lakes
Many anglers believe walleye are always on the move and prone to long-distance migrations. Broadly speaking, this is an oversimplification. But on a select few waterbodies, including some of the West's top walleye lakes and reservoirs, it's true they are nomadic—and that's a good thing. Let me explain.
The idea that walleye are migratory started with mark-and-recapture studies, such as the one carried out on Lake Champlain, a huge lake straddling the Quebec-U.S. border. That study revealed that more than 60 per cent of the walleye in the lake's north end migrated 50 kilometres downriver to the St. Lawrence. Another study undertaken on Wisconsin's Lake Winnebago found that 21 per cent of tagged adult walleye were re-captured 40 to 140 kilometres away from their release point. Other studies have recorded extreme travelling distances of 200, 250 and almost 400 kilometres.
It's important to note that most of this research was carried out on large lakes and reservoirs. It was also associated with the pre- and post-spawning movements of fish. These walleye were swimming long distances to reach suitable spawning grounds or returning to their open-water summer haunts after laying their eggs. Biologists suspect these big-water walleye migrate to the vicinity of their spawning grounds in the fall to take advantage of their peak physical conditioning. After all, it's better for the fish to make the journey in autumn, after a summer of leisure, than in the spring when the winter-weary, egg-laden females would be stressed by the ordeal. Whatever the reason, thanks to these long-distance migrations prior to ice-up, we enjoy some of the best fishing in the fall.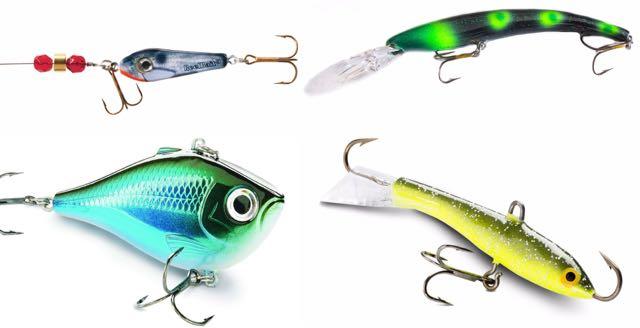 While the walleye migration isn't really a factor on small- to mid-size Shield lakes, it is significant on large western waterbodies, such as Lake Winnipeg, Tobin Lake, Reindeer Lake, Lake Diefenbaker and even Lake of the Woods. Every fall, large schools of walleye migrate great distances to the south ends of these lakes. They then settle down and bunch up for the winter, close to where they'll spawn in the spring. As a result, the fall fishing season brings a period of stability and steadily building populations, when catching the biggest walleye of the year is the norm rather than the exception.
With so many fish often relating to a relatively small area, this is a great time for vertical jigging. Some excellent presentations include thumper-style jigs such as the ReelBait Flasher Jig (tipped with a large minnow), heavy spoons such as the Fergie Special and lipless crankbaits, including the Rippin' Rap, Jigging Rap and Kamooki Smartfish. When you find the fish spread out, on the other hand, try trolling with bottom-hugging crankbaits such as the Reef Runner and Rapala Tail Dancer. And get ready to land your biggest walleye of the year.