Mission impossible
When nothing will get suspended smallmouth bass to bite, it's time to call in fishing's newest secret weapon—the spybait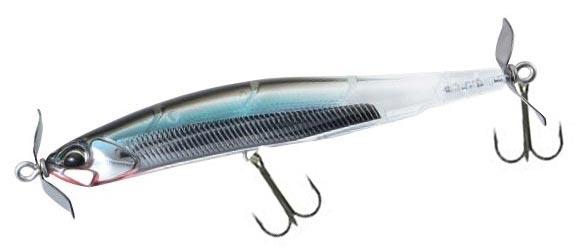 Have you ever had one of those mornings when you catch bass on practically every cast, only to have the hot bite crash once the sun moves overhead and the water turns to glass? If you have, you probably changed spots or packed it in, right? Next time, stay put instead and tie on a spybait, a unique lure that originated in the intensely pressured waters of Japan.
Mimicking a minnow, the spybait (above) sports a prop at both the front and back, and it's internally weighted to make it quiver ever so slightly as it's retrieved, enticing even the wariest suspended smallmouth. So what makes the lure so effective? We asked some of today's top bass pros to share their secrets on when, where and how to fish a spybait.
Timing
From post-spawn through to fall, smallmouth bass are the toughest to catch when they suspend in the middle of the water column once the wind dies off and the sun is overhead. And that's exactly when to throw a spybait, says Walmart FLW Tour pro Casey Martin.
"When bass experience significant amounts of fishing pressure, or a weather front has recently passed through, they'll follow a jerkbait back to the boat, but they'll swallow a spybait," says Canadian-born Martin, who now calls Alabama home. "It's a lot more subtle than a reaction bait."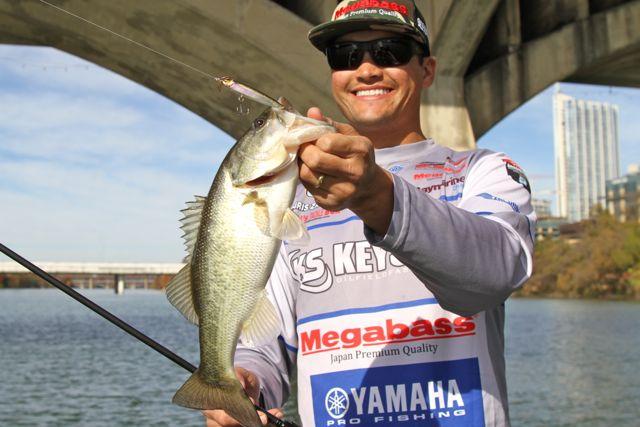 California pro Chris Zaldain (above) agrees about the wind, having learned a valuable lesson during the 2015 Bassmaster Elite event on Michigan's portion of Lake St. Clair. At one point, the wind died down, and while the bass kept following his Megabass Spark Shad, they stopped biting. Once Zaldain switched to a spybait, however, he was back in business.
Location
As for where to bring out the spybait, areas with crystal-clear water are at the top of Zaldain's list. While the lures will produce in water with eight to 10 feet of visibility, he says, anything over 12 feet is a home run.
"I always look for areas where vast open water meets a point, hump or drop-off, or high-traffic areas and stopping grounds for baitfish," Zaldain says. "Areas where a bass can see 360 degrees around that piece of structure are key."
When Ontario bass ace Derek Strub begins fishing, he looks for chara and first tries a tube jig, drop-shot rig or spinnerbait. "I'm not going to use a super-finesse technique like a spybait when fish are most likely to eat something else," he says. Once conditions change, however, and those lures fail to produce, Strub switches to a spybait. And he's seen first-hand how moody smallmouth can turn on a dime, especially on Lake St. Clair.
In clear water, many anglers become flustered when they see fish rejecting their offerings, but once Strub ascertains where the bass have suspended in the water column, he adjusts his approach accordingly. "I have confidence in the spybait from post-spawn through early fall, even if there's a light wind, especially between 10 a.m. and 2 p.m. under those conditions," he says.
Gear
The consensus among Zaldain, Martin and Strub is that few techniques are as gear-specific as spybait fishing. For example, they all use Shimano's Stradic CI4+ 2500 series spinning reel, owing to its silky smooth drag. However, they do vary on their rod and line choices.
Zaldain uses a seven-foot medium-action Megabass Orochi XX F31/2-70XXS Shaky Head rod, which has a more parabolic bend than many spinning rods have in the category. Martin (below) favours a 7′ 2″ Duckett White Ice medium-action rod for its length and whippy tip, while Strub leans toward a medium-light Shimano 6′ 10″ Expride rod. All three rods are extremely forgiving, yet have enough backbone to bury the spybait's tiny #6 and #8 treblehooks on the hookset, without straightening them.
Regardless of which brand of spybait you use (see "Top spies" on next page), it's important to match both the size and colour of the prevalent baitfish. On Lake St. Clair, for example, Martin and Strub use spybaits with finishes that best mimic the local population of grass perch. On cloudy days, meanwhile, Zaldain opts for a foil-like pattern; on sunny days, he goes for translucent finishes.
When it comes to line choice, Zaldain is adamant that six-pound-test Seaguar Tatsu fluorocarbon is the only way to go. He likes it because it's supple and has no memory, making for extremely long casts. He also believes that six-pound fluorocarbon offers less water resistance than eight- to 12-pound line, or even braid, enabling you to feel the bait shimmy as it's retrieved. "If that bait isn't shimmying and moving back and forth, you won't get bit," Zaldain says.
Strub is of a different mindset. He favours five-pound PowerPro braided line with a 10-foot leader of six-pound fluorocarbon, attached via a double uni-knot. "When you're using a six-pound leader, you're not going to get a big hookset anyway, but you're getting a direct hookset with braid," Strub says. "My set-up has much less stretch than a 50-yard cast with direct fluorocarbon, and I'm casting 30 per cent farther. When conditions are tough, it's about getting baits away from the boat."
Technique
Before you make a cast, drop the bait over the side of your boat to gauge how fast it sinks—not every brand of spybait is weighted the same, so some sink slower than others. This is important once you've located smallmouth in the water column, because you need to calculate how far to let the lure sink before starting your retrieve.
After casting the bait as far from the boat as possible, count it down to the desired depth, then engage the reel and position your rod tip at 8 o'clock. Your retrieve must be painstakingly slow and consistent; keep a slight bow in the line, allowing the bait to remain perfectly horizontal as it moves along at a constant depth. "You aren't just looking around like when you're fishing a spinnerbait," Strub says. "You have to pay attention to cadence."
Ironically, one might associate such a finesse technique with a soft bite, but it's actually quite the opposite. Anglers must exercise great discipline by sweeping the rod to the side to set the hook, despite feeling the bait get T-boned as it's reeled through the water column. A side hookset is better, by the way, because it's gentler and won't rip the spybait's tiny trebles out of the fish's mouth.
Derek Strub
Strub (above) is always looking for a competitive edge, and the spybait offers just that. Still, many anglers don't have the patience or time to fish the lure correctly. "It's hard on your head more than anything else, which is why many guys won't throw a spybait," he says. "You're making long casts, counting it down—which takes 15 to 20 seconds—then slowly retrieving. It might take up to five minutes to complete the process for one cast."
This patience game can be particularly tough when you're not getting strikes, Strub adds. "You complete four or five casts and you've killed 20 to 25 minutes," he observes. "If you were already stressing about getting bit, most guys would pack it in and run somewhere else, possibly leaving good fish behind."
And that's precisely why Zaldain, Martin and Strub smile when the fishing gets tough. Says Strub: "I'm not going to move somewhere else when I know good fish are there. I'm just going to fish a spybait to get them to bite." The lesson here? When the going gets tough, don't get going—try a spybait instead.
Next page: Top spybaits…
Top spies
Ready to try this unique ultra-finesse technique? These are the main spybaits now on the market, all designed to catch wary suspended fish.
X-PLOSE
Designed by Japanese angler and lure designer Yuki Ito, X-Plose from Megabass is internally balanced to stay horizontal in the water. The dual blades provide subtle vibration and flash, even when retrieved at super-slow speeds. Measuring four inches long and weighing 5/8 ounce, it's available in seven colours.
Megabass USA, (650) 637-1617; www.megabassusa.com
SCREW POINTER
With churning prop blades on the front and back, Lucky Craft's Screw Pointer provides a mix of flash and turbulence designed to cause suspended fish to react. The bait features a precise weighting system that allows for long-distance casts and a perfectly balanced action. The 3¾-inch Screw Pointer 95 comes in 14 colours, while two smaller versions are available in nine.
Lucky Craft, 1-800-270-3117; www.luckycraft.com
I-PROP 75S
According to Jackall, the two props on this spybait "give out vibrations in the water, mimicking the same vibrations baitfish make when swimming unthreatened." The props also reportedly create the perfect resistance when retrieved to keep the lure in the hit zone longer. The three-inch bait weighs just 3/10 of an ounce and comes in seven colours.
Jackall Lures, (562) 493-0300; www.jackall-lures.com
REALIS SPINBAIT
The wake and flash created by the rotation of the propellers at the front and rear of the Realis Spinbait reportedly attract fish and cause them to "bite without hesitation." This line of Japanese-made spybaits comes in three lengths—60, 80 and 90 millimetres—and, depending on the model, up to 24 different colours and finishes.
DUO International, www.duo-inc.co.jp/en
Next page: Meet the spybaiting pros…
Spy masters
These three professional bass tournament anglers now count the spybait among their go-to tactics when the bite gets tough. Here's how they came in from the cold to embrace the technique.
Chris Zaldain
Yuseki Muramaya
Bassmaster Elite angler Chris Zaldain scoffed the first time he saw a spybait. In fact, it took a year before he gathered the nerve to fish one. That was at the 2014 Bassmaster Northern Open on New York's Lake Champlain, and it helped him cash a cheque. "When you see a fish swim in from 30 feet away," he says, "you know how strong the drawing power of that bait really is."
Casey Martin
FLW
Walmart FLW Tour pro Casey Martin quickly discovered the value of the spybait a couple of years ago while fishing for bass on Lake St. Clair, along the Michigan-Ontario border. "We had a few days where we crushed the smallmouth on spybaits during a really tough bite," he says. "It was the only bait I could get a bite on in an area that was under a lot of fishing pressure."
Derek Strub
Derek Strub
A few years ago, Canadian bass tournament pro Derek Strub grew tired of watching hungry smallmouth shut down and suspend in the water column, refusing to bite anything he'd cast. Once Strub started throwing spybaits, however, the fish suddenly found their appetite—and the 2010 Canadian Open Champion discovered a hot new technique to add to his arsenal.
Thorold, Ontario outdoor writer Jonathan LePera is an avid big-bass angler.