Equality afield
Why gender should be irrelevant when it comes to hunting
I'm a hunter who just happens to be a woman, and that's all there is to it. Women who hunt don't want to be placed in categories or given cute names, and nor should they be. After all, more women than ever are now scouting, hunting, harvesting, recovering, cleaning, butchering and preparing game for their family dinner tables. In fact, there are now more new female hunters than males who are new to the sport.
[easy-tweet tweet="Paige Galea calls herself a hunter, full stop. Here's why she thinks it's important" url="OutdoorCanada"]
According to an article in the Globe and Mail, the number of women hunters in Ontario climbed by 70 per cent between 2011 and 2014, and by 62 per cent in B.C. between 2003 and 2012. In Alberta, meanwhile, the number of female hunters almost doubled between 2006 and 2012. And in Saskatchewan, women accounted for more than one-third of all students in the mandatory hunter-education course in 2013. Worldwide, there are now an estimated 3.34 million female hunters.
THE WAY OF THE HUNTER
I believe the rise of women in hunting has had the added effect of encouraging even more women to try it. Like anyone introduced to the sport, they quickly realize how satisfying it is, and how it's about much more than just the kill. To earn your licence, you also learn about everything from wildlife habitat, biology and management to hunting regulations, responsibilities and tactics for big game, small game and waterfowl. Then there's the added benefit of learning about outdoor survival, firearms safety and the hunter's role in society.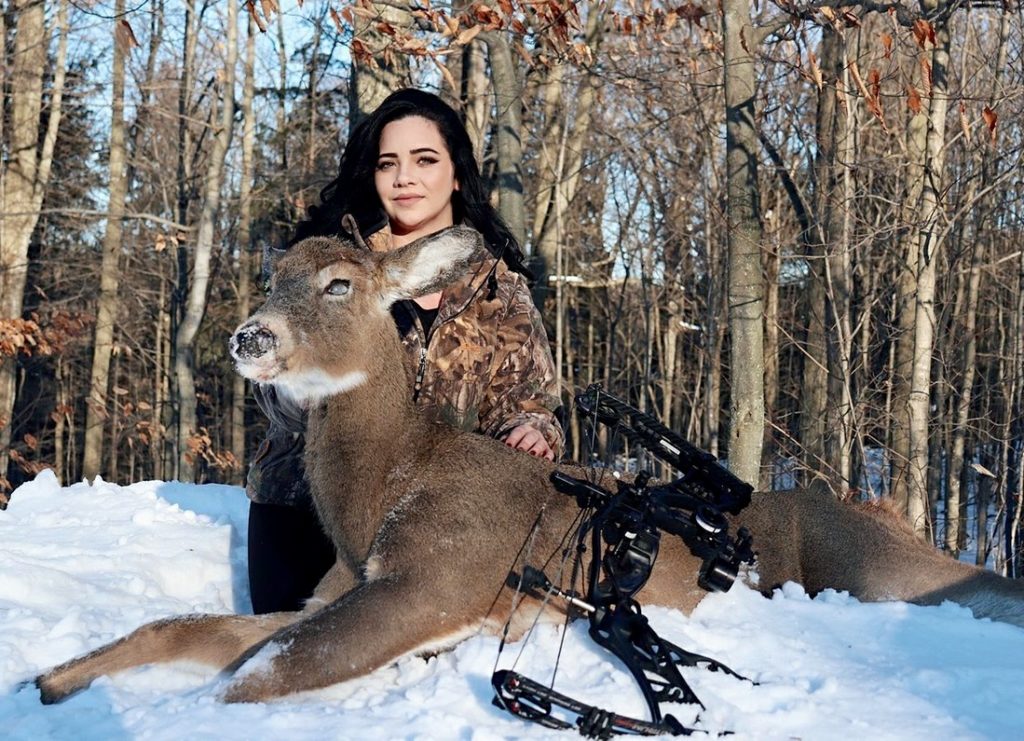 When I was growing up, I didn't go to the mall or play video games. Instead, I hiked, scouted and shot my bow. My dad took me along on all his adventures and hunts, and I remember waiting to turn 12 for what felt like an eternity so that I could get my hunting licence. By the time I was 13, I had harvested three wild turkeys, a white-tailed buck and a black bear, all taken with my compound bow. I was proud to help feed my family for the year, providing clean, organic meat.
That's the way I grew up and that's what I've always known. I knew from early on what it's like to sit in a treestand waiting for my food instead of waiting in line at a grocery store. I knew what it was like to hang and gut a deer instead of taking precut meat out of a disposable package. I knew exactly where my food came from and what was in it.
A HUNTER IS A HUNTER
One time after I presented a hunting seminar, a woman I had been talking to called over her husband and said, "This young lady can help you." He just looked at me, laughed and replied, " Yeah, I don't think so." Then he walked away. Well, I'm proud to be a woman and I'm proud to hunt. Just because I'm a female, it doesn't mean I shouldn't know how to hunt. Nor does it make me any less of a hunter.
Whether you are male or female, being a hunter means you must have a large amount of respect for yourself, other hunters and, most importantly, your quarry. Whether you are male or female, being a hunter means you pride yourself on striving to become the best hunter you can be, practising hours on end, growing and learning from your failures and successes.
Whether you are male or female, hunting represents life, a full freezer and full tummies. It represents pure organic meat, great memories, and thankfulness to your prey and to your god. And it represents hard work, dedication and, perhaps most important of all, clean ethical kills.
Male or female, we are all hunters, plain and simple.
Guest columnist Paige Galea is the host of Hunting Confessions, set to debut on TV'S Wild Pursuit Network.