On the land
Cree rocker Adrian Sutherland shares his hunting heritage
Hunting is a big part of life in the North, and something that many families do together. I recently went up to the tundra in northern Ontario's Polar Bear Provincial Park—about 225 kilometres north of my home in Attawapiskat—along with some relatives and my youngest son, Adrian Jr., who we call Junior.
The tundra can be a harsh place year-round, with frequent snowstorms, temperatures plummeting as low as -60°C and fog patches rolling in from the Hudson Bay coast. It's also the calving grounds for barren-land caribou, and thousands of waterfowl migrate there each year to nest.
It's difficult to explain my family's connection to this area, but the tundra has always been part of our Cree way of life—we have made the treacherous trip each year for as long as I can remember. I'm not entirely sure how my family ended up with the Sutherland name, but prior to European influence, we were known as Mooshiwaninu, which is Cree for "barren-land people."
Connecting to the land
From Attawapiskat, we first travelled 145 kilometres to our family's traditional hunting grounds, where we stopped for the night. I was especially happy to have an elder accompanying us, as there's something reassuring about having an elder with you on the land. They come from a different time, and have much knowledge to pass on. In our culture, we have always been taught to respect our elders. We wait for their direction and guidance while on the land, and do not challenge their authority.
When the weather allowed, we continued journeying north along our usual routes, and four hours in we came upon fresh caribou tracks heading northeast. We immediately fell into single file behind the elder while he tracked. Every 10 minutes, he paused and told me to scan the horizon with my binoculars for any sign of caribou. On our third pause, I spotted some caribou on the horizon lying down. We continued moving forward in single file, then spread out side by side on the elder's command once we were within shooting range.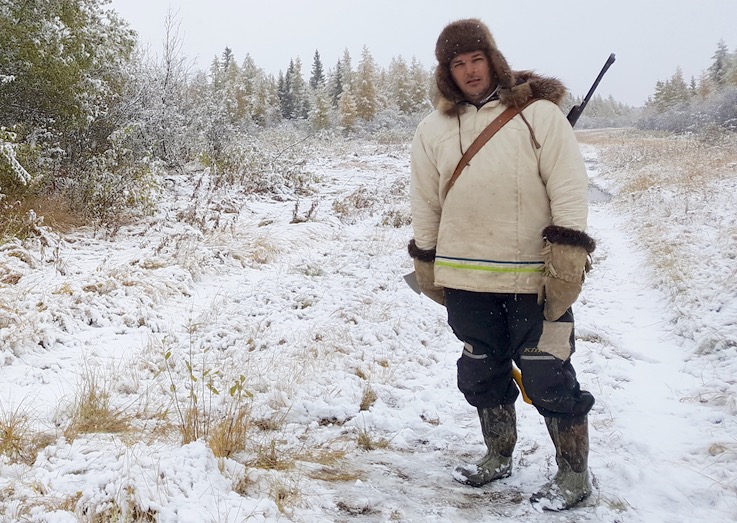 I had been reluctant to bring Junior along on this hunting trip. I thought he was still too young for such a long haul and, with temperatures reaching the low -20s, that he would struggle to stay warm. But he had made up his mind that he wanted to come, so we made the last-minute decision to take him. What a good decision that turned out to be—he shot his first caribou!
Using a .308 with open sights, Junior dropped the animal with one shot, making me a very proud father; I was probably more excited than him. Two hours earlier, he had been ready to turn back because he was cold and bored out of his mind, but his mood took a complete turn with his first kill. He was happy he stuck it out.
Including Junior's caribou, we shot 17 in total. The herd didn't run, either. Our belief is the caribou offered their lives for our three families. The Cree have been hunting these herds for thousands of years, after all. My grandfather and great-grandfather hunted on foot, and could easily cover vast distances in one day. While we now use snow machines to make life easier, many of us Far North residents still depend on hunting as a form of subsistence living.
Working quickly, the caribou were gutted and loaded into the box sleds within one and a half hours. We turned south for the four-hour return trip to camp, making it back by 10:30 p.m., and unloaded the caribou to cool them in the snow. It's not good to keep the animals together in the box sled because it prevents them from cooling, which risks spoiling the meat.
Traditional hunting values
We still practise our values and protocols when hunting and handling game. We share the meat with as many people as we can in the community, and send some of it south to relatives who have since left. The Cree believe that the more people who eat the meat or fish, the more the animals and fish will flourish. It also brings back good karma for the hunter who shares his kill.
Good hunters will not waste any part of the animal—what they don't use gets "put away," not "thrown away." Even the words that are spoken are very specific: "I am putting away these hooves in a clean, pure location, and I thank you for giving your life to me."
Conservation has always been a big part of the Cree value system. When my family hunts one area, we make sure to move into a different area the following year. We take only as much as we need, even when it comes to the spruce boughs we use for blinds and bedding for camp. Some of us even take just a few limbs from each tree, moving from tree to tree to get enough instead of taking everything from just one tree.
As hunters, we need to practise conservation and uphold our values so that our children and grandchildren will have the same opportunities one day, and will take the same approach when they begin to hunt on their own. If we all set a good example and do our best to be stewards of the land, we will live to hunt another day—and with another generation.
Adrian Sutherland is the front man for the Cree band Midnight Shine.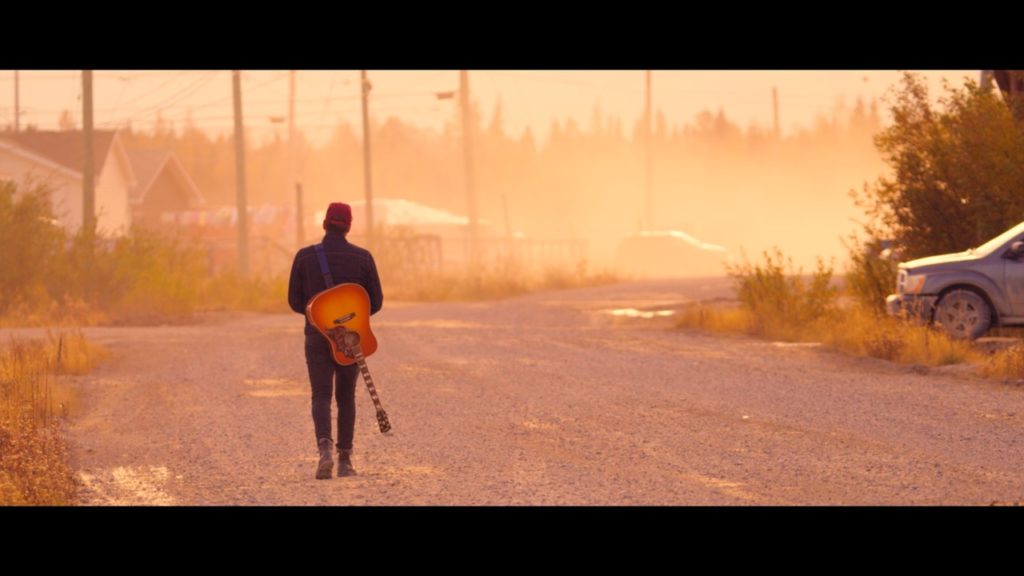 MUSIC OF THE NORTH
It all started in 2011 when Cree singer, guitarist and outdoorsman Adrian Sutherland was offered a chance to open for Trooper at a concert in Timmins, Ontario. Jumping at the opportunity, the Attawapiskat First Nation resident quickly got together with three other James Bay area musicians to form the band Midnight Shine. It was meant to be a one-off performance, but three albums, several hits and a new drummer later, the all-Cree group is still at it—and gaining in popularity for its unique blend of roots and rock music highlighting life in Canada's Far North.
This past January, Midnight Shine enjoyed a surge of interest with the video release of its haunting cover of Neil Young's "Heart of Gold," shot entirely in Attawapiskat and featuring a complete verse in Mushkegowuk Cree. The video quickly went viral on social media, and earned the band a Golden Sheaf Award nomination at May's prestigious Yorkton Film Festival, North America's longest-running film festival (the winner had yet to be announced at press time).
Also at the Yorkton, Saskatchewan, festival, Midnight Shine's latest music video was slated to debut. Shot in Attawapiskat and along the starkly beautiful shores of James Bay's uninhabited Twin Islands, "Leather Skin" depicts the dual nature of band leader Sutherland's career as a rock musician and his yearning for the simple life on the northern land of his ancestors. —The Editors
To watch the "Leather Skin" video and learn more about its creation and Midnight Shine, go to www.outdoorcanada.ca/leatherskin.