Beyond tactical
Modern sporting rifles offer a versatile semi-automatic alternative
The mainstream media often refers to them as assault rifles, while sport shooters know them as modern sporting rifles and everyone in between calls them black guns, owing to their appearance. Whatever the label, they're typically semi-automatic firearms with a modern military look, fed from a detachable magazine. The other feature they all share is a degree of controversy.
For many traditional hunters who grew up with bolt-action rifles crafted of blued steel and figured walnut, these modern contraptions of exotic alloys and moulded polymers just don't qualify as legitimate hunting rifles. And to the non-hunting public, they're viewed as dangerous weapons that should only be in the hands of soldiers and police.
The truth is, modern sporting rifles, or MSRs, represent the next generation in rifle design, and every year more and more are appearing in the hands of Canadian hunters. And why not? Accurate and reliable, they come in calibres suitable for hunting all kinds of game, and they allow for quick follow-up shots and rapid reloading—all desirable features in a hunting rifle.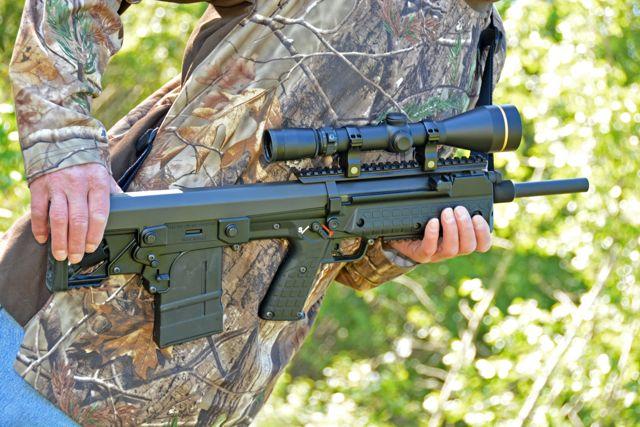 Evolution in design
The unorthodox looks are merely an evolution in rifle design, with the previous change occurring at the start of the 20th century. At that time, the state-of-the-art hunting rifle was a lever-action Winchester or Marlin. But militaries around the world were upgrading their armouries to bolt-action rifles such as the Mauser 98, '03 Springfield and Lee-Enfield, which quickly became the cutting-edge assault rifles of the day. Hunters eventually realized the advantages of the bolt-action rifle and by the middle of the 20th century, the lever-action was largely abandoned.
Also around the middle of last century, semi- and full-automatic designs such as the FN FAL, M1 Garand and M14 were making military inroads and the rifle design cycle was resetting itself once again. Ottawa has tried to control this cycle and during the last round of firearms legislation, many of these rifles were reclassified as restricted or prohibited, making them illegal for hunting purposes.
Trying to stop progress in firearm design is about as fruitless as trying to stop a hurricane, however, and every year sees the introduction of new MSR designs that are suitable and legal for hunting in Canada. Does this mean bolt-action rifles will disappear? Hardly. After all, we still hunt with muzzleloaders and bows. What we are seeing is simply the ongoing evolution of firearms, giving us more options in the way of hunting tools.
Some MSRs even have advantages over conventional rifles, especially when it comes to the modular construction. It allows for the addition of conversion kits, so that one rifle can shoot several different calibres in a variety of configurations. Typically, these conversions are based on cartridges of similar length. For example, the .223 Rem., 6.8 SPC, 7.62X39mm and .300 BLK can all be shot from one rifle with the appropriate conversion parts. The modular design also allows owners to customize their rifles using the profusion of aftermarket parts. An entire industry has now grown up around this trend.
Use in hunting
Most firearms retailers now offer at least some non-restricted models that can be used for hunting. Other than in provinces with big-game calibre restrictions, there are a lot of choices. Many hunters begin with a varmint-calibre rifle, typically something in .223 Rem. That's the calibre most commonly seen in MSRs, owing to NATO adopting it as the 5.56X45mm military cartridge. The inexpensive ammo, and its suitability as a varmint and coyote round, also account for the calibre's popularity. If you want something more powerful, the .308 Win. is the most popular MSR calibre in traditional big-game cartridges.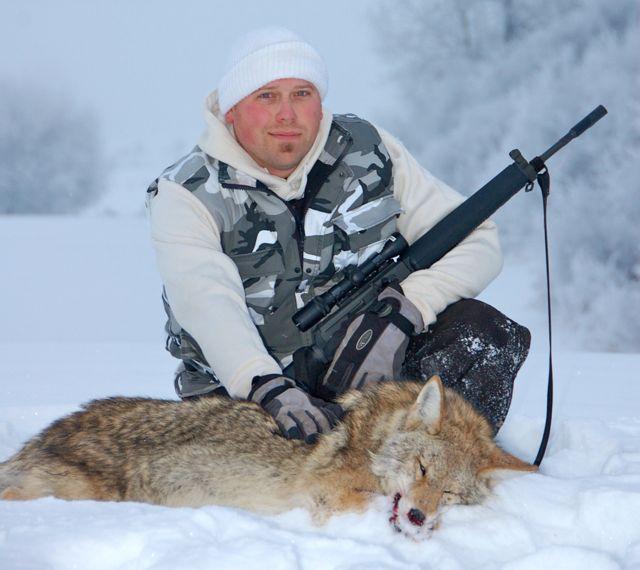 Setting up an MSR for hunting is only slightly different than doing the same thing with a conventional rifle. Most hunters will want to install a scope; the same optic that's on your bolt-action rifle will probably work just fine. But be sure to use quality glass—with their slam-bang semi-auto action, these rifles can be hard on scopes. I have an MSR that eats the reticles of cheap scopes, snapping them in two after about 500 rounds. The excellent scope it's now wearing is holding up fine.
With its top-mounted optic and protruding pistol grip, this type of rifle tends to be particularly wide, so you may need a specialized gun case instead of your conventional case. But perhaps the best advice I can give any hunter carrying a shiny new MSR is to also carry documentation proving its non-restricted status, should the issue arise during a traffic stop or game check. Police and conservation officers are not necessarily firearms experts, and most would be hard-pressed to determine the legal status of any MSR. Ask your gun dealer to print out the relevant page for your firearm from the RCMP's Firearms Reference Table. If your rifle has a storage compartment in the pistol grip, keep the document in it.
If MSRs have a downside, it's the cost—top-quality rifles using a proprietary design can easily cost more than $3,000. Fortunately, there are less expensive alternatives, but don't expect bargain-basement pricing. After all, if you want the latest in any technology, you have to pay for it.
If the price tag doesn't scare you off, consider hunting with an MSR. They are practical hunting guns, and they come with a fun factor that's hard to find in other firearms. They certainly aren't the evil, demonic assault rifles the media often portrays them as.
Black beauties
Ready to try a modern sporting rifle? Here's a roundup of five of the top new non-restricted semi-automatic black guns now available in Canada.
MODERN HUNTER

The Modern Hunter is a Canadian-made non-restricted rifle conceived and built by Alberta Tactical Rifle Supply of Calgary. It's a true semi-custom rifle, in that the consumer can purchase either the basic model or order it with a wide range of options and special features. For shooters with specific ideas about what they want, this allows them to order a rifle custom-built to their specifications. Available in .243 Win., .260 Rem., .308 Win., 6.5 Creedmoor, 7mm-08 Rem. and .338 Federal, the rifle comes standard with an 18.6-inch stainless steel match quality barrel and match trigger. The weight and length are variable, depending on options, which include handguards, stocks, finishes and even custom lettering. The rifle uses Magpul 308 PMAGs. Pricing starts at $3,500.
Learn more: www.albertatacticalrifle.com
BUSHMASTER ACR DMR
The ACR DMR is a new sub-model of the Bushmaster ACR (Adaptive Combat Rifle), which has been available for many years. Developed in collaboration with the Canadian importer, the DMR (Designated Marksman Rifle) version sports a longer 18.5-inch barrel, making it non-restricted. The rifle's modular design allows for tool-less barrel changes and conversion to multiple calibres. However, only the .223 Rem. version is currently available in the non-restricted configuration. Specifications include an adjustable gas system and ambidextrous controls. The rifle also features a stainless steel Melonite-treated barrel, fully adjustable Magpul PRS stock, Miad grip, match quality Geissele two-stage trigger and AAC 51T Blackout flash hider; it uses standard AR-15 magazines. The Canadian price is around $3,500.
Learn more: www.bushmaster.com
FAMAE SG 542-1

This gas-operated semi-auto rifle was developed by Schweizerische Industrie Gesellschaft, or SIG, with variations currently in service with a number of militaries around the world. Chambered in .308 Win., the non-restricted Canadian version is made under licence in Chile. The 18.7-inch barrel and fixed stock give it a weight of 8.2 pounds and an overall length of 39.4 inches. The rifle features a steel receiver, rotating bolt, three-position adjustable gas system and drum-style peep rear sight. A no-cost option of either a folding stock or a fixed stock is available. The magazines are unique to this rifle. Pricing for the .308 Win. version is approximately $2,700.
Learn more: www.tacticalimports.ca
RFB-C HIGH EFFICIENCY RIFLE

Because of its bullpup design, this futuristic-looking firearm has an overall length of less than 27 inches. Even so, Kel-Tec has managed to house an 18.5-inch barrel into the stubby length, making it one of the shortest non-restricted MSRs available. Available only in .308 Win., the rifle weighs just over eight pounds. Because it ejects empty cases directly to the front, and all controls appear on both sides of the rifle, it is the most ambidextrous MSR in production. There's even an adjustment enabling the rifle to capture and hold up to five fired cartridge cases, a desirable feature for handloaders needing to collect their brass. Bullpup rifles are notorious for bad trigger pulls, but the RFB-C's unique design allows for a decent trigger. It uses the metric FAL magazine pattern, pinned of course, to five rounds. The latest Canadian version includes a factory muzzle brake, with prices hovering around $2,400.
Learn more: www.vaultdistribution.net
XCR-M STANDARD

Robinson Armament's XCR semi-auto rifle is available in both an L- and M-series. The L series is sized for the .223 Rem., while the M rifle will handle .308 Win.-based cartridges, including the .243 Win. and .260 Rem. The 18.6-inch barrel keeps it non-restricted; a heavy 20-inch barrel is also available. The buttstock can be adjusted for length, and there's even a folding stock option. The weight varies between 8½ and 9½ pounds depending on the options, which include finishes, stocks and rails. A quick-change barrel system is a significant feature, as are conversion kits for changing calibres. The M-series rifles use the DPMS pattern PMAG, while the L-series uses the AR-15 magazine system. Pricing starts at roughly $2,600.
Learn more: www.wolverinesupplies.com
As a firearms expert, Alberta's Al Voth draws upon his 35-year career in law enforcement.