Mayhem on the Miramichi
Take a break, Atlantic salmon. For non-stop angling action, New Brunswick's striped bass bonanza is today's hot ticket
It was still early in the morning on New Brunswick's famed Miramichi River when my fishing buddy Jason Gogan shook his head in disbelief and put away the clicker he'd been using to count our catches. He'd just registered the 75th striped bass in the boat, and enough was enough—every time he stopped reeling to punch in a catch, another fish would practically rip the rod from his hand. And I'm not talking about run-of-the-mill schoolies here either. The average striper weighed four to six pounds, and we landed so many eight-, 10- and 12-pound fish that it was mind numbing. The big catch of the day was a gorgeous 20-pound brute that Jason wrestled into the net, but the savage behemoth that whacked my bait around noon, then tore off for the far shore, was easily twice that size.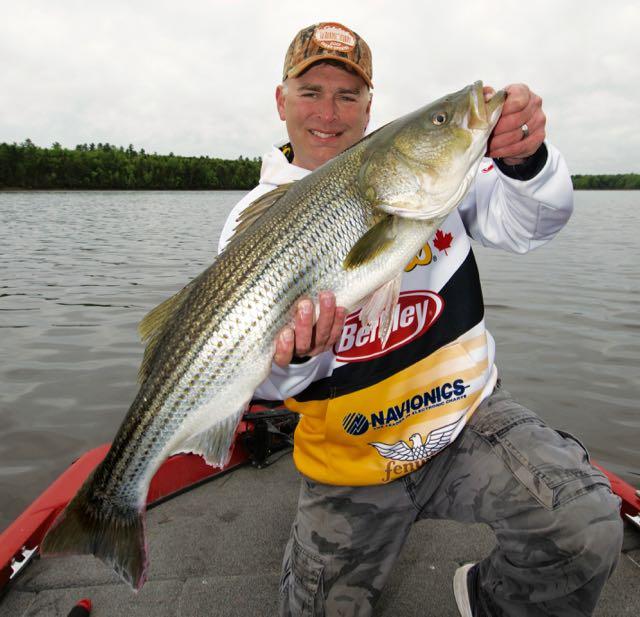 It sounds like we were seasoned striper experts doesn't it? Well, we weren't. Truth be told, we started off the day without a clue as to how to even catch these fish, which only goes to prove that nothing trumps good luck. And that luck included the fact that I was even on the Miramichi in the first place.
It all started when I was invited to attend the grand opening of the new Cabela's Canada store in Moncton. Thinking I might stay for a few extra days afterwards, I started digging into the local sportfishing opportunities. That's when I learned that, in addition to being a storybook Atlantic salmon river, the Miramichi is also home to a celebrated striped bass fishery. Adding further to my good fortune, runs were at historic levels (see "Big returns below").
Even with the river packed with fish, I still had to face the reality that the only stripers I'd ever caught before were by accident, while fishing for largemouth bass in southern U.S. reservoirs. And Jason was no more in the know than me when it came to striper tactics. Although he hails from Saint John, he spends most of his time fishing New Brunswick's splendid smallmouth lakes, rivers and streams. Nonetheless, we decided to give it a go.
Long before the sun pulled itself up and over the horizon, I hopped into Jason's half-ton—his bass boat in tow—and we lit off for the Miramichi (below). The hour-and-a-half drive from Moncton, almost due north on Highway 11, took us along the Atlantic coastline and through the picturesque Maritime towns of Shediac, Cocagne and Bouctouche, and along the western boundary of Kouchibouguac National Park. All the while, visions of giant striped bass swirled in our heads—until we arrived in the city of Miramichi, that is, and reality set in.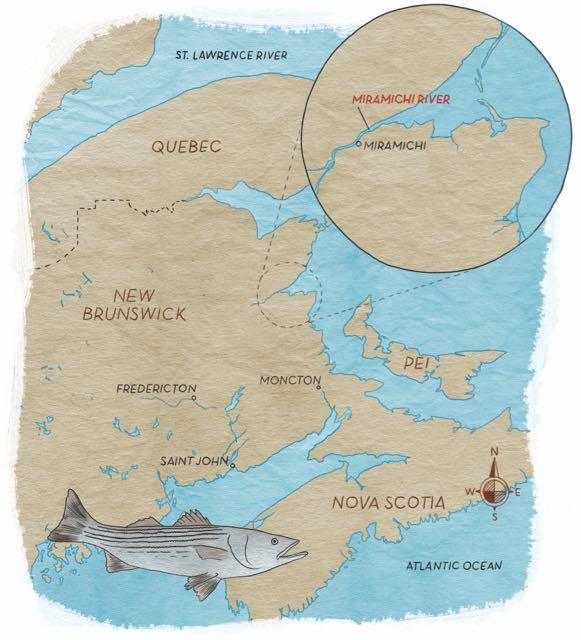 Have you ever noticed that the further away you are from an actual fishing experience, the more confident you feel? In your mind's eye, you make flawless decisions and catch fish on every cast. But then, once you actually back the boat into the water, start the engine and look at the map, you suddenly draw a blank. That's how Jason and I felt as we launched his boat into the Miramichi—we didn't know where to even begin fishing. So, we did what any angler would do under the circumstances: We turned on the sonar/chartplotter, tilted our hats, tightened the strings on our hoodies, pointed the bow upriver and hit the throttle.
The Miramichi was as flat as a pancake as we wove our way upstream, watching bald eagles swoop down to pick up floating fish bits off the surface. We kept the boat over the deepest water as we motored along, searching for any clue that suggested we should stop and try fishing.
Rounding a wide bend, we spotted three anglers in an aluminum boat, trolling briskly across the mouth of a large bay. We had no intention of stopping to fish, but we did slow down to watch the anglers from a distance. While trying to determine if they were fishing for stripers, I noticed a strange riffle on the surface. Nervous water, I like to call it, and it was just the type of clue we needed.
"Let's stop and make a few casts," Jason said.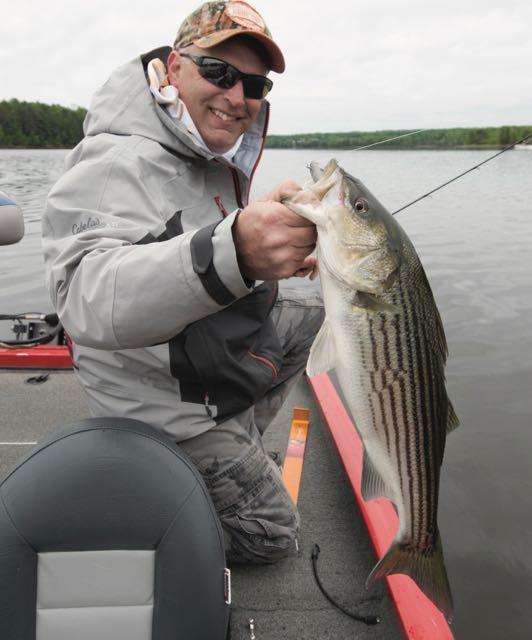 I agreed, but then reality once again intervened. Cast what? I remember thinking. We've all faced this tough fishing decision, and at that moment I did the same thing most anglers would probably do—I tied on one of my confidence baits, a 3/4-ounce paddletail swimbait with an internal lead head. The water was only eight to 10 feet deep, so I grabbed a seven-foot medium-heavy-action spinning rod, with 14-pound-test Sufix Fuse line on the reel. Rounding out the rig was a two-foot leader of 10-pound Maxima Ultragreen. It was exactly the set-up I would have used for big walleye and northern pike back home on Ontario's Lake of the Woods.
I fired out a cast, let the lure settle to the bottom, snapped it up smartly and worked the bait back to the boat with a speedy, aggressive lift-fall-lift-fall retrieve. Now, I know what you're thinking, but it didn't happen that way. Nope, I didn't catch a fish on that first cast, or the second, or the third. In fact, 10 minutes or so passed before Jason and I finally decided to pay more attention to the nervous water we'd spotted.
I figured the riffle was caused by the current running overtop a shallow, mid-river shoal or pile of rocks, but the water didn't get shallower as we drifted in closer. Plus, the riffle kept moving ever so slightly. That suggested the nervous water was either a back eddy—caused by the current and ebbing tide conflicting with each other—or a school of baitfish. And if it were baitfish, it was most likely gaspereau, the name the Acadians long ago accorded to the alewife. We knew these baitfish were spawning in the river, and that the stripers liked to dine on them.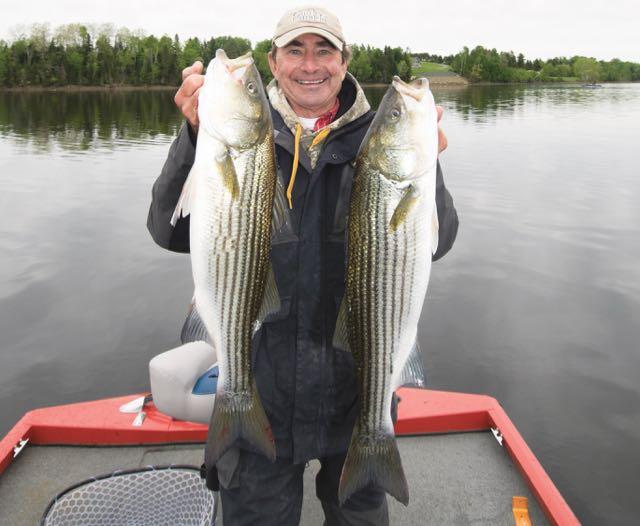 As it turned out, we were wrong on all accounts. As Jason edged the boat closer, we simultaneously threw our lures into the middle of the riffle. You've heard the expression "all hell broke loose"? Well, what happened next gave new meaning to the saying. As our baits hit the water, surly striped bass rose up en masse, swirling on the surface, bumping into each other and leaping out of the water. Jason and I were stunned—so stunned that we instinctively stopped reeling, looked at each other without saying a word and burst out in uncontrolled laughter. We were quickly spurred back into action, however, when a pair of double-digit stripers inhaled our lures.
The nervous water turned out to be a frenetic school of at least 150 striped bass, and for the next 10 to 15 minutes, they competed furiously to bite our lures. Talk about pleasurable pandemonium. Never have I seen anything like it. Honestly, it was impossible not to catch fish. Even when one whacked the lure and you missed the hookset, you only had to reel in a few more feet before an even bigger bass mauled the bait. Had we been fishing for famished piranhas in the Amazon jungle, they could not have been more belligerent—or more fun.
Now that we knew to look for wrinkled water, the action was practically non-stop. If things slowed down even minimally, Jason would turn up the speed on the electric trolling motor and buzz us around the bay until we found a new frown on the surface. Then we'd simply let the boat drift into position, start casting and watch the surface explode into a foaming feeding frenzy.
At times, the bass streaked across the surface, slamming into one another and hurling themselves into the air while chasing our baits. Jason and I could barely contain ourselves, doubling over with laughter as we watched it all unfold. It was surreal and magical and, quite simply, the best day of fishing I have ever enjoyed. And to think it was our first-ever time fishing for striped bass.
Lucky indeed.
ANGLING INTEL
Seasons, limits and special regulations
The 2016 striped bass season in New Brunswick runs from May 1 to October 31. During that time, anglers can keep one fish a day during four specific retention periods: May 9 to 29, July 30 to August 21, September 2 to September 5 and October 22 to October 30. Any striped bass you do retain must be between 50 and 65 centimetres in length. During the remainder of the season, fishing is catch-and-release only. Finally, if you fish for striped bass with bait—many anglers fish from shore using cut mackerel—you are required to use a non-offset, barbless circle hook.
Contact: Fisheries and Oceans Canada, (506) 851-2002; www.glf.dfo-mpo.gc.ca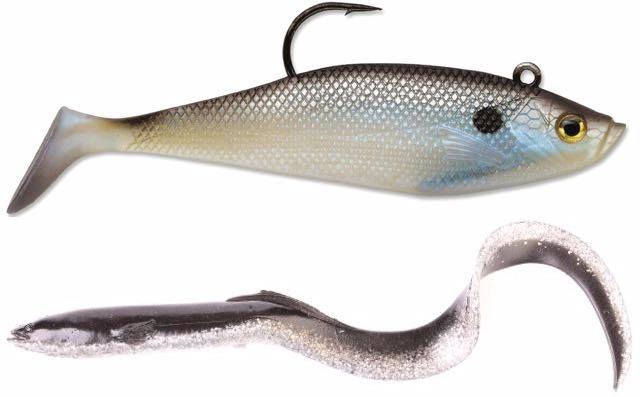 Gear
Jason and I used standard bass and walleye tackle and it worked well. But based on our experience, I'd also suggest an eight-foot heavier-action spinning or baitcasting outfit for the bigger bass, which can weigh 30 to 40 pounds. That beefier outfit, spooled with 20- to 30-pound-test monofilament or fluorocarbon line (or 40- to 70-pound braid) also gives you the option of using much bigger lures. Match the hatch by selecting a bait that imitates the plentifulalewife. My checklist of baits would include straight-tail and paddletail swimbaits (pictured above), pinned to 3/8- to one-ounce jigs, as well as eight-, nine- and 10-inch Sluggos, Flukes and soft-plastic eels. Also bring an ample supply of big topwater, walk-the-dog-style lures.
Where to go
The Miramichi River is located in northeastern New Brunswick, and is easily accessed via Route 8 from Fredericton or Route 11 from Moncton. The famous salmon pools are mostly located many kilometres upriver, but the best striper fishing takes place closer to the rivermouth near the city of Miramichi, which offers plenty of accommodation and dining choices.
Contact: City of Miramichi, (506) 623-2323; www.miramichi.org, Tourism New Brunswick, 1-800-561-0123; www.tourismnewbrunswick.ca
BIG RETURNS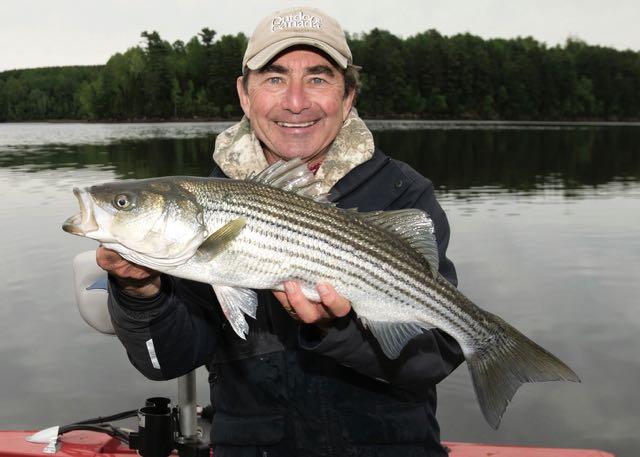 The Miramichi River marks the northern spawning limit for striped bass, and the only spawning site for this anadromous species in the entire southern Gulf of St. Lawrence region. For years, the river's striper population was pummelled by commercial and sportfishing interests—little more than a decade ago, fewer than 5,000 fish returned to spawn in the spring. The numbers were so precarious that the Committee on the Status of Endangered Wildlife in Canada listed the population as threatened. That's certainly not the case today. Thanks to enlightened fisheries management and modern regulations, more than 255,000 striped bass are now spawning in the river, the largest number since monitoring began.