DESTINATION: RED CATS
Hitting the water with TV's Fish'n Canada Show
By Angelo Viola & Pete Bowman
This is one fishing destination that's sure to give you more than you bargained for—and some sore muscles, to boot. The St. Andrews Lock and Dam area on the Red River at Lockport, Manitoba, is without doubt Canada's most popular fishing destination for channel catfish. After all, more giant cats are caught here than perhaps the rest of the country combined. No wonder we've long admired this fishery, as you can tell by this vintage photo of Ang!
Just glancing at a map, you would think the Red originates in Lake Winnipeg and travels south. In fact, the opposite is true. This mighty fish producer starts at the confluence of the Bois de Sioux and Otter Tail Rivers in the U.S. and flows north into Lake Winnipeg. In all, the Red is roughly 890 kilometres long, with the first 635 kilometres in the U.S. and the remaining 255 in Canada.
When targeting the river's incredible channel catfish population, anglers typically anchor downstream of the Lockport Dam and drop down bait on a slip-sinker style of rig. Cut goldeye (a local Red River fish), suckers, frozen shrimp, chicken livers and stink baits will do the trick, as will more common baits such as nightcrawlers, minnows and frogs. Once the rigs are on bottom and the rods are secured in holders, all that's left to do is wait for a rod tip to start bending towards the water's surface. Then the battle begins.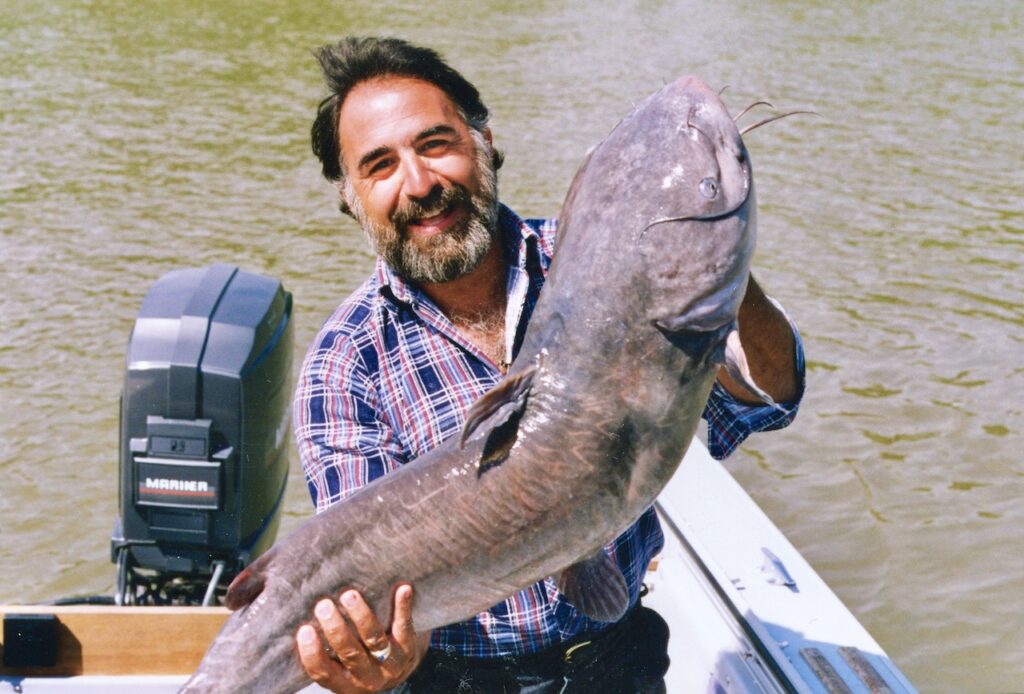 Although this stretch of the Red is ultra-popular with channel cat fans, there's also a fall run of the river's famed greenback walleye, making it a great multispecies fishing destination. If you're looking for the biggest channel cat of your life, a giant greenback or a combination of both, then Manitoba's Red River is a must for your fishing bucket list.
Visit www.huntfishmanitoba.ca for information on accommodations, guides and outfitters. For a complete guide to Fish'n Canada Show episodes, TV channels and show times, go to www.fishncanada.com or www.facebook.com/fishncanada.