Yukon quest
Looking to scratch a few items off your fly-fishing bucket list? Dalton Trail Lodge is the place to go
The large, blonde grizzly appeared out of nowhere and began feeding on berries scant yards from where my wife, Adrienne, and I were fishing, seemingly oblivious to our presence. Fortunately, the bear was on the other side of the Kathleen River. Were we surprised? Not really. Indeed, it was almost like any another day at the Yukon's Dalton Trail Lodge—by then, I'd already seen more black bears than anglers on the trip.
Instead, we were already beaming with joy when we spotted the grizzly. And why wouldn't we? Aside from that exciting wildlife encounter, the day had started on a high note when I caught a 20-inch-plus rainbow on my first cast—a chromer that rose from the gin-clear water to take an ant pattern.
And it was one of those picture-perfect days in the Canadian wilderness. There wasn't a cloud in the sky, the winds were light and the jagged peaks of the Saint Elias Mountains formed a picturesque backdrop to the rushing waters of the pristine river. The lodge itself is nestled on nearby Dezadeash Lake, which borders Kluane National Park, one of Canada's most magnificent national parks.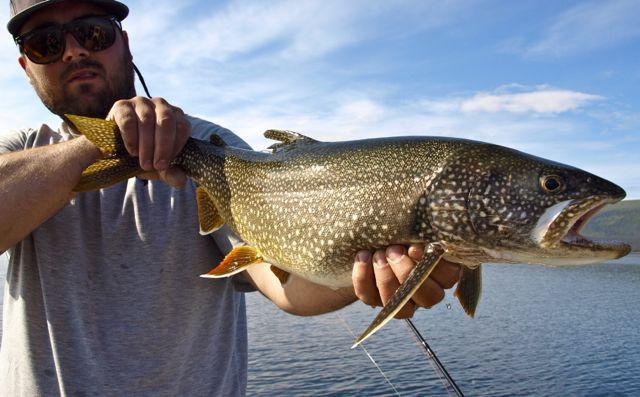 And while it's just a two-hour drive from the Yukon capital of Whitehorse, don't let the road access fool you. This is still in a remote part of the Yukon, with light fishing pressure. It's a remarkable place where it's possible to check off several bucket-list items in a single visit.
For my part, I especially wanted to add a chinook salmon from the Tatshenshini River to the list of other salmon I've taken fly angling—Atlantic, coho, pink and sockeye. I also wanted to take a jet-boat trip up the Kathleen to fly fish for rainbows and Arctic grayling, then go on an overnight trip to catch a trophy lake trout on Aishihik Lake. And finally, I wanted to tackle grayling and lakers at so-called Lake X, which is only accessible by ATV or an arduous, long hike. Here's how it all came together.
Day 1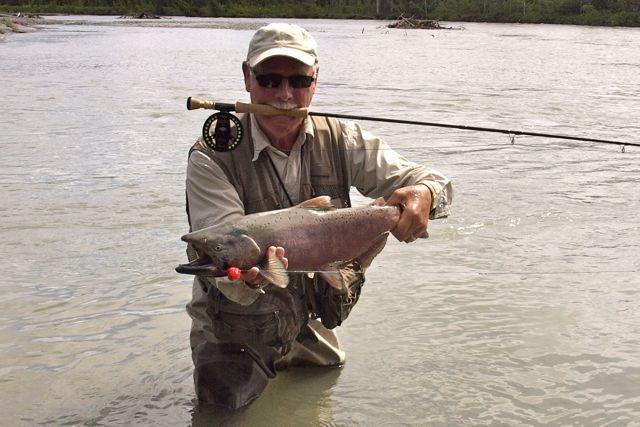 My guide and I took an ATV from the trailhead to a popular pool on the Tatshenshini, where I started working promising lairs, casting a yarn ball into the better holding water. Unfortunately, there had been quite a rainstorm a few days earlier, and the river was still high and murky, making for challenging conditions. Nonetheless, I was finally successful in my bucket-list quest to catch a chinook on a fly rod. Most outdoorsmen don't realize the Yukon even has salmon, which are usually only fishable during a narrow window in late July. If you're keen on the idea, you'll want to book early, as the available dates fill up fast.
Day 2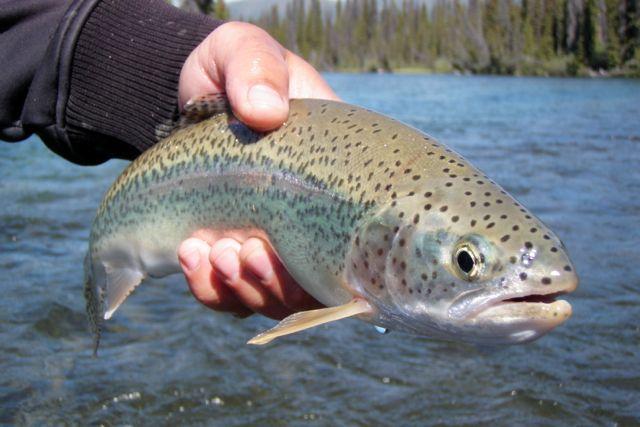 If a bunch of fly anglers sat down to design the perfect fly-fishing stream, they'd come up with the Kathleen River. Its waters are crystal clear and swift flowing, and it's easy to wade. Plus, there are usually no trees and shrubs to grab your backcast, and there's plenty of great holding water. Adding to the adventure, it can only be fished effectively with a jet boat. Without exaggeration, I caught and released more than 50 rainbow trout and Arctic grayling, with my largest 'bow topping 20 inches.
Days 3 & 4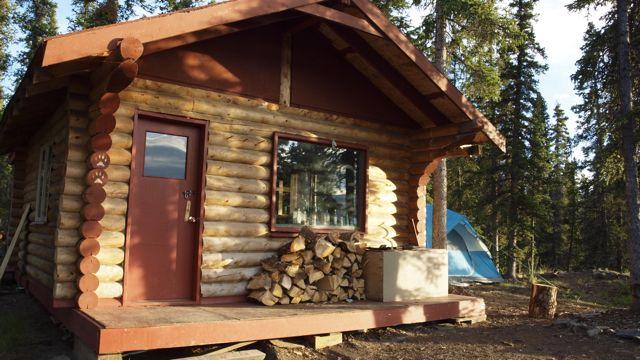 A quintessential Canadian fishing adventure should include a stay in a log cabin deep in the bush, and that's just what we did at Aishikik Lake. Along with the great fishing, we also enjoyed some gourmet meals courtesy of our guides, Allan Hansen and Jamey Colete. At the end of our first day, for example, they prepared delicious lake trout appetizers, then cooked up thick, juicy rib-eye steaks over the campfire coals and served them with fried potatoes and a tomato salad.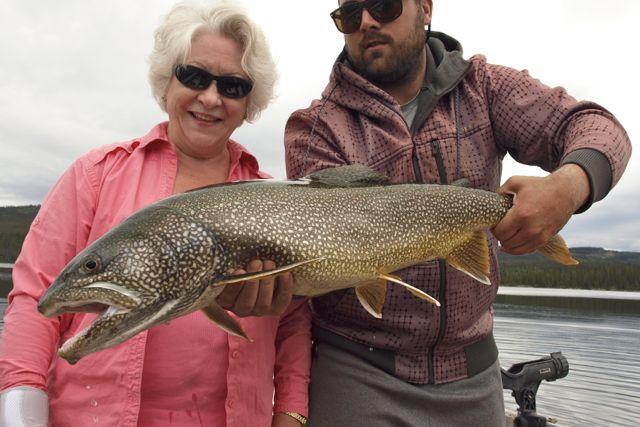 As we washed the meal down with some cool Yukon Gold beer, I couldn't help but think life just doesn't get any better. Earlier, we'd landed lake trout in the 35-inch range, just shy of trophy status. So it went the following day, but for some variety Jamey suggested we make a few casts for northern pike. While the pike were a bit skittish, we did manage to land a few in the 32-inch range before it was time to call it quits.
Day 5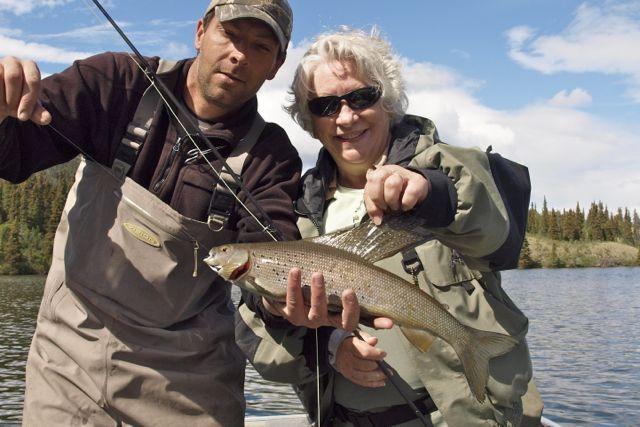 I couldn't help but feel a bit of melancholy when Allan took Adrienne and me into Lake X in a side-by-side ATV. Why? I knew it would be my last excursion. But what an adventure. If you think a hair-raising jet boat trip on the Kathleen River is exciting, you haven't seen anything until you settle in for a backcountry ride in the wilds of the Yukon. It was hairy! Still, we got there in one piece and pulled up to the shore to see grayling rising everywhere. I started to feel that we'd saved the best for the last. We caught enough grayling to make things interesting, plus a few lake trout for a shorelunch and fish appies back at the lodge. And as I sat back enjoying the fresh catch, I felt lucky for such a fitting end to an amazing trip in an incomparable part of the world.
Heading north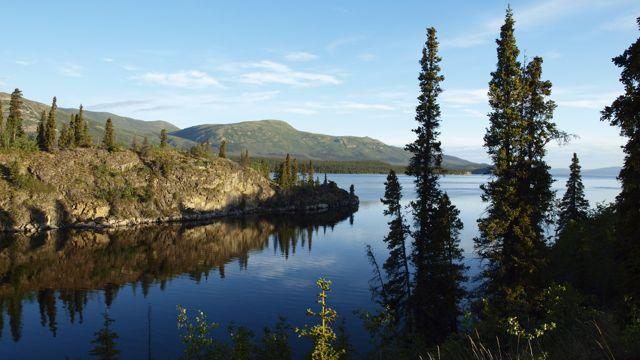 Getting there
To reach Dalton Trail Lodge, most anglers travel on Air North, which bills itself as "Yukon's Airline," to Whitehorse. Air Canada and West Jet also fly into Whitehorse, and there's a weekly flight by Condor from Frankfurt, Germany, to accommodate Europeans. The lodge provides a shuttle to get guests to and from the airport.
Lodging
There are two double and eight single rooms in the main building, and an additional 10 double rooms in the four cabins. Every room has a private washroom. There's power 24 hours a day, a satellite phone/fax and high-speed internet. When they're not fishing, guests can enjoy use of the library, satellite TV, fully licensed bar, sun deck, tennis court and games room. Laundry service is available. The food is excellent—the chefs are Blue Seal certified and the lodge cuisine is distinctly European.
Fishing
The lodge has access to about 20 different bodies of water. Arctic grayling, chinook salmon, Dolly Varden, lake trout, northern pike and rainbow trout are all available, which is rather remarkable.
Gear
The lodge can supply all your fishing rods and tackle, as well as waders. If you want to bring your own gear, consult the lodge website for recommendations.
When to go
Lake trout and pike are plentiful anytime during the open season. Book the last two weeks in July for Chinook salmon on Tatshenshini River. Late July, August and September is best on the Kathleen River for rainbows and Arctic grayling.
Clothing
The local weather is unpredictable due to the nearby Saint Elias Mountains. Typically, July and August are dry and warm, but it's possible to experience rainy or windy days. Consequently, you should have good raingear, a warm sweater or polar fleece vest, warm socks, a parka, a hat or toque and gloves, as well as T-shirts, shorts and sun protection. Layering your clothing will prepare you for unpredictable weather changes. In the autumn, be prepared for cool temperatures.
LEARN MORE ABOUT DALTON TRAIL LODGE AT WWW.DALTONTRAIL.COM. GET INFO ABOUT YUKON FISHING IN GENERAL AT WWW.TC.GOV.YK.CA.