Destination: Tobin Lake
Hitting the water with TV's Fish'n Canada Show
If catching a trophy northern pike and a bonus big walleye in a single fishing trip is on your angling bucket list, then you've already narrowed down your Canada-wide search by leaps and bounds. Although these fish may seem abundant across the North, it's not always that easy to find both giant pike and walleye in the same place.
Northern Ontario and Manitoba are two popular destinations, but their flat-landed cousin to the west—Saskatchewan—can put forward a trophy combo lake or two as well. And in our opinion, one of the best is Tobin Lake, in the northeast of the province. Actually classified as a reservoir, Tobin was formed in 1963 following the construction of the E.B. Campbell Dam on the Saskatchewan River.
Tobin Lake, Saskatchewan
In addition to northern pike and walleye, Tobin also has burbot, goldeye, lake sturgeon, sauger, whitefish, yellow perch and a plethora of fatty baitfish. This seemingly endless supply of food, along with the mandatory use of barbless hooks, is why the reservoir is one of the top pike and walleye fisheries in the country. From our experience, the absolute best times for catching mammoth Tobin pike are during late fall, ice over and early spring.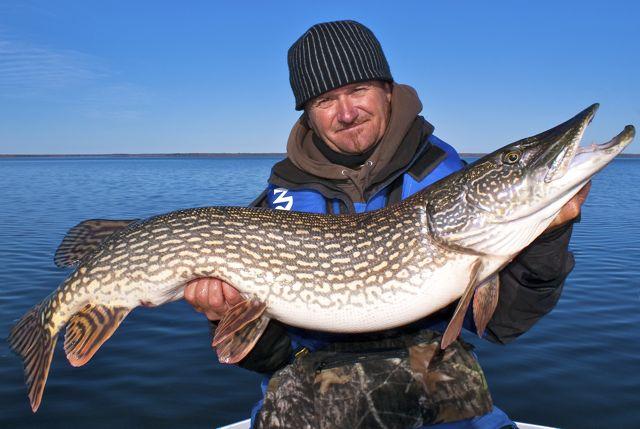 During the filming of a past late-fall Fish'n Canada episode, we anchored on a tight little breakline in the middle of the lake and proceeded to boat one giant pike after another. Our tactic of choice was to cast out big, frozen saltwater baitfish under a slip-float on a quick-strike rig. When we hit just the right spot, the float was pulled under almost instantly every time. If ever the catching was as easy as shooting fish in a barrel, that was it. To this day, that unique Tobin shoot remains one of our all-time favourite trips.
For links to Tobin Lake fishing Guides, visit www.fishingsaskatchewan.ca. During our visits, we stay at Pruden's Point Resort: www.prudenspoint.com. For a complete guide to Fish'n Canada Show episodes, TV channels and show times, go to www.fishncanada.com or www.facebook.com/FishnCanada.