North Wabasca
Hitting the water with TV's Fish'n Canada Show
Having a dream job like the one Pete Bowman and I have producing the Fish'n Canada Show certainly has its perks. Probably the best bonus of all is being able to travel all across Canada to sample first-hand the diverse angling opportunities this great nation offers, and that's certainly led to some very pleasant surprises.
It was a real eye-opener for us, for example, to first learn that Alberta has such great fishing for walleye and northern pike, something our visit to North Wabasca Lake definitely confirmed.
Located about a four-hour drive north of Edmonton, this 99-square-kilometre lake is simply loaded with big pike and walleye. It lies on the Wabasca River, just north of its smaller, like-named twin, South Wabasca Lake, and the hamlet of Wabasca-Desmarais. Both lakes also offer fishing for burbot, lake whitefish and yellow perch, all of which doubly serve as a great forage base for the pike and walleye.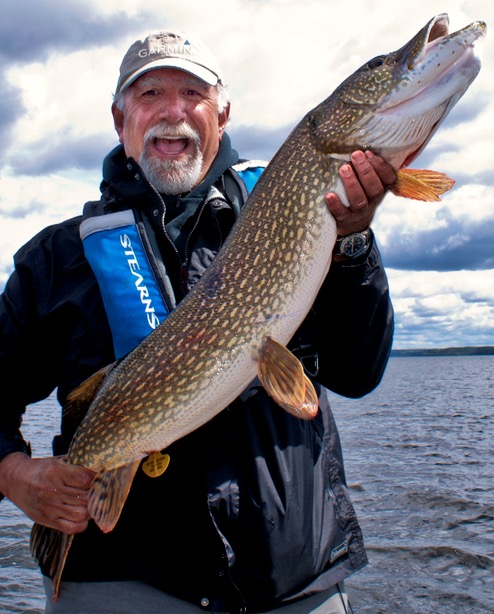 During our visit to North Wabasca, we had fantastic success fishing along a huge, lush cabbage weedbed adjacent to an abrupt break into deep water. The walleye and northerns were cruising the drop-off in search of baitfish, so we tied on big half- to ¾-ounce bucktail jigs. They were just the ticket, with crankbaits, jerkbaits and jigs tipped with live bait also producing. The beauty of such a spot is that one cast can bring in a five-pound walleye, while the next one can serve up a 15-pound northern—you just never know.
Incidentally, we discovered this hot spot while scouting during a torrential downpour, without the cameras rolling. If you don't fish in the rain, you're definitely missing out on some excellent action. And if you don't plan to visit the Wild Rose province, you're missing out on some of the country's best pike and walleye fishing.
Visit www.mdopportunity.ab.ca/wabasca-desmarais for info on local accommodations; to learn more about the fishing, see www.reelangling.com.
For a complete guide to Fish'n Canada Show episodes, TV channels and show times, go to www.fishncanada.com or www.facebook.com/fishncanada.