Hawk 'eyes
Hitting the water with TV's Fish'n Canada Show
There's a body of water in northwestern Ontario where the walleye are often as big as the fish from Lake Erie, Lake Huron's Georgian Bay and Lake Ontario's Bay of Quinte. What sets this lake apart, though, is that it's tiny in comparison to those giant waterbodies. Lying just east of Kenora, Hawk Lake has been blowing the minds of visiting anglers for many years—and now you can include us on that list.
We first heard about Hawk a long time ago, but we could never put a trip together for one reason or another. When we finally did fish there for the first time in 2017, it lived up to everything we'd heard —the lake truly is a walleye heaven.
"On their first trip to Hawk, the guys caught some real quality walleye and smallmouth bass, in the toughest of conditions, I might add," says Ted Putnam, the owner of drive-to Hawk Lake Lodge. "I knew if I got them back during prime time, they'd kill it!"
Ted was right. Last year we returned to Hawk Lake and indeed did we ever "kill it," catching and releasing more nine-pound-plus walleye than we'd ever caught in an entire past season. And when the sun got high in the sky, we had a blast switching over to catching numbers of the lake's hefty smallmouth bass. (There are also opportunities for northern pike and lake trout.)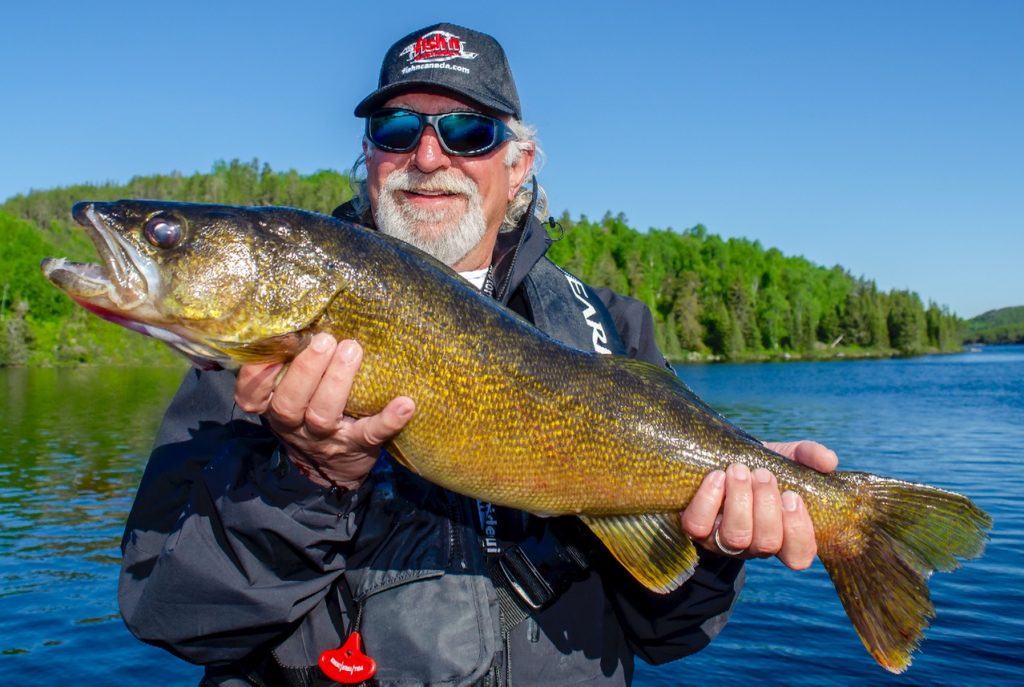 Why are there so many giant fish at Hawk? Well, for starters, the lodge is the only resort on the lake, with the only boat launch. That on its own does not explain the phenomenon of giant catches, though. The main reason is good, sound fisheries management.
A forward-thinking lodge owner, Ted strictly enforces a 100 per cent catch-and-release policy on Hawk and the 18 neighbouring lakes anglers can visit. The policy is so strict, in fact, that the lodge actually brings in fish from elsewhere to serve for shorelunch. It's brilliant—and it clearly works.
Learn more about Hawk Lake Lodge at www.hawk-lake.com. For a complete guide to Fish'n Canada Show episodes, TV channels and show times, go to www.fishncanada.com or www.facebook.com/fishncanada.