THE OTHER GREAT LAKE
Often overshadowed by Great Bear Lake, the NWT's Great Slave Lake offers stunning scenery, affordable access and endless lake trout

Horseshoe Bay
By the midpoint of our trip, Lynn and I had landed 50 or 60 lake trout, probably averaging better than 10 pounds, plus a few in the teens. Yet thanks to that lodge mentality—and I realize how absurd, even obnoxious this sounds—we felt a little unfulfilled, especially after seeing other guests double or triple our catches, including a 34-pound behemoth for Winnipeg's Buzz Grant (below). Then two things happened: we went to Horseshoe Bay, and we learned how to jig properly for Slave's lakers.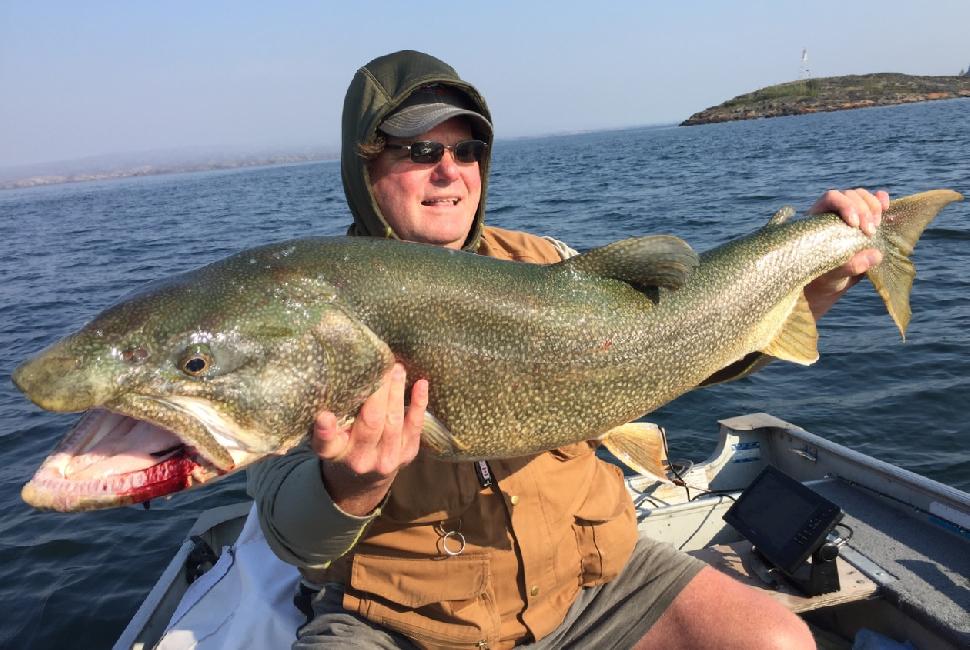 Our general fishing strategy was to troll known fish-holding areas, then stop to jig when Marshall actually spotted concentrations of fish on his sonar. The jigging, however, had been frustrating. As it turned out, we were doing it wrong. We were fishing the camp's most popular jigs—two-ounce, six-inch-long tubes—but with gentle, walleye-style lifts and drops. Plus, in 100-plus feet of water, even a two-ounce tube takes a patience-trying length of time to spiral down to the bottom.
So when we cruised into the fjord-like Horseshoe Bay and saw fish stacked up from top to bottom, I pulled out my now-we-mean-business baits. Lynn took a four-ounce bucktail jig dressed with a five-inch Mr. Twister grub, and I tied on a five-and-a-half-ounce, eight-inch Savage Gear Sandeel swimbait in gaudy chartreuse (below). These baits plummeted to the bottom in seconds, landing with a pleasing thud.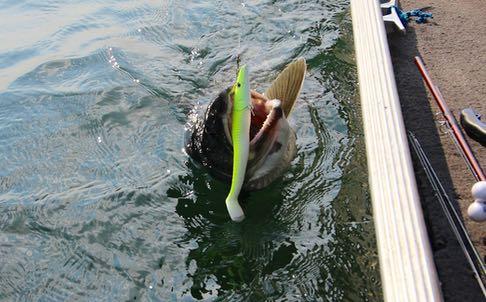 We also adjusted our tactics to trigger the aggressive, predatory lakers by simply reeling our jigs back up at a brisk pace, with only occasional, brief pauses. And boy, did that fire up the trout. At times they would hit after just a couple of cranks, and others halfway up the water column. I even saw one 15-pounder streak up from the inky depths to T-bone my jig just below the surface. We soon had a dozen good fish, capped off by that sh*tstorm double-header producing a 19-pound fish for Lynn and a 23-pounder for me (top of page). It was the second-most interesting experience we had in Horseshoe Bay.